Column: Naomi Osaka recalls anonymous days before rise to the top in tennis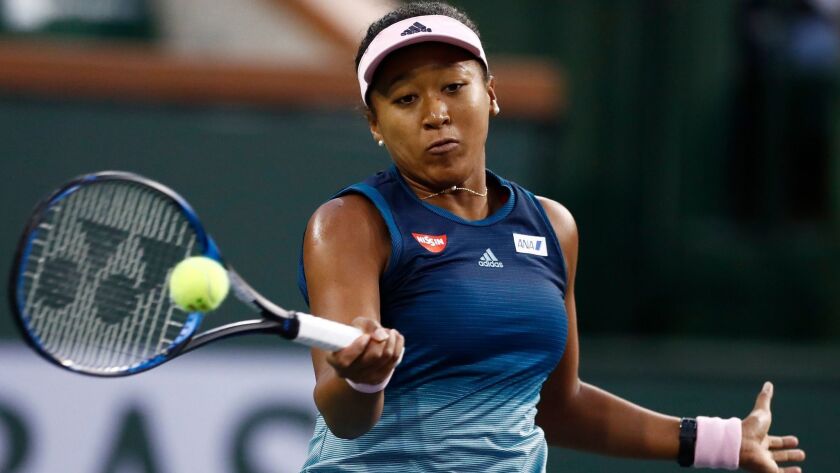 Reporting from indian wells —
Twice during her postmatch news conference, Naomi Osaka, the world's No. 1 women's tennis player, playfully referred to the time before anyone knew who she was, when she had big dreams and an impressively big and powerful game behind them.
She made it seem like decades ago, those days before her practices drew huge crowds, people on the street stopped her for autographs and photos, and her likeness appeared on cups of noodle soup. She is growing accustomed to the attention, ever polite to adults but genuinely happy when she can make a child smile.
"I'm really grateful there is a lot of people that come out and watch," she said after she had barged past Danielle Collins for a 6-4, 6-2 victory Monday night that put her in the fourth round of the BNP Paribas Open against Belinda Bencic of Switzerland on Tuesday. "I try to sign all of the signatures. I know I can't, but think I'm slowly getting used to it."
Osaka left Stadium 1 to the sound of cheers and the now-familiar sight of arms outstretched for high-fives and signatures. She was lucky to finish before a downpour began and created conditions that led tournament officials to suspend the final match, a men's third-round meeting between No. 1 Novak Djokovic and Philipp Kohlschreiber. That match will resume Tuesday, with Djokovic leading 1-0 and Kohlschreiber holding the advantage in the second game.
The days when Osaka was anonymous to those outside the tennis world aren't really so long past. It was last March, here at the Indian Wells Tennis Garden, that she launched her spectacular rise to the No. 1 ranking. She proved she wasn't a one-hit wonder when she won an emotionally grueling U.S. Open final against Serena Williams, and reaffirmed her credibility and mental toughness when she won the Australian Open in January, becoming the first woman to win consecutive Grand Slam event titles since Williams accomplished it in 2015.
But time seems fluid to Osaka, who couldn't remember the score of the first set against Collins barely an hour after the match had ended and who forgot the second part of an interviewer's question seconds after hearing it. To be fair, there wasn't all that much worth remembering besides Collins' poor serving, and Osaka's ability to improve her footwork well enough to swing the momentum and break Collins' serve for a 5-4 lead. And so much has happened to Osaka lately that she can be forgiven a memory lapse or two. Her life is generally a happy blur but it has been complicated by a coaching change — she now works with Jermaine Jenkins, Venus Williams' former hitting partner — and the demands she faces as a two-time Grand Slam event winner. In that context, it's easier to understand why Osaka sees her last matches against Bencic, who just turned 22 and is seven months her senior, as having happened way back in the long ago.
Their first encounter was in 2013, at a lower-level, $25,000 event in Pelham, Ala.
"I could tell you a story about that day, but I'm not going to," she said of her 6-3, 6-3 win on clay. "I remember I didn't eat that entire day. So I just went onto the court, and I just decided to hit everything, and luckily it went in, and I think that's how I won, to be honest. She was just really, like, shocked, I think, because we were around the same age but I didn't really play juniors, so nobody really knew who I was."
Their other meeting was on a hard court last year at the Hopman Cup competition. Bencic won 7-5, 6-3.
"I just think the last time I played [Bencic] I hit too many unforced errors. But that was in the beginning of 2018 when you guys didn't know who I was," Osaka said, smiling.
Everyone knows who she is now. That might have been true for Bencic, who cracked the top 10 three years ago, if not for a succession of injuries to her back, wrist and foot. Bencic, seeded No. 23, has been slowly coming back to form and she won the title in her previous tournament in Dubai. She got a bye and won her first two matches here in straight sets, as has Osaka.
"I like challenges and I'm kind of looking forward to it a lot," Osaka said of their rematch Tuesday, knowing that her days of anonymity are over but the success of the present makes the price of fame worthwhile.
Follow Helene Elliott on Twitter @helenenothelen
---
Get the latest on L.A.'s teams in the daily Sports Report newsletter.
You may occasionally receive promotional content from the Los Angeles Times.