Teenager Bianca Andreescu upsets Angelique Kerber in BNP Paribas Open final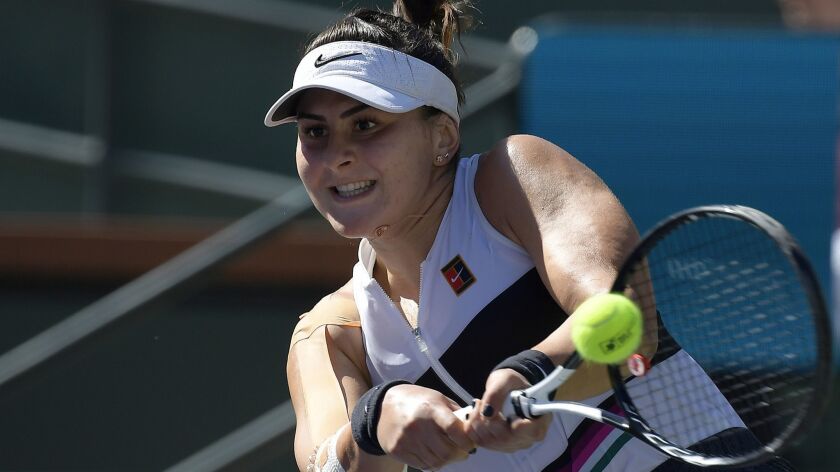 Reporting from indian wells —
When it was over, after all the drama of winning the women's singles championship at Indian Wells against odds similar to winning the lottery, when every bit of physical relief and mental joy had begun to wash over her, Bianca Andreescu found her ultimate comfort zone.
There, on one of the most famous tennis courts in the world, in front of a still bubbling and dazzled crowd of 16,000-plus, she shook hands with her opponent, went around to the other side of the net, kissed the asphalt, then collapsed onto her back and stayed there. At that moment, it was the most comfortable pillow-top, king-sized bed she had ever been on. The photographers scrambled. The angle of the shot didn't matter. They had seldom seen this demonstration of unabashed happiness. Winning players celebrate. They seldom snuggle in.
But then, Andreescu wasn't just any winning player. She was a royal flush dealt on the first hand, a Volkswagen bug winning the Indy 500. When she beat Angelique Kerber of Germany, a three-time Grand Slam champion and the eighth-ranked player in the world, in Sunday's BNP Paribas tennis final, 6-4, 3-6, 6-4, she had won $1,354,010 and exploded into prominence.
In the end, it was exuberance and enthusiasm over experience. It was welcomed new blood for tennis. It is also a sport that has made the front pages with John McEnroe's racket-throwing and Serena Williams' threat to place a tennis ball down a lines judge's throat. So, tennis loves it more when it gets a new positive, a winning fresh face with an infectious smile and a loudly spoken commitment to give the fans and TV viewers a never-say-die style of play. It also helps when that new blood is delightfully honest.
Midway through her post-match news conference, Andreescu was suddenly so overwhelmed with what she had done and why she was even sitting there that she blurted out, after being asked whether this had brought any flashbacks, "It's crazy what a year can do. I was playing 25K tournaments in Japan, and now I'm the effing champion of Indian Wells."
The longshot assessment is supported by a string of facts: Andreescu is 18 years old. She got into the tournament with a wild-card entry from the tournament sponsors, who saw her play well in Australia and win a challenger tournament in Newport Beach a few weeks ago. Before becoming an instant millionaire Sunday, she had won $350,909, well shy of Kerber's $27.5 million. Andreescu was born in Canada to Romanian parents. She had never won a WTA tour event, and now was a millionaire.
Sign up for our daily sports newsletter »
Asked later about the flat-on-her-back celebration, she said, "I could have stayed there for half an hour."
That prospect would have been motivated by more than just celebratory posturing. She was dead tired, which added more credence to the longshot theory. The final drama went like this:
Andreescu, dashing around the court and going for shots at every occasion, won the first set. Kerber, staying poised and calm in the face of this teenager slashing away at her and captivating the crowd, won the second set. Then the real fireworks began.
At 2-2 of the third, Kerber broke serve. The quick expectation was that would be it, that the teenager had taken a good swing at it and would learn much from the experience. But the teen broke back and held for 4-3. In the middle of all this, Andreescu called for medical help and also told her coach during a break — as caught on the Tennis Channel — "I'm tired. My feet are burning and I can barely move."
Then she went out and moved around the court like an Olympic sprinter who is a ballerina in her spare time. Incredibly, she broke Kerber for 5-3. Then she served at 5-3 for the match and squandered three match points, the third a drop shot that just ticked the line.
Between most of her points at this point, Andreescu was stretching and squatting from cramping. A photographer on the press balcony clearly could see her quadriceps cramping. It was even painful to watch.
"I never considered quitting," Andreescu said later. "I never would."
When the ball went into play, Andreescu was all over it, "going for it every chance I had." Kerber, who couldn't miss what her opponent was going through, somehow chose to just hit the ball back and hope. There was no attempt to move her side-to-side, very little attacking back.
Still, Kerber was in good shape, serving to even things at 5-5. But at 30-all, Andreescu belted a huge forehand to get to match point, her fourth, and Kerber was finished when she hit a routine backhand that settled into the net.
Soon, the on-court celebratory rest had begun.
Andreescu will be back on the court Tuesday in Miami. It all starts over for her in a new draw that says she is still a newcomer. Nothing special. Tennis knows better now.
In her on-court acceptance speech, she bubbled. She thanked all the people she should have and even sent a message of gratitude in Romanian to those fans in the stands. Then, realizing she was perhaps talking too long, she said, "OK, I'm done."
Just minutes earlier, that's what Kerber thought too.
---
Get the latest on L.A.'s teams in the daily Sports Report newsletter.
You may occasionally receive promotional content from the Los Angeles Times.