Trying to pick a winner in Friday's Breeders' Cup Distaff is the toughest of tasks
Count them up. Three horses. Five Eclipse Awards. Two hall of fame jockeys. Two hall of fame trainers. Just shy of $10 million in earnings. Thirty-five victories in 47 starts (74% winners).
The best race is never supposed to come early but that is what's happening in the two-day Breeders' Cup at Santa Anita when the unquestionable three best female horses will all meet for the first time on Friday around 4:35 p.m. in the Distaff.
"It's like when you see the Warriors and the Cavaliers, you know it's going to be a tough series," said John Sadler, trainer of Stellar Wind.
"You won't be shocked if any of the three win it. They are all champions. They are all very good."
The resumes in this equine triple-threat match are impressive.
--Beholder. This 6-year-old mare trained by Richard Mandella has three Eclipse Awards and 17 wins in 23 starts. She's coming off two straight losses to Stellar Wind, in the Clement Hirsch Stakes at Del Mar and the Zenyatta Stakes at Santa Anita. She won the Distaff in 2013.
"Here we are, back as a 6-year-old, and she's battle tested," said her jockey, Gary Stevens. "She's healthy and a bigger, stronger Beholder. People say she's lost a step, but they haven't been on her back."
--Songbird. The unknown factor for this 3-year-old is that she's never faced competition of this level. Another way to look at it is we have no idea how good she might be. She's 11 for 11 running a very smart campaign by trainer Jerry Hollendorfer. She seems equally happy stalking or on the front.
"She's going to have to run quick early and she's going to have to run hard at the end this time," said her jockey, Mike Smith. "This isn't going to be one of those races where she can gear down the last eighth of a mile."
--Stellar Wind. Last year's 3-year-old champion filly seems to be getting better leading up to this race. She has won seven of her 11 races and Sadler is due to snap his remarkably unlucky streak of 37 Breeders' Cup starts without a win.
"Stellar Wind is an amazing filly," said her jockey, Victor Espinoza. "She likes to run but doesn't really burn her energy much. She saves it. But I have to ride her. She doesn't do much by herself. You have to make her do things."
Perhaps the most compelling story line of this $2 million race run over 1 1/8 miles is Songbird, who as the 6/5 favorite will be breaking from the No. 1 post position. The other two are listed at 5/2.
"Her strategy is pretty much set for her," Smith said. "She's very good out of the gate so far, and hopefully she'll continue to be. … If all goes well, more than likely [she'll be] on the lead."
The only real time she's been tested was at Saratoga in late July.
"I think Carina Mia made her dig in one time in the Coaching Club American Oaks, but she thrived off it," Smith said. "She loved it. I've never seen someone look her in the eye like that. The first time a horse did, she took the game right to her, which I was really happy to see. I know she's going to fight if someone gets to her."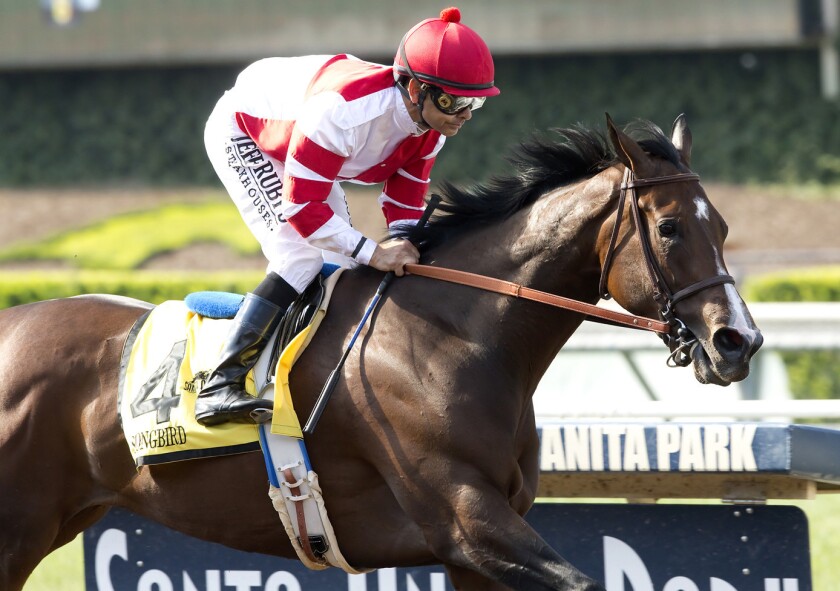 Stevens showed his reservations about Songbird by answering a question with a question, followed by a wry smile.
"My question to you would be, 'What has Songbird faced versus what Beholder and Stellar Wind has faced?' I'll leave it at that."
While Smith feels comfortable validating Songbird's front-running style, Stevens is much more circumspect about how Beholder's race is likely to unfold.
"I'm not going to give any type of race scenario to you folks right now," Stevens said. "Pace makes races and I'm paid to make decisions out on the racetrack. From the time the entries were drawn, I've run that race many, many times in my head and I've got a lot of different scenarios, but they all have a happy ending."
While this trifecta of horses has been the singular focus of the race, there are five others that could be a factor in either a good or negative way.
"It's not just three horses," Stevens said. "There is a nice filly in named Curalina [at 12-1 odds] that Todd Pletcher has and Johnny Velazquez rides. Larry Jones has a filly named I'm a Chatterbox [12-1] that is coming off a devastating win in the Spinster [at Keeneland]."
Also in the race are Forever Unbridled (12-1), Argentine import Corona Del Inca (30-1) and Land Over Sea (30-1), runner-up in the Kentucky Oaks.
Jerry Bailey, a hall of fame jockey and NBC Sports horse racing analyst, isn't afraid to split horse hairs amid this sea of guarded optimism.
"[If I could ride one of them] I think I would be on Stellar Wind," Bailey said. "I'm not convinced Beholder is what she used to be. Stellar Wind was taken out of what she historically does best, which is settle back.
"Songbird might get an easy lead. But Beholder is better when she runs at someone. I just don't think Songbird could have it her own way all the time on the front."
As the question marks turn to answers, the one thing you can count on is that two of the three horses will add another Eclipse Award to their resumes.
---
Get our high school sports newsletter
Prep Rally is devoted to the SoCal high school sports experience, bringing you scores, stories and a behind-the-scenes look at what makes prep sports so popular.
You may occasionally receive promotional content from the Los Angeles Times.