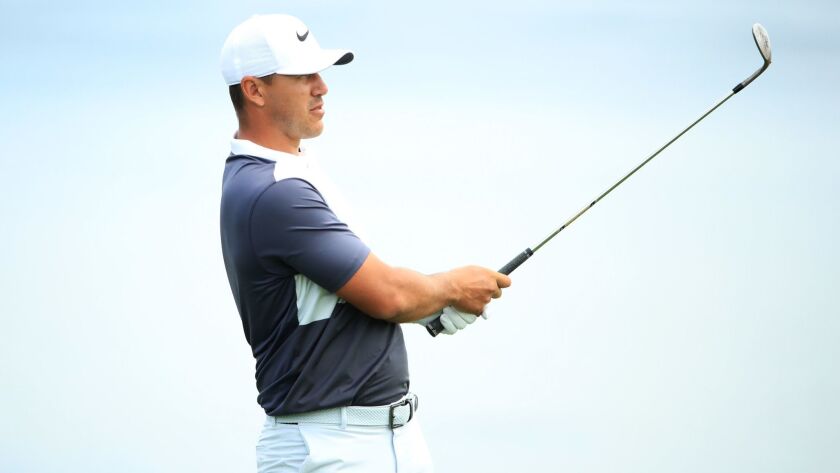 Reporting from pebble beach —
It would seem the quarry would be bare of rock chips for Brooks Koepka to place on his broad shoulders.
Incredibly, after four major victories in fewer than two years, Koepka keeps finding more.
On Tuesday at Pebble Beach, where Koepka will try to win a third straight U.S. Open beginning Thursday, the 28-year-old was asked in a news conference where the chips on his shoulder come from.
Koepka, who captured last month's PGA Championship at Bethpage Black, acknowledged some of his resentment is self-created, but also noted there were videos produced by Fox Sports to promote this U.S. Open, and the two-time defending championwas not part of one of them.
"There's a couple of things where it's just mind-boggling," Koepka said. "It's, like, really? Like, how do you forget that?"
Later, Koepka said, "I didn't actually see [the promo] for a long time. A bunch of people on Twitter I think tagged me in it, and I guess were amazed that I wasn't in it. I just clicked on the link and saw it and watched it. Just kind of shocked. They've had over a year to kind of put it out. So I don't know. Somebody probably got fired over it or should."
Koepka was laughing for that last line, but clearly will use it for motivation as he tries to become the second player in U.S. Open history to win the tournament three straight years. When Koepka seized last year's Open at Shinnecock Hills, he joined Curtis Strange (1988-89) as the only back-to-back winners since Ben Hogan (1950-51).
Scotsman Willie Anderson captured his three straight U.S. Opens from 1903 through '05 in an era when fields numbered fewer than 100 players.
Of possibly matching Anderson, Koepka said, "I haven't talked to anybody about going three in a row. I'm not thinking about it. I know the odds are stacked up probably even more against me now to go three in a row than to back it up. It's hard to win the same event three times in a row. I don't know how many times it's even been done on the PGA Tour, let alone a major championship."
In the modern playing of the four majors, only one man has won three straight of any single event. Australian Peter Thomson lifted the British Open's Claret Jug from 1954-56.
Remarkably, among the record 18 majors Jack Nicklaus has won, he went back-to-back only once (1965 and '66 Masters). Thirty-one players have repeated at majors. Koepka is the current repeat champion of the U.S. Open and PGA.
Koepka was still in college when the 2010 U.S. Open was played at Pebble Beach, and his pro experience here is limited to a 2016 appearance in the AT&T Pebble Beach National Pro-Am. He played two rounds at Pebble and tied for eighth.
With Pebble playing at a short 7,075 yards, Koepka figures he'll hit his driver on only a couple holes all week, opting for three-wood instead, and doesn't feel as if it's a disadvantage.
"I've got a shorter club, it's easier to hit it on line," he said. "I should, technically, be more in the fairway than the guy who is hitting driver."
A matter of degrees
The weather has been warm for the Pebble Beach practice rounds, but the temperature is expected to dip in the coming days, with highs in the low 60s and lows in the low 50s. The way Jordan Spieth sees it, the temperature has a greater effect on the golf course than the wind does.
"I don't mind the wind at all," Spieth said. "When it gets cold — it's hard for me to stand there with a seven-iron and I just feel like I'm going to hit it way over the green; when the ball is cold, the club is cold and you're club, it just goes so short. Especially here.
Sign up for our daily sports newsletter »
"When it's cold mornings, there's no place in the world you can hit the ball shorter than in Pebble Beach, California, when it's a cold, rainy morning."
Feel your pain
Tiger Woods can commiserate with Kevin Durant, the Golden State Warriors star who suffered an Achilles injury in Game 5 of the NBA Finals on Monday after returning from a strained calf that kept him out for more than a month.
"It was sad," Woods said. "As athletes we've all been there to that spot when you just know it, that something just went, and can't move, can't do much of anything. And you can see it on his face, how solemn his face went. He knows it when things pop. You just know. And I've been there. I've had it to my own Achilles. I've had it to my own back. I know what it feels like.
"It's an awful feeling. And no one can help you. That's the hard part. And whether he has a procedure going forward or not, or whatever it is, his offseason, what that entails, that's the hardest part about it is the offseason or the rehab."
Follow Sam Farmer on Twitter @LATimesfarmer
---