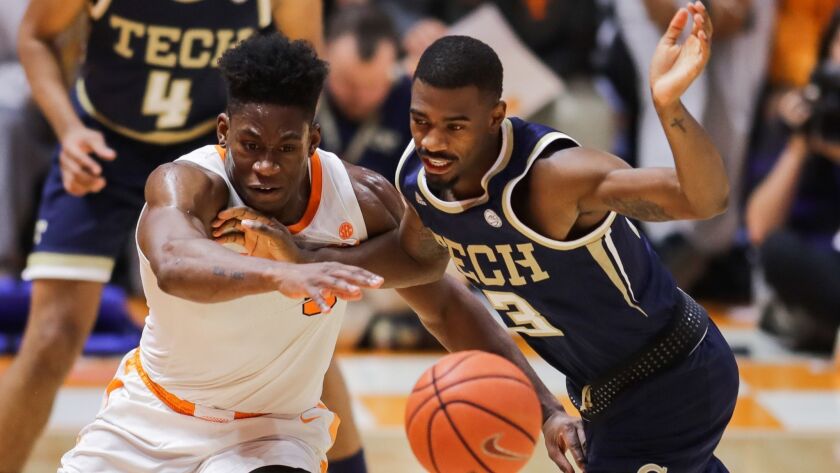 No. 5 Tennessee celebrated its first top-five ranking in more than a decade by showcasing the stingy defense that helped these Volunteers earn their rare status.
Grant Williams scored 22 points as host Tennessee beat cold-shooting Georgia Tech, 66-53, on Tuesday night, one day after the Vols (3-0) moved up a spot in the Top 25 to reach the top five for the first time since the 2007-08 season.
Georgia Tech (1-1) shot just 27.6% from the field — its lowest mark since Josh Pastner took over as coach in 2016. The Yellow Jackets had nearly twice as many fouls (30) as baskets (16).
"You've got to hang your hat on something, and for the last few years we've tried to hang our hat on our defense," Tennessee coach Rick Barnes said. "We really have."
Tennessee is doing a better job than ever in that regard.
Through their first three games of the season, the Volunteers have allowed opponents to shoot just 29.3% from the floor.
at No. 22 LSU 85, Memphis 76: Skylar Mays scored 19 points, transfer Kavell Bigby-Williams added a career-high 14, and No. 22 LSU held off a relentless effort by first-year coach Penny Hardaway's Memphis squad, 85-76 on Tuesday night.
Each of LSU's three freshmen starters — Naz Reid, Ja'Vonte Smart and Emmitt Williams — scored 11 points.
Williams also grabbed 10 rebounds for the Tigers (3-0), who trailed briefly with about 13 minutes to go before surging ahead for good with a pivotal 12-1 run that included back-to-back 3s by Mays and Reid. Smart set up Reid's 3 with a behind-the-back bounce pass from the right wing.
SOUTHLAND
Cal Baptist 70, at Oral Roberts 69: Milan Acquaah hit a half-court shot at the buzzer, giving the Lancers (2-0) their first victory over a Division I opponent since 2010. Acquaah finished with 16 points, five steals and four rebounds.
at Loyola Marymount 79, Cal State Northridge 64: James Batemon scored 21 points and handed out 10 assists for his first career double-double and the Lions (3-0) cruised past the Matadors (0-2). LMU had a 41-26 edge on the boards.
at Northern Colorado 88, Pepperdine 80: Jordan Davis scored 32 points with four three-pointers and the Bears pulled away late from the Waves (1-1), who got 22 points and nine rebounds from Kameron Edwards.
at UC Santa Barbara 88, Cal Lutheran 32: The Gauchos (2-1) shot 58% from the field and held the Division III Kingsmen to 15.8% shooting (nine of 57). Ami Lakoju came off the bench and scored 16 points in 12 minutes for Santa Barbara.
at Nevada Las Vegas 72, UC Riverside 51: Bryce Hamilton made all five of his shots, including three from three-point range, and scored 16 points to propel the Rebels (1-1). Dikymbe Martin led the Highlanders (0-3) with 14 points.
---