College football: Texas upsets No. 7 Oklahoma after blowing lead; No. 22 Florida takes down No. 5 LSU; Texas A&M outlasts No. 13 Kentucky in OT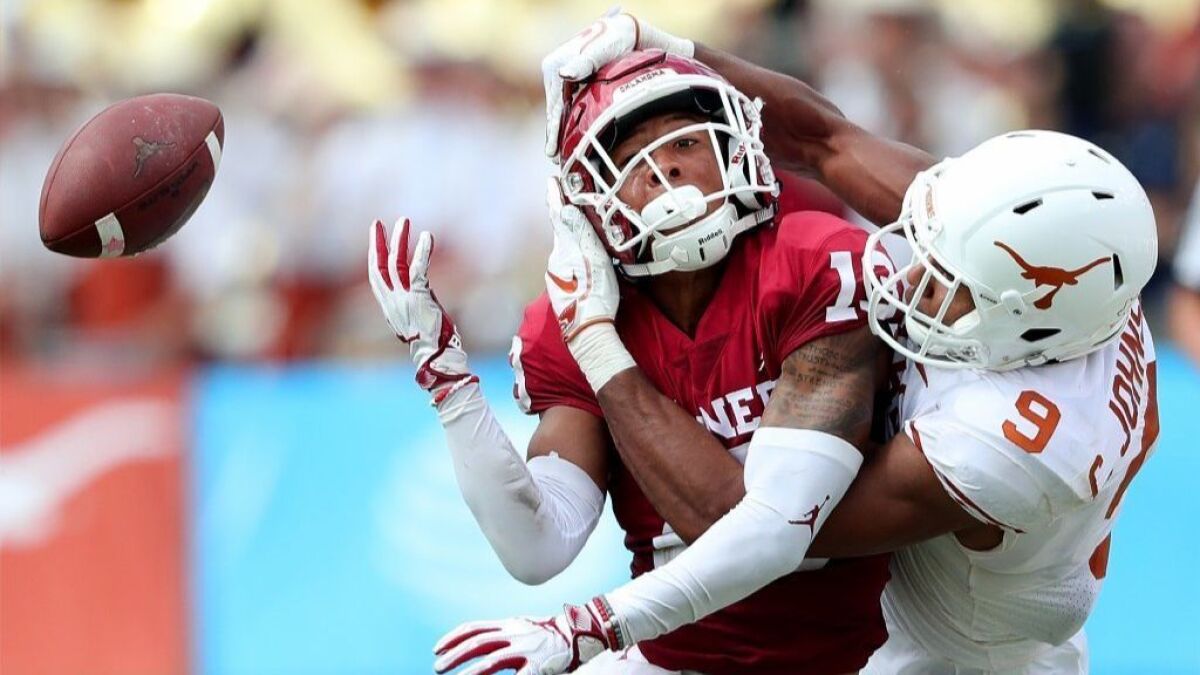 Freshman Cameron Dicker kicked a 40-yard field goal with nine seconds left to give 19th-ranked Texas a 48-45 victory Saturday over No. 7 Oklahoma after Kyler Murray had rallied the Sooners with three touchdowns in the fourth quarter.
Sam Ehlinger ran for three touchdowns and threw for 314 yards with two more scores for Texas (5-1, 3-0 Big 12), which has its first five-game winning streak since 2013. The sophomore quarterback converted third-and-3 on Texas' final drive with a 4-yard keeper and his 8-yard draw to the middle of the field set up the winning kick .
The Longhorns took a 45-24 lead into the fourth quarter before Murray threw a 19-yard TD pass to Lee Morris and ran 67 yards for a score on a one-play drive. Trey Sermon's 7-yard run for the tying touchdown with 2:38 left gave the Sooners three TDs in a span of six minutes.
Oklahoma (5-1, 2-1), the three-time defending Big 12 champion, lost to the Longhorns for the third time in six seasons. This was the first time in that span Texas was ranked for the Red River Rivalry, which had never had more combined points in a 113-game series that dates back to 1900.
Murray completed 19 of 26 passes for 304 yards and four touchdowns, and ran for 92 yards. But he also had two turnovers, only his third interception of the season and a big fumble in the third quarter when he lost control of the ball when scrambling.
Five plays after Murray's fumble, not long after his 77-yard TD pass to Marquise Brown, the Longhorns led 38-24 when Ehlinger burst into the end zone on a 2-yard run. Ehlinger flashed the "Hook `Em Horns" sign to the burnt orange-clad end of the Cotton Bowl Stadium in Dallas, where the crowd of 92,300 was split 50-50 for the annual showdown at the State Fair of Texas.
at No. 22 Florida 27, No. 5 Louisiana State 19: Lamical Perine scored twice on short runs, including one after a trick play in the fourth quarter, and No. 22 Florida beat fifth-ranked LSU 27-19 Saturday in another nail-biter in the series.
Brad Stewart's 25-yard interception return for a touchdown — the first pick Joe Burrow has thrown this season — essentially sealed the victory for the Gators (5-1, 3-1 Southeastern Conference).
Florida scored all its points after 2007 Heisman Trophy winner Tim Tebow became the sixth player to be inducted into the school's ring of honor.
With Tebow watching much of the game from the sideline, Florida looked a little like a championship contender.
at Texas A&M 20, No. 13 Kentucky 14, OT: Trayveon Williams flipped into the end zone on a 10-yard run in overtime to give the Texas A&M a 20-14 victory over No. 13 Kentucky on Saturday night.
The Wildcats' Miles Butler missed a 43-yard field goal to start overtime, with the ball bouncing back off the crossbar, and the Aggies capitalized with Williams' touchdown run four plays later.
The Aggies (4-2, 2-1 Southeastern Conference) appeared to be in control and were trying to drain the clock when Mond fumbled, and safety Darius West scooped up the ball and returned it 40 yards for a touchdown to it at 14 with 4:17 remaining.
at Mississippi State 23, No. 8 Auburn 9: Nick Fitzgerald ran for 195 yards and two touchdowns and Mississippi State's defense had another dominant performance in a 23-9 victory over No. 8 Auburn on Saturday night.
Mississippi State (4-2, 1-2 Southeastern Conference) came into the game among the nation's top 10 in scoring defense, and the Bulldogs were brilliant on that side of the ball once again. The Tigers hit on a couple big plays, but once they neared the end zone the Bulldogs clamped down.
No. 1 Alabama 65, at Arkansas 31: Every week Alabama seemingly reaches another milestone with yet another blowout.
Tua Tagovailoa passed for 334 yards and four touchdowns as No. 1 Alabama ran its winning streak against Arkansas to 12 straight with a 65-31 win Saturday. The Crimson Tide has reached 45 points in six straight games for the first time in program history.
It took just one play for Alabama (6-0, 3-0 SEC) to set the tone as Tagovailoa hit tight end Irv Smith Jr. on a pass across the middle that Smith took 76 yards to the end zone and a 7-0 lead just 21 seconds into the game.
at No. 2 Georgia 41, Vanderbilt 13: Jake Fromm threw three touchdown passes, including a 75-yarder to Terry Godwin, and No. 2 Georgia beat Vanderbilt 41-13 on Saturday night to gain momentum for a crucial stretch of four Southeastern Conference games.
Georgia (6-0, 4-0) trailed for the first time this season following the first of two first-half field goals by Vanderbilt's Ryle Guay less than five minutes into the game.
Fromm threw for a season-high 276 yards while sitting out the final quarter. After Vanderbilt took the 3-0 lead, Fromm needed only 15 seconds to respond with the long scoring pass to Godwin, who fought off cornerback Joejuan Williams' tackle attempt.
at No. 3 Ohio State 49, Indiana 26: Dwayne Haskins Jr. passed for a career-best 455 yards and six touchdowns and No. 3 Ohio State pulled away in the fourth quarter to beat Indiana 49-26 on Saturday.
A week after a gritty victory at Penn State, the Buckeyes were forced to work hard by quarterback Peyton Ramsey and an Indiana offense that took advantage of plenty of early defensive mistakes. The Buckeyes didn't get a handle on this one until Haskins hooked up with Terry McLaurin for a 17-yard touchdown pass early in the fourth, and then added a 30-yard scoring pass to Binjimen Victor with seven minutes left.
No. 4 Clemson 63, at Wake Forest 3: Travis Etienne rushed for 167 yards and three touchdowns, and No. 4 Clemson ran for 471 yards in a 63-3 rout of Wake Forest on Saturday.
Three Tigers had at least 100 yards rushing, the first time they've done that since 2006 during their most productive rushing performance since 1981.
In addition to Etienne — who scored on runs of 59, 3 and 70 yards — Lyn-J Dixon rushed for 163 yards and Adam Choice had 128. Dixon had touchdown runs of 65 and 52 yards, and Choice had a 64-yard TD run.
No. 6 Notre Dame 45, at No. 24 Virginia Tech 23: Dexter Williams ran for three touchdowns, including a 97-yarder, and No. 6 Notre Dame beat No. 24 Virginia Tech 45-23 on Saturday night.
The Irish (6-0) had minus-5 rushing yards and were facing second-and-12 from their own 3 when Williams took a handoff into the left side of the line and broke into the clear early in the third quarter, putting Notre Dame ahead 24-16. Williams had just been thrown for a 2-yard loss, prompting the sellout crowd at Lane Stadium to grow louder, begging for the kind of big play the program's defense has made so often. Instead, it was Williams who made it. He added TD runs of 1 and 31 yards.
at No. 9 West Virginia 38, Kansas 22:
One messy game didn't diminish West Virginia coach Dana Holgorsen's confidence in Heisman Trophy hopeful Will Grier.
Grier's four turnovers overshadowed a four-touchdown performance in No. 9 West Virginia's 38-22 victory over Kansas on Saturday.
West Virginia (5-0, 3-0 Big 12) has won its first five games for the second time in three seasons.
"We'll take the sloppy win and go home," Holgorsen said.
at No. 12 Central Florida 48, Southern Methodist 20: McKenzie Milton threw for 278 yards and two touchdowns to help No. 12 UCF extend the nation's longest winning streak to 18 games with a 48-20 victory over SMU on Saturday night.
Adrian Killins rushed for 113 yards and a TD for the Knights (5-0, 2-0), one of three unbeaten teams remaining in the American Athletic Conference, along with Cincinnati and South Florida.
at No. 15 Michigan 42, at Maryland 21: Shea Patterson threw for a season-high 282 yards and three touchdowns to help No. 15 Michigan brushed off a sloppy start to beat Maryland 42-21 Saturday.
The Wolverines (5-1, 3-0 Big Ten) fell behind late in the first quarter and didn't take the lead again until midway through the second quarter. They scored 24 straight points to take control and added another TD and 2-point conversion with 6:37 remaining to seal their fifth straight victory.
The Terrapins (3-2, 1-1) went ahead on Ty Johnson's 98-yard kickoff return with 1:10 left in the first half, but they didn't score again until early in the fourth quarter.
The heavily-favored Mountaineers had no trouble moving the ball against Kansas (2-4, 0-3), but Grier's efforts to throw into extra coverage near the goal line cost his team plenty of points.
Grier was intercepted three times in the first half either in the end zone or at the goal line, two of them by cornerback Hasan Defense. All three of Grier's interceptions occurred when West Virginia had driven inside the Kansas 15-yard line.
at No. 16 Wisconsin 41, Nebraska 24: Jonathan Taylor ran for 221 yards and three scores, including a career-best 88-yarder in the fourth quarter, and No. 16 Wisconsin's punishing ground game wore down winless Nebraska in a 41-24 victory on Saturday night.
The Badgers (4-1, 2-0 Big Ten) withstood the Cornhuskers' desperate second-half comeback attempt from a 17-point halftime deficit led by two touchdown passes in the third quarter by Adrian Martinez.
at No. 17 Miami, Fla. 28, Florida State 27: At Miami, this will be The Comeback.
At Florida State, this will be The Collapse.
N'Kosi Perry threw four touchdown passes, and No. 17 Miami pulled off its biggest comeback ever against Florida State by rallying from 20 points down midway through the second half to top the Seminoles 28-27 on Saturday night.
"I never doubted," Miami safety Jaquan Johnson said.
There were few who could say that.
Northwestern 29, at No. 20 Michigan State 19:
Clayton Thorson threw for 373 yards and three touchdowns and Northwestern recovered from another second-half slip to beat No. 20 Michigan State 29-19 on Saturday.
The Spartans (3-2, 1-1 Big Ten) entered with the nation's top-ranked run defense and held Northwestern (2-3, 2-1) to 8 yards on the ground, but it didn't matter. The Wildcats moved the ball consistently well through the air, and Michigan State's offense was mostly inept except for a brief stretch in the third quarter.
Thorson threw a 21-yard scoring pass to Cameron Green with 15 seconds left in the third, and a 2-point conversion gave Northwestern a 22-19 lead.
The Wildcats missed a field goal with 6:41 to play, but Michigan State went 15 yards backward on the ensuing possession and had to punt. The Spartans held again defensively, and on the next possession, they had second-and-1 from their own 11. After two near-sacks, running back Connor Heyward was stopped on fourth down. Thorson scored on a 2-yard run to make it a 10-point game with 2:51 left.
"We'll find the answers. I feel pretty confident in that," Michigan State coach Mark Dantonio said. "We'll right the ship."
at No. 23 North Carolina State 28, Boston College 23: Reggie Gallaspy ran for a career-best 104 yards and two touchdowns while No. 23 North Carolina State held on after squandering most of a big second-half lead to beat Boston College 28-23 on Saturday.
Ryan Finley threw for two touchdowns for the Wolfpack (5-0, 2-0 Atlantic Coast Conference), which led 28-3 on Finley's scoring strike to Kelvin Harmon with 2:57 left in the third. But the Eagles (4-2, 1-1) responded with 20 straight points, including a blocked punt return for a score with 3:33 left that made it a one-possession game.
Iowa State 48, at No. 25 Oklahoma State 42: Third-string quarterback Brock Purdy completed 18 of 23 passes for 318 yards and four touchdowns to help lead Iowa State to a 48-42 victory over No. 25 Oklahoma State on Saturday.
Purdy, a true freshman, had played just one series before this game. But he stepped in for Zeb Noland — who was starting his fourth straight game in place of injured starter Kyle Kempt — in the contest's second series and immediately sparked Iowa State (2-3, 1-2 Big 12 Conference). He also had a rushing touchdown.
In other games:
- Pittsburgh's Darrin Hall ran for 107 yards and two touchdowns, including the go-ahead score in overtime, as the Panthers rallied past Syracuse 44-37. Hall's 3-yard burst on the opening possession of the extra period put the Panthers up and Pitt sophomore defensive back Therran Coleman picked off Syracuse's Eric Dungey in the end zone on the Orange's first offensive snap to give the Panthers a stirring victory.
- Backup quarterback Michael Scarnecchia threw three touchdowns in his first college start and Parker White had the game-winning field goal with two seconds left in South Carolina's 37-35 win over Missouri. The Gamecocks slogged through a rainy third quarter and more than an hour of lightning delays for their third straight win over the Tigers. Scarnecchia played because of Jake Bentley's knee injury which he sustained at Kentucky last week.
- Quarterback AJ Bush ran for 116 yards and two touchdowns and threw for another in his return to the lineup as Illinois used a big ground game to beat Rutgers 38-17, sending the Scarlet Knights to their fifth straight loss. Bush, who missed the last two games with a hamstring injury, scored on runs of 3 and 41 yards in the first half.
- D.J. Hammond, sidelined early in the game when dazed by a helmet-to-helmet collision, returned to run for three touchdowns and throw for another, leading Air Force past Navy 35-7 on Saturday in his first career start. Joseph Saucier also scored on a 48-yard run for Air Force, which took the first leg in the competition among the service academies for the Commander in Chief's trophy.
- San Diego State running back Jordan Byrd scored on a 72-yard touchdown run and the Aztecs' defense shut down Boise State's high-scoring offense to upset the Broncos 19-13. The Aztecs (4-1, 1-0 Mountain West), who have won two of their past three games in Boise, needed only 267 yards of offense to pull off the victory without their starting quarterback Christian Chapman or leading rusher Juwan Washington.
- Jordan Ta'amu passed for 374 yards and accounted for five touchdowns as Mississippi opened with nine consecutive touchdown drives in a 70-21 win over Louisiana-Monroe. Ta'amu was 21-of-24 passing, including first-half touchdown passes to A.J. Brown, D.K. Metcalf and Damarkus Lodge for 20, 62 and 16 yards, respectively.
- Michael Warren's career-long 81-yard touchdown run leading the Cincinnati Bearcats to a 37-21 win over the Tulane Green Wave.
Other scores:
No. 10 Washington 31, at UCLA 24
Utah 40, at No. 14 Stanford 21
at No. 21 Colorado 28, Arizona State 21
at Arizona 24, California 17
Washington State 56, at Oregon State 37
Alabama Birmingham 28, at Louisiana Tech 7
at Baylor 37, Kansas State 34
Buffalo 34, at Central Michigan 24
at Florida Atlantic 52, Old Dominion 33
Illinois 38, at Rutgers, 17
Iowa 48, at Minnesota 31
at Memphis 55, Connecticut 14
Miami (Ohio) 41, at Akron 17
at New Mexico State 49, Liberty 41
Northern Illinois 24, at Ball State 16
North Texas 27, at Texas El Paso 24
Ohio 27, at Kent State 26
South Florida 58, at Massachusetts 42
at Southern 48, South Alabama 13
at Temple 49, East Carolina 6
Texas San Antonio 20, at Rice 3
at Toledo 52, Bowling 36
at Western Michigan 27, Eastern Michigan 24
Get our high school sports newsletter
Prep Rally is devoted to the SoCal high school sports experience, bringing you scores, stories and a behind-the-scenes look at what makes prep sports so popular.
You may occasionally receive promotional content from the Los Angeles Times.