Spotlight: Not hard to illustrate how big an upset Old Dominion scored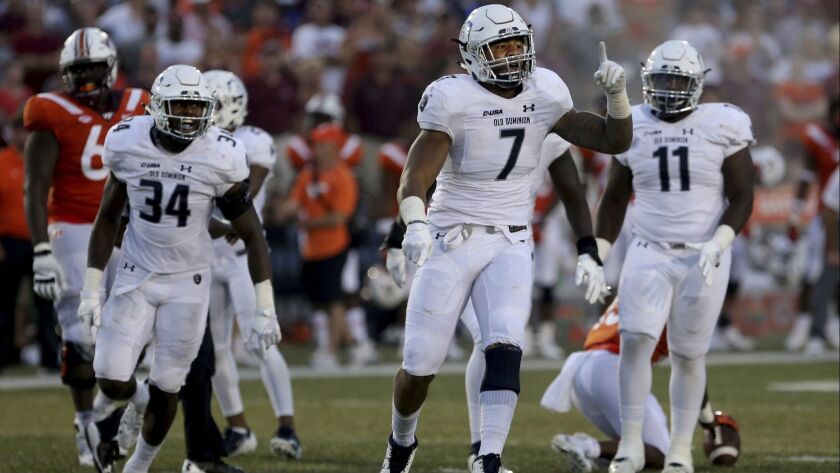 There are several payoffs to Old Dominion's 49-35 shocker at home over No. 13 Virginia Tech on Saturday in Norfolk, Va., beyond the obvious: Those who put down $100 on the Monarchs to win saw as much as a $3,000 return. It can make some media folks look more regal and less hokey.
The proliferation of wagering information services, in the wake of a Supreme Court decision allowing states to set up their own sports betting structure, led venerable Sports Illustrated to dive in with an SI.com/gambling site.
While some had ODU as a 29-point underdog, the SI-Gambling Twitter account didn't even trust a 21½-point spread it saw and posted just after kickoff: "I don't think VT's offense is good enough to be laying over three scores on the road. ODU backup QB Blake LaRussa has looked good so far against VT defense. #MaxPlays."
The former walk-on LaRussa did eventually come in on the second series and maximized a 495-yard, four-touchdown passing performance with a go-ahead 29-yard fade pattern to Jonathan Duhart with 5:11 left.
"At night when you dream about this game, this is what you picture," Monarchs wide receiver Travis Fulgham said.
Jeremy Cox's 40-yard touchdown run with 1:34 left capped what is being called one of the biggest head-turners in years by:
-- The Associated Press, noting that Old Dominion, which shut down its football program from 1942 through 2009, is the first team to beat an AP Top 15 team when entering the game 0-3 or worse since 0-3 North Carolina dominated No. 6 Florida State 41-9 in 2001.
-- ESPN, which gave the Monarchs a 1.8% chance to win over the Hokies based on its own Football Power Index, and now marks this as the largest upset by an FBS team in the 14 years of the index projections.
-- USA Today, which had ODU ranked No. 118 of the 130 FBS teams when the season started. After losses to Liberty, Florida International and Charlotte, the Monarchs stumbled to No. 127 on the AthlonSports.com rankings.
Maybe it's worthy of an SI cover story next week.
Virginia Tech coach Justin Fuente, who had two weeks to prepare since the Hokies' game last week against East Carolina was canceled due to Hurricane Florence, said afterward he could almost see this coming.
"It's easy to say that after you get embarrassed, but we had a couple of days in there when I'm trying to remind them … we were preparing like a young football team, and I told them: 'I liked you guys a lot better when everybody told you that you were terrible [because] all you did was work your tails off.'
"Now we get to feeling all good about ourselves, and we get brought back down to earth. We got what we deserved."
The latest Urban renewal
Welcome back, Urban Meyer?
As far as his Ohio State players were concerned, the head coach's presence back on the sideline after a three-game, school-imposed suspension was nothing to take for granted after a 49-6 win over visiting Tulane, and a week before a critical trip to No. 10 Penn State.
"Being with him before we go out on the field together, the excitement he brings, the energy he brings, it was definitely missed," said Buckeyes quarterback Dwayne Haskins, who threw five touchdown passes in the first half before leaving.
Safety Jeffrey Okudah added: "He's always a fired-up dude. I feel like you could feel his energy. You could really feel his energy today. You could tell that he was glad to be back with the team."
Iowa State remembers golfer
Iowa State had planned to honor golfer Celia Barquin Arozamena with an on-field celebration during Saturday's game, recognizing her choice as the school's female athlete of the year. It was instead a remembrance for the 22-year-old stabbed to death Monday while playing at Coldwater Golf Links, less than a mile from Jack Trice Stadium.
"Really tough week, emotional week," Iowa State coach Matt Campbell said, wearing a Cyclones golf hat on the sideline during his team's 26-13 win over visiting Akron. "You hope a little bit of [Saturday] starts the healing process."
Players on both teams wore a "CBA" helmet decal in her memory, and her initials were spelled out on the field by the marching band. A tribute was played on the video board before a moment of silence. Fans were asked to wear yellow, one of the school's main colors and in honor of her Spanish roots.
Follow the frosty thread
Amidst Nebraska's 56-10 Big Ten loss to Michigan, dropping the Cornhuskers to 0-3 under first-year coach Scott Frost, fast-foot company Wendy's pushed out on its Twitter account a new twist on a familiar menu item: "Might need a Scott Frosty to ice down the beating Nebraska is taking."
Barbara Rubin (@bcrubin1) responded: "Not smart @Wendys – Nebraska fans eat fast food too."
"Pretty sure they all know how to take a joke," answered the Wendy account.
"Jokes are funny," @bcrubin1 came back, "this is not."
Wendy's finished it with a drop-the-milkshake line: "Lol, maybe we should start selling pacifiers too."
Google 'How to sink Navy'
A two-point conversion pass play Sonny Dykes said his assistant coaches back at California once discovered during a Google search for "good 2-point plays" resulted in his first win as the Southern Methodist head coach.
In the first overtime, the Mustangs pulled to within 30-29 against visiting Navy on a four-yard touchdown pass from backup quarterback Ben Hicks to receiver James Proche. But Dykes decided against the extra point kick that would have tied it and extended the game.
Instead, his two-point play included offensive lineman Chad Pursley going in motion from the tight end spot on the left side over to the slot right to block. As the defense shifted, Hicks went left and connected in the end zone with the real tight end, Hunter Theldford, despite three Navy defenders around him.
Officials met for several minutes and consulted with the review booth before it was ruled legal.
"There's some technicalities involved in the play where the tackle can't put his hand down," said Dykes, the head coach at Cal from 2013-16. "We've practiced it a thousand times so we were confident that they weren't going to overturn it."
Latest chapter for Irish's Book
Notre Dame coach Brian Kelly said he "didn't sleep great last night" knowing he was going to share snaps between senior quarterback Brandon Wimbush, who led the Irish to a 3-0 start and is 13-3 as a starter, and ready-to-try junior Ian Book for Saturday's game at Wake Forest.
Book woke up some echoes in generating five touchdowns during the No. 8 Irish's 56-27 runaway.
Book's only previous start came last season in a rout of North Carolina. He also replaced Wimbush and rallied his team to a 21-17 win over No. 17 LSU in the Citrus Bowl.
Wimbush, with a 114.8 passer rating through three games that included four interceptions compared to one touchdown pass, never took his baseball cap off while on the sideline. Third-string freshman Phil Jurkovec even got in for the final series.
"I came here to be the starter, and it's up to the coaches, and they'll play the best quarterback to win," said Sacramento native Book, whose quarterback rating stands at 179.17 going into next week against visiting Stanford.
Extra points
While trailing 56-3 to Michigan at one point early in the fourth quarter, Nebraska had lost more yards due to penalties (66) than it had had gained on offense (61).
As part of the school's 200th anniversary, Colgate wore throwback uniforms to honor the 1932 undefeated team that was unscored upon. The Patriot League's Raiders (3-0) registered a 45-0 win over Layfayette in Hamilton, N.Y., a week after they donated team meals from a canceled trip to Furman to the Greenville, S.C., Hurricane Florence relief efforts.
Anthony Violi, a 100-year-old World War II vet from Stuebenville, Ohio, holding his trumpet and marching in place, dotted the script "i" in the Ohio State band's formation during halftime of the OSU-Tulane game. When he joined the school band in 1937, the tradition had been a year old and reserved for sousaphone players,
---
Get our high school sports newsletter
Prep Rally is devoted to the SoCal high school sports experience, bringing you scores, stories and a behind-the-scenes look at what makes prep sports so popular.
You may occasionally receive promotional content from the Los Angeles Times.