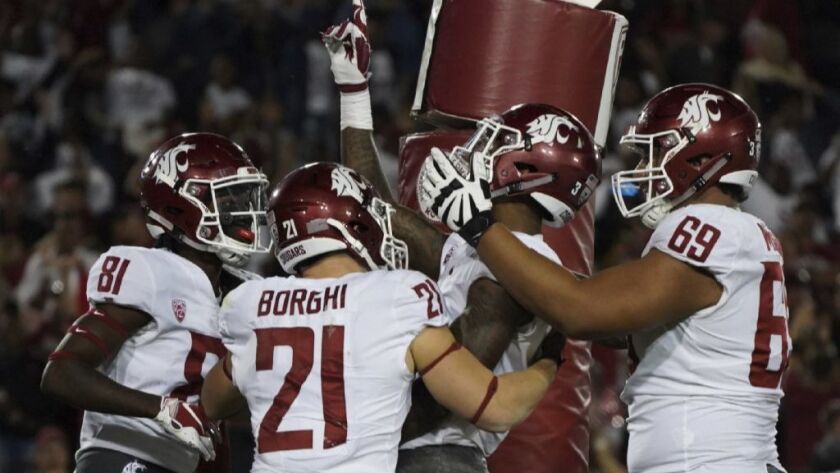 No. 22 Syracuse and No. 23 Virginia broke long runs of being unranked and were among a record seven teams to move into the Associated Press college football poll after a season-high 11 ranked teams lost this weekend.
The top of the ranking was mostly unchanged. No. 1 Alabama, No. 4 LSU and No. 5 Michigan were idle and unchanged. No. 2 Clemson and No. 3 Notre Dame won easily.
The College Football Playoff selection committee releases its first ranking of the season Tuesday.
The back end of the AP Top 25 was overhauled after nine of the 11 teams ranked Nos. 15-25 lost. Seven teams going from unranked to ranked is the most since the AP poll expanded to 25 in 1989. Eleven ranked teams overall losing is the most since the weekend of Nov. 26, 2016. And eight ranked teams losing to unranked teams is also a record for the Top 25 era.
Syracuse is ranked for the first time since 2001 and Virginia is in for the first time since 2011.
POLL POINTS
The Orange had the second-longest streak of unranked seasons among Power Five schools, behind only Indiana. The Hoosiers have not been ranked since 1994. The Cavaliers were tied for sixth on that list with Illinois.
With those teams now ranked, here are the current longest droughts in the AP Top 25:
Indiana, 1994
Purdue, 2007
Wake Forest, 2008
Kansas, 2009
Illinois 2011
Rutgers, 2012
IN
The other teams making their season debut in the Top 25 came from outside the Power Five conferences:
— No. 17 Houston is in for the first time since 2016.
— No. 18 Utah State is ranked for the first time since the final 2016 poll, when the Aggies finished 16th.
— No. 20 Fresno State was ranked briefly last season.
Re-entering the rankings were:
— No. 21 Mississippi State, which has been yo-yoing in and out of the bottom of the Top 25 for much of the season.
— No. 24 Boston College after beating Miami on Friday night.
OUT
Over the last 10 years, on average, a little less than two teams that start the season ranked in the AP top 10 finish the season unranked. There are currently four preseason top-10 teams out of the poll.
Washington and Wisconsin became the latest. The Huskies were No. 15 last week but lost to California 12-10. They started the season No. 6. The Badgers, No. 4 in the preseason poll, fell 31-17 at Northwestern.
Also on the outside of the rankings after starting the season with lofty expectations are Miami (preseason No. 8) and Auburn (preseason No. 9). The last time four preseason top-10 teams finished unranked was 2002, when Tennessee (preseason No. 5), Florida (No. 6), Washington (No. 9) and Nebraska (No. 10) flopped.
The other dropouts this week were Oregon, South Florida, North Carolina State, Stanford and Appalachian State.
CONFERENCE CALL
SEC — 7 (1, 4, 6, 11, 13, 21, 25)
ACC — 4 (2, 22, 23, 24)
Big Ten — 4 (5, 8, 14, 19)
Big 12 — 3 (7, 12, 15)
American — 2 (9, 17)
Mountain West — 2 (18, 20)
Pac-12 — 2 (10, 16)
Independent — 1 (3)
TOP 25
Alabama (60)
Clemson
Notre Dame
LSU
Michigan
Georgia
Oklahoma
Ohio State
UCF
Washington State
Kentucky
West Virginia
Florida
Penn State
Texas
Utah
Houston
Utah State
Iowa
Fresno State
Mississippi State
Syracuse
Virginia
Boston College
Texas A&M
---