College football is back, which means it's time to cancel the Saturday plans to binge-watch games from morning until late night. The Times' Eduardo Gonzalez lets us know what will be on our televisions and computer screens this weekend:
FRIDAY
San Diego State (0-0) at No. 13 Stanford (0-0), 6 p.m., FS1
This will be a revenge game for Stanford after losing to San Diego State 20-17 last season. All eyes will be on Stanford's Bryce Love, who rushed for more than 2,000 yards and 19 touchdowns and finished second in voting for the Heisman Trophy last season. The Aztecs move on without Rashaad Penny, an All-American running back who entered the NFL draft, but running back Juwan Washington and quarterback Christian Chapman return.
3 p.m.: Syracuse at Western Michigan, CBS Sports Network (CBSSN).
4 p.m.: Utah State at No. 11 Michigan State, Big Ten Network (Big Ten); Army at Duke, ESPNU.
6 p.m.: Western Kentucky at No. 4 Wisconsin, ESPN.
6:30 p.m.: Colorado at Colorado State, CBSSN.
SATURDAY MORNING
Florida Atlantic (0-0) at No. 7 Oklahoma (0-0), 9 a.m., Channel 11
Year 2 of the Lane Kiffin era at Florida Atlantic begins and expectations are high after the Owls went 11-3, won the Conference USA title and appeared in a bowl game for the first time since 2008. Singletary returns for the Owls after finishing just shy of the 2,000-yard rushing mark last season. Oklahoma must move on from the Baker Mayfield era, but Kyler Murray should be the perfect replacement. The redshirt junior quarterback decided to forgo his baseball career in an attempt to lead the Sooners back to the College Football Playoff.
9 a.m.: Oregon State at No. 5 Ohio State, Channel 7; No. 23 Texas vs. Maryland, FS1; Southern at No. 16 Texas Christian, FS West; Kent State at Illinois, Big Ten; Texas State at Rutgers, Big Ten; Coastal Carolina at South Carolina, SEC Network (SEC); Mississippi vs. Texas Tech, ESPN; James Madison at North Carolina State, ESPNU; Villanova at Temple, ESPN News; Houston at Rice, CBSSN.
9:15 a.m.: Furman at Clemson, KDOC.
SATURDAY AFTERNOON
No. 6 Washington (0-0) vs. No. 9 Auburn (0-0), 12:30 p.m., Channel 7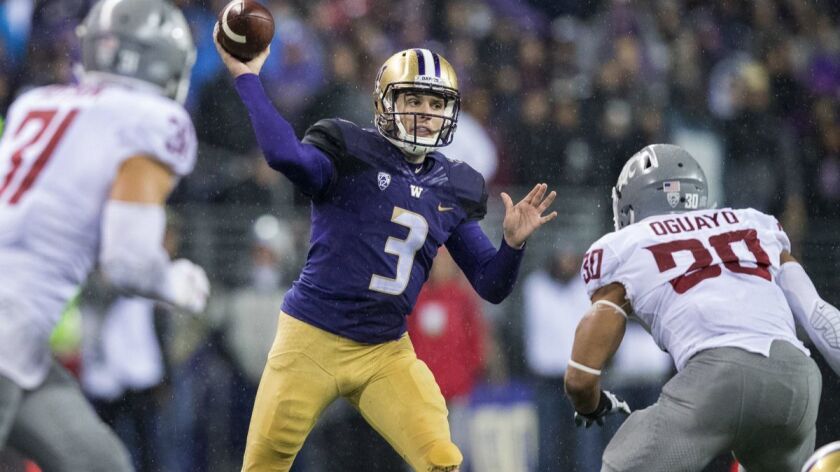 This is the first meeting between the schools and both are looking to rebound after losing New Year's Six bowl games. Quarterback Jake Browning returns for his senior season to lead Wasington's offense, which includes running back Myles Gaskin. Auburn hopes to show a passing attack of its own with junior quarterback Jarrett Stidham and several returning wide receivers. The Huskies last beat a Southeastern Conference team in 1989.
Cincinnati (0-0) at UCLA (0-0), 4 p.m., ESPN
The Chip Kelly era at UCLA officially begins when the Bruins welcome the Bearcats to the Rose Bowl for the first meeting between the schools. It'll be the first time since 2012 that Kelly will be coaching on a college sideline. UCLA fans hope that Kelly can turn around a program that has had losing records the last two seasons.
No. 14 Michigan (0-0) at No. 12 Notre Dame (0-0), 4:30 p.m., Channel 4
The rivalry is back after a three-year break, the Wolverines and Fighting Irish meeting under the lights in a key Week 1 matchup. The lights will be especially bright on fourth-year Michigan coach Jim Harbaugh, who has yet to beat Ohio State or lead the Wolverines to the Big Ten championship game. Notre Dame hopes to return to the College Football Playoff conversation with returning dual-threat quarterback Brandon Wimbush and a stout defensive line.
Louisville (0-0) vs. No. 1 Alabama (0-0), 5 p.m., Channel 7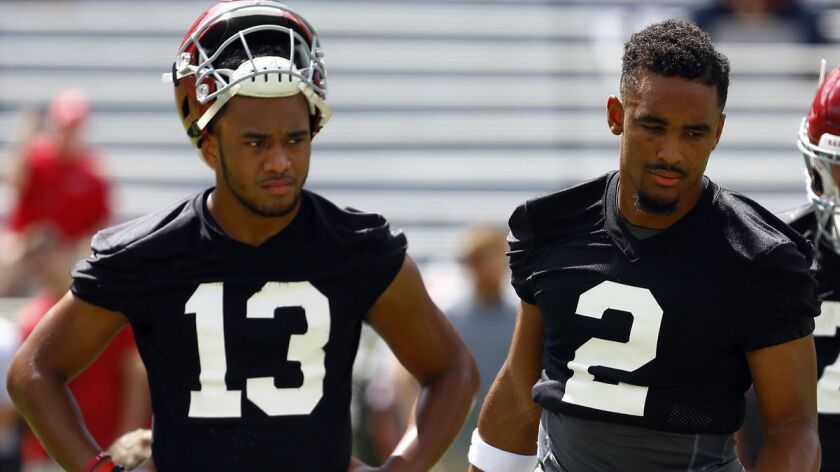 The defending national champions will again open at a neutral site. Alabama coach Nick Saban has listed quarterbacks Jalen Hurts and Tua Tagovailoa as co-starters. This game could serve as an audition for whomever Saban goes with throughout the season. With Lamar Jackson in the NFL, Louisville turns to sophomore quarterback Jawon Pass.
12:30 p.m.: Austin Peay at No. 3 Georgia, ESPN; Appalachian State at No. 10 Penn State, Big Ten; Tennessee at No. 17 West Virginia, Channel 2; Central Michigan at Kentucky, ESPNU; Northern Illinois at Iowa, Big Ten; Washington State at Wyoming, CBSSN.
1 p.m.: Nevada Las Vegas at No. 15 USC, Pac-12 Networks (Pac-12); North Carolina at California, Channel 11; Tennessee Martin at Missouri, SEC; Eastern Illinois at Arkansas, SEC.
3 p.m.: No. 22 Boise State at Troy, ESPN News.
4 p.m.: Indiana at Florida International, CBSSN.
4:30 p.m.: Stephen F. Austin at No. 18 Mississippi State, ESPNU; Charleston Southern at Florida, SEC; Middle Tennessee at Vanderbilt, SEC.
5 p.m.: Bowling Green at No. 24 Oregon, Pac-12; Akron at Nebraska, Channel 11.
SATURDAY EVENING
Texas San Antonio at Arizona State, 7:30 p.m., FS1
Arizona State's Herm Edwards returns to coaching, but for the first time at the helm of a college team. The last time he coached a college team was at San Jose State 29 years ago when he was the defensive backs coach. After that he coached in the NFL for 18 seasons and served as an NFL analyst for ESPN.
7:45 p.m.: Brigham Young at Arizona, ESPN.
8 p.m.: Navy at Hawaii, CBSSN.
SUNDAY
No. 8 Miami vs. No. 25 Louisiana State, 4:30 p.m., Channel 7
The turnover chain will make its appearance for a second season if the Hurricanes can create turnovers against the Tigers in Houston during this Sunday prime-time matchup. Miami should be able to contend for the Atlantic Coast Conference title again with the return of Malik Rosier, who passed for more than 3,000 yards and 26 touchdowns last season, and running back Travis Homer, who fell just shy of reaching the 1,000 rushing-yard mark. The Tigers will be boosted by the return of cornerback Kristian Fulton, whose two-year suspension for tampering with a drug test was reduced to a one year by the NCAA.
MONDAY
No. 20 Virginia Tech at No. 19 Florida State, 5 p.m., ESPN
Though both teams play in the ACC, this will be the first meeting between them since 2012. Virginia Tech quarterback Josh Jackson is back to lead the Hokies after an impressive freshman season that included nearly 3,000 yards passing and 20 touchdowns. Florida State's Willie Taggart makes his Seminoles coaching debut after coaching at Oregon for one season.
---