Phil Mickelson holding off challengers at Desert Classic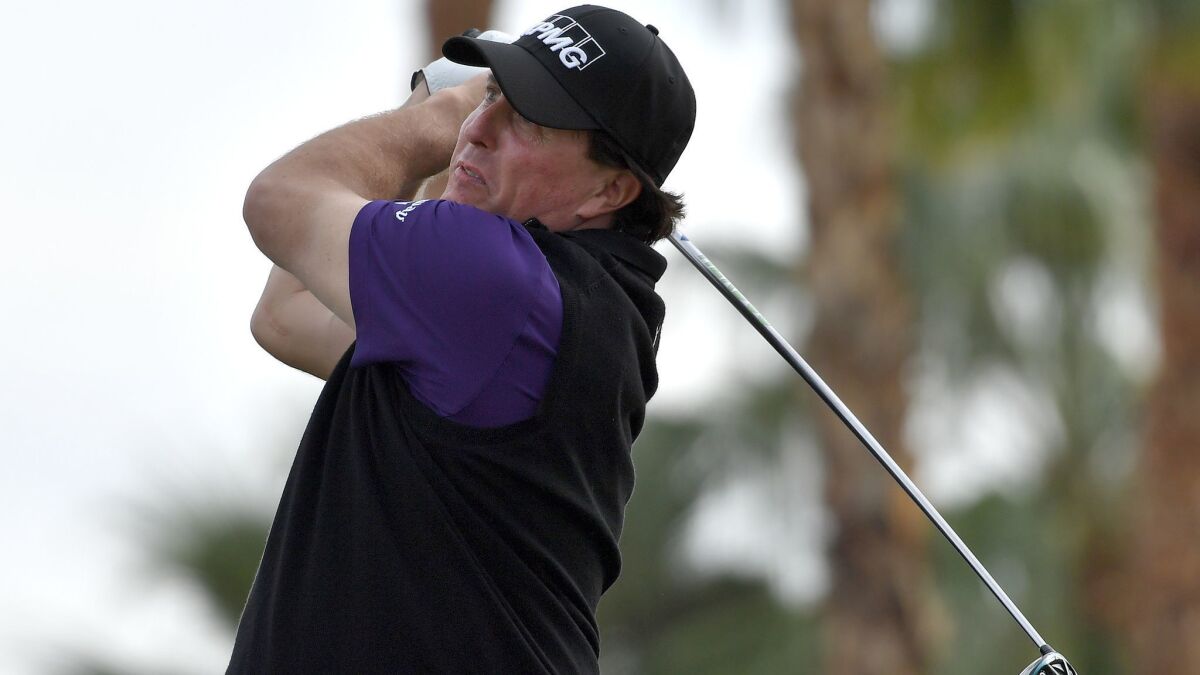 Just when it appeared the posse tracking him hard through the desert was about to round him up, Phil Mickelson figured out a way to keep his pursuers at least another day's ride behind him.
Mickelson birdied four of his last five holes Friday in the second round of the Desert Classic, making up for a meandering start that included a double bogey on his ninth hole. His four-under-par 68 at the Nicklaus Tournament Course at PGA West in La Quinta left him at 16 under after two rounds and with a two-stroke lead heading into the weekend.
"I finished strong … and so I turned a round that was not very good into a respectable round," Mickelson said.
Surprising rookie Curtis Luck of Australia shot 66 on the Nicklaus course and is two shots behind Mickelson after a calm, sunny day in the desert that was ideal for low scores and high hopes.
Adam Hadwin, the Canadian who shot 59 in this tournament two years ago, is at 13 under after a 66 at La Quinta Country Club. He tied for third last year, was second in 2017 and tied for sixth three years ago.
Never given to overstatement, Hadwin said, "I've been doing OK the last couple years here."
He is joined by journeyman Steve Marino, who, after a 65 at La Quinta that featured a four-hole stretch of birdie-birdie-birdie-hole in one, is hoping to get his first victory on tour in his 222nd start.
Three players are at 12 under, three at 11 under and a pack of 10 at 10 under. The way these courses give up birdies, any player among them can make a significant charge.
Sign up for our Lakers newsletter »
Among the close challengers to Mickelson is defending champion Jon Rahm, who is four back after a 66 on the Nicklaus course. He's trying to become the first repeat winner in the tournament since Johnny Miller in 1976.
"It's difficult to defend," Rahm said, "because you need to shoot very low every single time you play here."
Still, he's looking forward to his closing rounds on the Stadium course, where he won in a four-hole playoff last year.
Friday's average scores on the par-72 layouts were 68.4 at La Quinta, 68.6 at Nicklaus and 70.2 at the Stadium, which show why Mickelson, even par in his first nine holes, actually was backing up. After needing only 21 putts Thursday, Mickelson couldn't find his stroke Friday until the 14th hole. He rolled in a 12-foot birdie putt there, and followed it with three more in the next four holes.
"When I made one, I started to see the ball go in the hole, and I made a few more," he said. "So I just needed one little spark and finally got it."
He had run so many putts over the edges Friday that on his 13th hole, the par-five fourth, he left the flagstick in the cup as he putted, as playing partner Aaron Wise has been doing this week. His birdie putt missed.
"It felt very uncomfortable," Mickelson said. "I don't think I'll do that again."
Mickelson suddenly became catchable on the 18th hole, his ninth, when his second shot from a sidehill lie in the rough ended up in the water guarding the right side of the hole. Once he missed his six-foot par put, he had dropped to even par for the day, and his lead had shrunk to a shot.
"It really wasn't as hard a shot as I made it look," he said of the iron into the hazard. "But that's been the only hole I played over par this week, so I can't complain too much."
Mickelson will play his third and fourth rounds on the Stadium course, the most difficult of the three in the rotation. The weather is expected to be similar to Friday's, a far cry from the drizzly, cool weather in the first round.
"You get nice weather out there and you hit some good shots, you can make birdie," Mickelson said. "I feel it's a course you can take advantage of, but the penalty for a miss is greater, so you just have to play a little bit better to shoot the same score."
Everyone in the pack chasing Mickelson knows that. Avoid the deep bunkers, keep the ball dry, you might just catch the guy who has figured out the escape routes so far.
---
Get our high school sports newsletter
Prep Rally is devoted to the SoCal high school sports experience, bringing you scores, stories and a behind-the-scenes look at what makes prep sports so popular.
You may occasionally receive promotional content from the Los Angeles Times.