Triple Crown winner Justify is retired because of an ankle injury
Triple Crown champion Justify, who burst onto the horse racing scene in February, has left just as quickly. The 3-year-old colt was retired Wednesday after just 112 racing days and six races to become the only undefeated Triple Crown champion.
The announcement, expected by many, came in the form of a news release from WinStar Farm, the majority owner of the colt.
"Justify had some filling in his ankle, and he is just not responding quick enough for a fall campaign," trainer Bob Baffert said. "We all wanted to see Justify run again, but ultimately it is my responsibility to make sure he is perfect. Without 60-90 days, I can't be definite."
Justify will return to WinStar after Saturday, when he will parade in front of the Del Mar crowd. It will be his third such ceremonial jog, having done it at Churchill Downs and Santa Anita.
Negotiations are ongoing to sell the breeding rights to the colt to Coolmore Ashford Stud for a new career as a sire. The purchase price is thought to be in the $75-million range. It's estimated that he will bring $150,000 for each live foal he sires, with the potential of up to 250 matings a year.
In the end, his value as a stallion was too great to risk him racing again, especially when he has an ankle problem.
"The timing is bad for another start in 2018, and therefore, we have to retire him," said Elliott Walden, president and CEO of WinStar and manager of the ownership group. "Like American Pharoah, we can't take the risk of running Justify as a 4-year-old. We all wanted him to finish his career in the Breeders' Cup Classic, but it was not meant to be.
"As has been reported, there is a possible sale to Coolmore in place, but that won't be finalized until a later date. We are excited to share him with our fans starting the middle of August, after he gets acclimated."
Justify is only the second of 13 Triple Crown winners to make the Belmont Stakes their last race. Count Fleet (1943) also did not race again after the Belmont because of injury. However, Count Fleet had run 21 races at that time.
Judging Justify's legacy can be difficult, although the few times he ran he was more than special.
"That Justify had only six lifetime starts no doubt is going to be viewed as a negative vis-à-vis his standing among the all-time greats in the eyes of many," said racing historian Jon White. "That he never raced against older horses, unlike fellow recent Triple Crown winner American Pharoah, also will be held against Justify by many.
"On the other hand, it's a plus for Justify that he retires with an aura of invincibility. It's also to Justify's credit that he managed to accomplish as much as he did in a relatively short period of time. … He also broke the record for defeating the most total starters in the three Triple Crown races."
Justify ran against 35 horses, breaking War Admiral's (1932) 32 horses.
Unlike American Pharoah, who Baffert described as a gentle and kind horse, Justify is more spirited and ornery. Baffert said at the Belmont that his tolerance for people is "about five seconds."
He came to Baffert later than most horses. He had an exceptionally large body and needed time to grow into it so he did not race as a 2-year-old.
Baffert could tell he had something special and before his first race walked into the office of Rick Hammerle, Santa Anita racing secretary, to find out if a maiden race would have enough horses to be run. It was unheard of to see Baffert in that office inquiring about a maiden race.
"I have a horse that can win the Kentucky Derby," Baffert confided to Hammerle.
He was right, and more.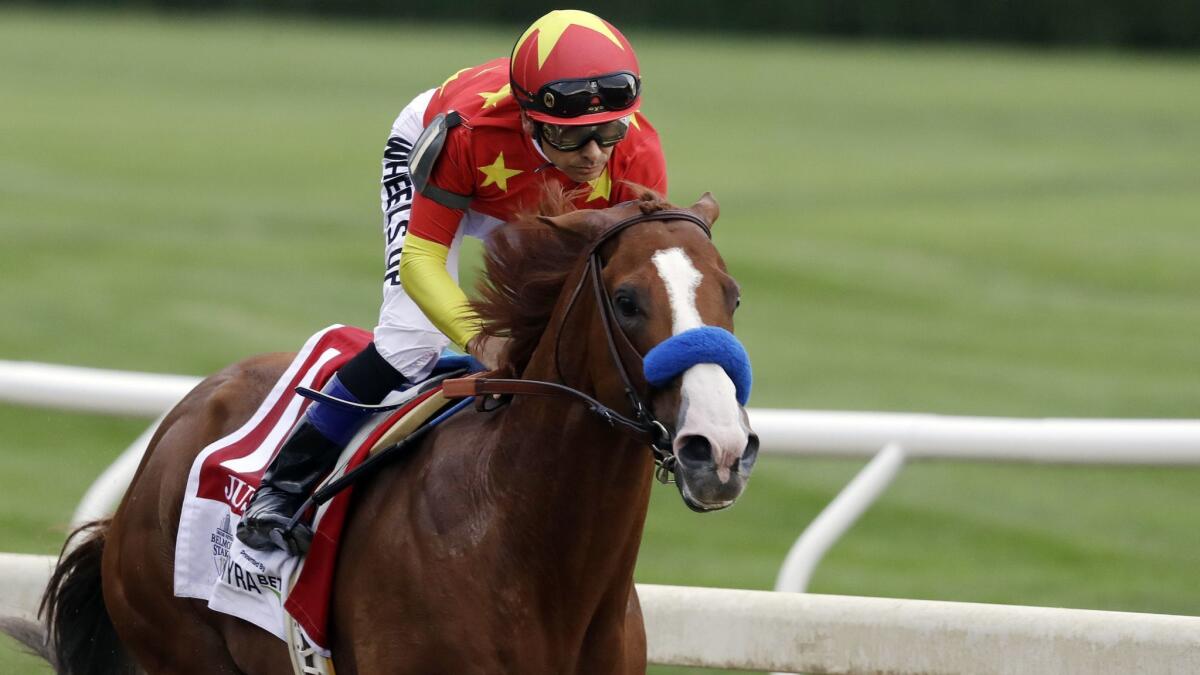 In Justify's first race, a maiden special weight at Santa Anita, he won by 9½ lengths and not with a particularly good ride. Baffert then switched jockeys from Drayden Van Dyke to Hall of Fame rider Mike Smith, who rode Justify in his remaining five races.
"Like everyone else, I am disappointed he won't run again, but I'm thankful he came into my life," Smith said. "There was never a time when I rode him that I felt like I was going to get beat. There was no horse who could run with him without sacrificing themselves, and there was no horse who could come get him."
Justify had gained such a reputation after one race that Baffert and Walden told everyone he was going to run in the Sunland Derby in New Mexico so as not to scare off horses for an allowance race at Santa Anita. It worked. Justify stayed home and won by 6½ lengths.
His third race was a huge step up in class, the Santa Anita Derby, a race he won by three lengths over the very talented Bolt d'Oro.
From there, it was on to Churchill Downs for the Kentucky Derby. No horse that was unraced as a 2-year-old had won the Derby since 1882 (it was called the Curse of Apollo). Running on a wet track, Justify had no problem beating the field of 20, winning by 2½. The day after the race, walking out of the barn for a photo op, he seemed to be favoring his left hind foot. He was diagnosed as having a minor hoof bruise and he was headed to the Preakness.
On another off track, which was shrouded in fog reminiscent of a horror film, he emerged from the fog on the far turn to win by just a half length. Smith said he knew he had the race won and eased off the horse at the end. Nonetheless it was his most difficult race.
Three weeks after that, he arrived in New York amid the fanfare that city likes to create. A sold-out crowd roared as he tooled around the 1½-mile oval to win the Belmont Stakes and Triple Crown by 1¾ lengths, although it could have been much more.
The plan from there was to run Justify in one or two prep races, both on the East Coast, before the Breeders' Cup Classic at Churchill Downs on Nov. 3. But a persistent filling in his left front ankle kept him off the track and eventually ended his career.
He has one more public obligation, Saturday at Del Mar at around 3:45 p.m. It will, no doubt, be a rousing farewell.
---
UPDATES:
3:30 p.m.: This article updates throughout.
This article was originally published at 12:15 p.m.
Get our high school sports newsletter
Prep Rally is devoted to the SoCal high school sports experience, bringing you scores, stories and a behind-the-scenes look at what makes prep sports so popular.
You may occasionally receive promotional content from the Los Angeles Times.