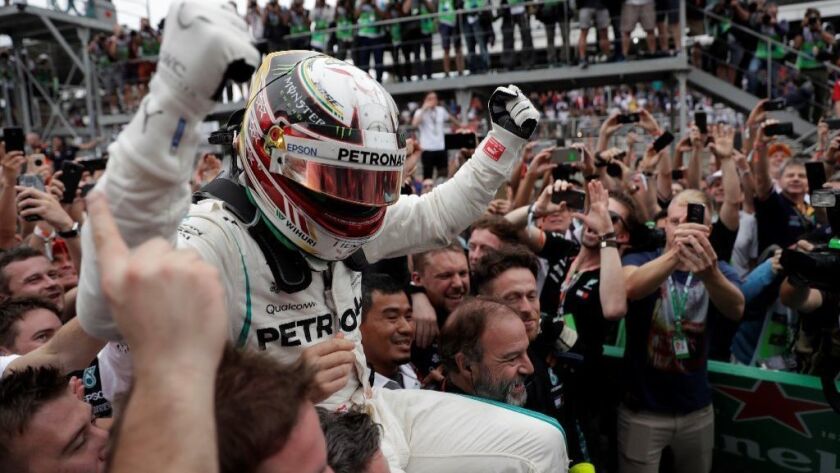 Lewis Hamilton won the Brazilian Grand Prix in Sao Paulo on Sunday, helping his Mercedes team to take the constructors' title.
Hamilton, who had already sealed his fifth Formula One title, started from pole position and finished less than two seconds ahead of Red Bull's Max Verstappen.
Ferrari's Kimi Raikkonen completed the podium at Interlagos.
Hamilton's 10th victory in the season was helped by Force India's Esteban Ocon, who collided with Verstappen on the 44th lap when the Dutchman led.
Verstappen managed to stay in the race and get closer to Hamilton in the final laps, but it wasn't enough for him to get his second consecutive victory.
Ferrari driver Sebastian Vettel finished sixth.
Verstappen confronts Ocon
Verstappen pushed Ocon after the race. The incident is being investigated by Formula One stewards.
Verstappen finished second after the collision on lap 44 happened at Interlagos. Verstappen was building a lead over Hamilton and trying to pass backmarker Ocon, who was not moving aside.
Moments after crossing the line second, Verstappen said over the radio to his team: "I hope I can't find him (Ocon) in the paddock now" and the Dutchman then added a couple of expletives.
Verstappen cut off his post-race interview to confront Ocon in the paddock.
The Frenchman pushed Verstappen's hand away, but Verstappen appeared to angrily shove Ocon in the chest twice as the Force India driver seemed to beckon to his mechanics for help.
Kyle Busch sets up showdown with Kevin Harvick for the title
Kyle Busch won for the eighth time this season to tie Kevin Harvick for the most victories this season and set up a head-to-head battle for the championship.
Busch's victory at ISM Raceway outside of Phoenix was the final qualifying event for next week's finale at Homestead-Miami Speedway. Harvick was the favorite to win and started from the pole but an early flat tire made Sunday's race more eventful than Harvick expected.
He found himself racing late against Stewart-Haas Racing teammates Kurt Busch and Aric Almirola for the fourth transfer spot to Homestead, but Busch was wrecked late and Almirola had to win the race to snatch the berth away from Harvick.
"We were in big trouble out there with the flat tire," Harvick said.
The final four will be NASCAR's Big Three of Kyle Busch, Harvick and reigning series champion Martin Truex Jr., as well as Joey Logano. The field is two Ford drivers, two Toyota drivers and represents four different organizations. Chevrolet was shut out of the finale.
Brad Keselowski and Kyle Larson, both already eliminated from the playoffs, finished second and third. Almirola was fourth and Harvick fifth.
---