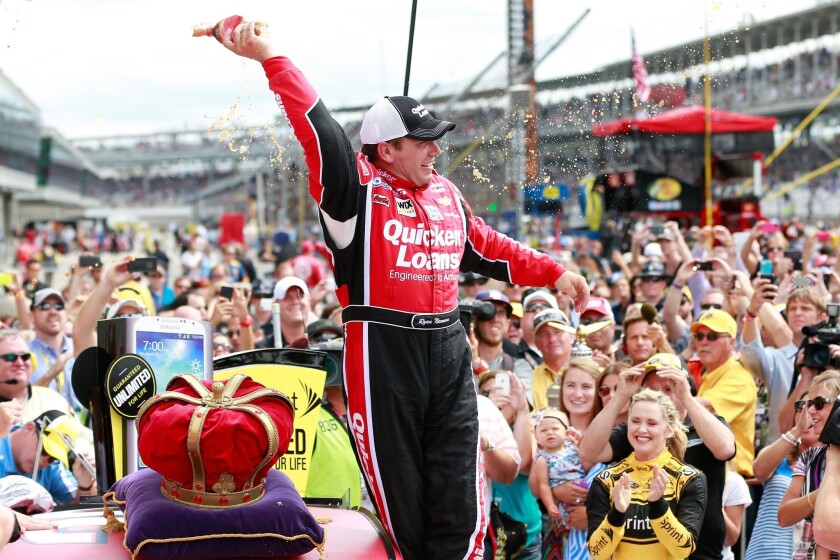 INDIANAPOLIS — A scenario familiar to NASCAR fans was playing out yet again Sunday at Indianapolis Motor Speedway.
Jimmie Johnson was on a roll. Seeking a record fifth Brickyard 400 win, the five-time Sprint Cup champion again had the dominant car and led a race-high 73 laps.
But then a funny thing happened late in the race: A rare misstep in the pits by his Hendrick Motorsports crew.
That enabled Ryan Newman, who also had a fast car — the Indiana native started on the pole after qualifying his No. 39 Chevrolet at record speed — to grab the lead and earn his first Brickyard 400 victory.
"It's a dream come true," Newman said. "I can't wait to push my lips on those bricks," he said of the tradition of the winner kissing the yard of bricks at the start-finish line, a nod to the 104-year-old speedway's former surface.
Johnson finished second, Kasey Kahne was third and Tony Stewart — who co-owns the team Newman drives for, Stewart-Haas Racing — finished fourth.
Johnson was poised to win until he pitted with 28 laps left in the 160-lap race. It took an unusually long 17 seconds for his crew to change his four tires, enabling Newman to inherit the lead.
Then, when Newman pitted two laps later, his crew changed only two tires to get Newman back on the track seconds ahead of Johnson and secure the win.
"We had a little mistake on pit road," Johnson said. "Once I got back to the track, I had a lot of distance to make up."
But Johnson did not blame his crew. "We win as a team, lose as a team," he said. "We'll do the best to let it roll off our shoulders by tomorrow afternoon."
It helped Johnson that he maintained his lead in the Cup standings in search of his sixth championship.
Johnson holds a 75-point lead over second-place Clint Bowyer, who finished 20th Sunday. Six races remain before NASCAR's 10-race Chase for the Cup title playoff.
The win for Newman, the 2008 Daytona 500 winner who now has 17 career Cup victories, was a feel-good hometown story with an ironic twist.
A native of South Bend, Newman has an engineering degree from Purdue, and his wife, father and other family members were on hand to see him take the checkered flag.
But Newman, 35, also won knowing he doesn't have a job yet for next season.
Stewart-Haas' current drivers are Stewart, Newman and Danica Patrick. But the team next year plans to add veteran Kevin Harvick and cut Newman loose because it can't afford to field four cars.
Stewart said that "even before Ryan came and drove for us, we were friends. So that made that decision . . . that much harder. You've got to make decisions that you think are best for the company."
The situation "doesn't mean anything," Newman said. "We still have a championship to go after."
Newman climbed to 16th in the Cup standings. The Chase includes the top 10 drivers in points plus two wild cards with the most wins among those 11th to 20th in points.
The race was run in unusually mild weather for Indiana in late July; it was 68 degrees when the green flag fell.
But the race itself, the 20th running of the Brickyard 400, was typical for stock cars on the 2.5-mile Indianapolis track: Little passing and long runs of single-file racing. There were no crashes and only three caution periods.
Attendance appeared below 100,000, a sizable crowd but far short of capacity at Indianapolis Motor Speedway, which has more than 225,000 seats.
---