History is at stake for Steve Torrence and J.R. Todd at the NHRA Finals in Pomona this weekend
Drag racers Steve Torrence and J.R. Todd have known each other for more than a decade. When the two competed on the same team, Torrence used Todd's car to earn his top fuel license. They later raced against one another and this weekend both could wind up making motorsports history.
Torrence already clinched his first top fuel series title and with a win this weekend in the NHRA Finals at Auto Club Raceway in Pomona, he would become the first driver to sweep the sport's season-ending, six-race countdown series. If Todd holds his points lead in the funny car division, he'll win his first series title and become the only African-American champion in that category.
"I've known J.R. for a long time," Torrence said, "and I didn't even know he was black."
That crack was intended to underscore an issue Torrence has thought long and hard about. Strapped into a cockpit in a fire suit and helmet, all drivers look pretty much the same. But away from the drag strip, meeting with sponsors and fans, NHRA's champions have come to mirror a fan base that, like many motorsports series, skews older and whiter than the general population.
However if Todd, 36, joins Torrence, 35, atop the podium Sunday, it would mark the first time in 15 years the winners of drag racing's top two divisions are in their 30s. And Torrence thinks that could help steer the sport in the direction of the multicultural millennials it is now targeting.
"We're young. We're in our 30s," he said. "The success that we've had, I do think it's a changing of the guard. It's somebody different winning. It's a breath of fresh air."
The top fuel leaderboard has been in transition for a while. Torrence is the fifth different champion in the last six years, a list that includes a black driver in three-time winner Antron Brown and a woman in 32-year-old Brittany Force, last year's champion. But just one driver under 40 has won the funny car division since 2004.
"That's a good way for us to promote our sport, to get the new generation involved," said Todd, who saw his lead over defending champion Robert Hight cut to a still-commanding 72 points in Friday's qualifying. "It's what we need."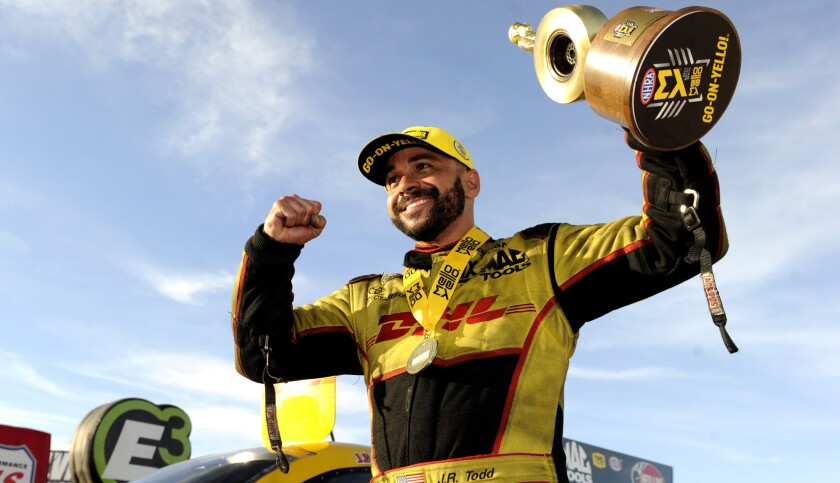 But if age is now an issue in drag racing, diversity never has been. In addition to Brown, two women, Shirley Muldowney and Force, have won top fuel titles while Mexican-American brothers Tony and Cruz Pedregon have combined for four funny car titles.
"Other forms of motorsports are begging for that kind of attention," Todd said. "There's no barrier. Whether you're black, white, female, purple, whatever. It's just about being able to go out there and do the job."
Todd's name is a big one back home in Lawrenceburg, Ind., where a huge sign on U.S. 50 just outside town announces the area as the "Home of J.R. Todd." And his story is worthy of the worship.
Todd lost his first job as a top fuel driver as a teenager when the team owner's shop burned down. He spent the next several years working as a crew member while waiting for another shot behind the wheel. When that came he made it count, earning NHRA rookie of the year in 2006.
Last year Todd jumped from a top fuel dragster into a funny car for Kalitta Motorsports and he's made the transition look easy this season, reaching the final round in four of the five countdown races.
Already the first African-American driver to win single events in the top fuel and funny car categories, he could add to that history by wresting the season title from Hight.
"It's definitely something to be proud of," Todd said. "And it does show other minorities that there is a place for us in motorsports. I'm proud to be where I am and represent who I am."
If Todd's drive to the top has been littered with obstacles, Torrence's climb has been even more eventful.
He beat cancer as a teenager, then two seasons ago he had a heart attack. In between he started driving dragsters professionally, first for a traditional multi-car team, then peeling off to form his own team, one funded by his family's Texas-based oil and gas pipeline construction company.
It looked as if all that would finally pay off last fall when Torrence came to Pomona leading in the top fuel standings. But a second-round loss opened the door for Force, who charged through to win the series title.
So Torrence left no doubt this year, winning 10 races and clinching the title two weeks ago, making this year's season finale in Pomona little more than a victory lap.
"This isn't about winning the championship anymore. This is about winning everything," said Torrence, who smoked his tires in his first qualifying run Friday and is fourth after the first day of racing. "Every lap we go is history."
NHRA Winternationals Schedule
At Auto Club Raceway, Pomona
Saturday
8:30 a.m. – Midway opens
10:30 a.m. – Top alcohol eliminations
Noon – Pro stock qualifying (Pro Stock Cars and Pro Stock Motorcycles)
12:30 p.m. – Nitro qualifying (Top Fuel and Funny Cars)
1:30 p.m. – Top alcohol eliminations
2:30 p.m. – Pro stock qualifying (Pro Stock Cars and Pro Stock Motorcycles)
3:30 p.m. – Nitro qualifying (Fop Fuel and Funny Cars)
Sunday
9 a.m. – Midway opens
11 a.m. –Nitro eliminations (round 1)
Noon – Pro stock eliminations (round 1)
12:15 p.m. – Top alcohol eliminations (round 2)
1 p.m. – Nitro eliminations (round 2)
1:25 p.m. – Pro stock eliminations (round 2)
1:30 p.m. – Top alcohol eliminations (semifinals)
2:15 p.m. – Nitro eliminations (semifinals)
2:30 p.m. – Pro stock eliminations (semifinals)
2:50 p.m. – Top alcohol eliminations (finals)
3:32 p.m. – Pro stock elimination (finals)
3:37 p.m. – Nitro elimination (finals)
kevin.baxter@latimes.com | Twitter: @kbaxter11
---
Get the latest on L.A.'s teams in the daily Sports Report newsletter.
You may occasionally receive promotional content from the Los Angeles Times.