Olympics Buzz: Reliable Lester Holt helps NBC through a period of transition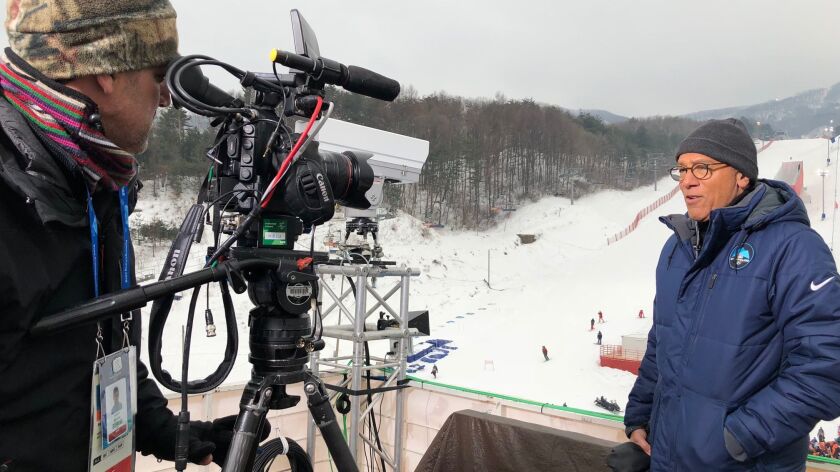 This is your daily infusion of information and news that you might have missed. The really big stuff you'll find in other stories.
NBC has been in a period of transition lately. Mike Tirico has taken over from Bob Costas as host of the Olympic Games and it will take him a while to gain the gravitas that Costas accrued by hosting 12 Olympic Games.
The "Today" show trio of Savannah Guthrie, Hoda Kotb and Al Roker have chemistry but, with the exception of Roker, who is mostly asked to be silly, it was a new combination in the morning chairs.
There was another familiar face, Lester Holt, host of "NBC Nightly News." He's been in the big chair since June 2015 and has a television presence that makes him as comfortable in your living room as an old sofa. This is his ninth Olympics.
He made himself available to the Buzz to answer a few impertinent questions.
If you were an Olympic athlete, what would be your sport?
I'd probably be a curler. I've tried it a few times. It's kind of like a board game on ice. Plus, it's indoors. Low frostbite risk.
Which is colder, Chicago's Michigan Avenue on a frigid, windy February day or Pyeongchang? (Holt used to be an anchor in Chicago.)
If you'd ask me before my night at the ski jump here, I would have gone with Chicago. But Pyeongchang winds blowing through that ravine are a whole new kind of cold.
How difficult is it to remember to say "Good evening" when you do the evening news at 8:30 a.m., Korea time?
Every morning I wake up at 4:30 a.m. to join the 2:30 p.m. editorial call from New York, and every time we go through this "Good after—, I mean, good morning" routine, complete with the ubiquitous one-second overseas call delay. Because we do a live broadcast, a part of me has to remain on Eastern time. Every scheduling conversation begins with the ground rules: "Are we talking New York time or local time?"
Which has been your favorite Olympics?
I'm going to go with London 2012. Transportation was good. The people were nice, and even the weather was great. It rained every day in the weeks leading up to the opening, but it was beautiful every day after.
Is there a Korean food that you just won't eat?
I'm game to try anything, but I'm swearing off the Korean sauces. They love some real heat on their food. The best I can tell "mild" here is equivalent to our "five alarm," and until I can tell the difference, I'm keeping the sauces on the side.
What are your gold, silver and bronze Olympic moments?
I know Michael Phelps would later eclipse his record, but I will never forget Mark Spitz's swimming for seven gold medals in the 1972 Games. I'd give that moment a gold.
Silver goes to the USA Dream Team from 1992. Will there ever be so much talent on one basketball team?
Watching Shaun White earn his gold medal on the halfpipe here in Pyeongchang is a drama that reads like a script from one of those sports movies and definitely ranks up there. The last man up, down by a point, a real "go big or go home" moment, and of course, he nailed it. A bronze moment in my book. Happy to say I watched in person.
[Holt hasn't been in his usual time slot in Los Angeles lately, being moved to 3:30 p.m. before the sometimes-live nightly Olympic programming. On the East Coast, he's in his usual 6:30 p.m. spot. For points in between, check your TV grid.]
Two Tobys finish first
Germany, as expected, took the doubles luge gold, except it was the No. 2 sled ridden by Tobias Wendl and Tobias Arlt that won. It was their second straight gold. Teammates Toni Eggert and Sascha Benecken had dominated the World Cup circuit and were heavily favored but settled for bronze. But what's the expression? Anything can happen in luge. Austria was the cream filling in this Oreo cookie. Justin Krewson and Andrew Sherk were the top U.S. sled in eighth.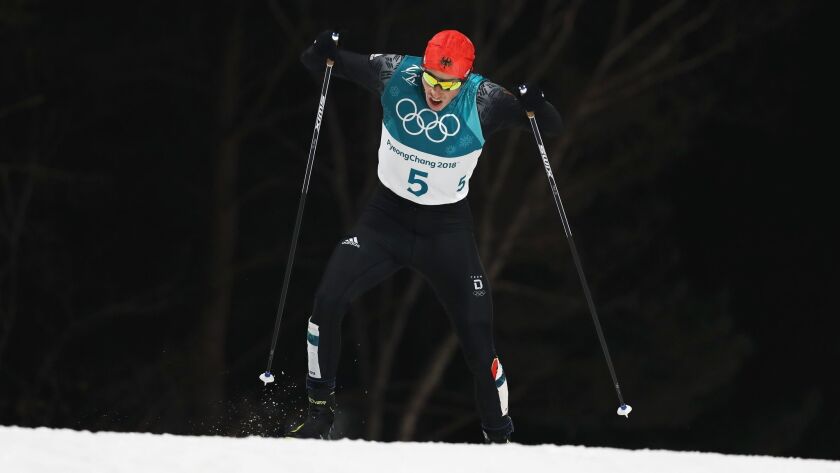 Another defending champ
Germany also successfully defended its gold when Eric Frenzel won the Nordic combined. The sport is a combination of ski jumping and a 10-kilometer cross-country race. It's just a biathlon rifle away from being the opening to a James Bond movie. Frenzel is a better skier than jumper, so he had to make up 36 seconds in the cross-country competition. The top American was Bryan Fletcher, who finished 17th.
Running the table
The Netherlands continues to run the table in speedskating, winning its fifth gold in a row. And it's favored in Thursday's men's 10,000, the sport's version of watching paint dry. Jorien ter Mors was the woman who got to the top of the medal stand, winning the 1,000 meters. She set an Olympic record that is the fastest time by any woman ever at sea level. The Netherlands has won nine of the 15 speedskating medals so far. Brittany Bowe was the top U.S. finisher at fourth.
In progress …
The U.S. men's curling team won its opener over South Korea 11-7. The men were ranked fourth in the world, so a medal is definitely a possibility. The U.S. women lost to Japan 10-5 and face Great Britain next.
Quote of the day
Roker to NBC colleague Craig Melvin as they were about to enter a jimjilbang, a Korean bathhouse, on Valentine's Day. "Nothing says love like a little lovin' in the oven."
---
UPDATES:
10:35 p.m.: This article was updated to correct the top American finisher in the women's 1,000-meter speedskating event.
---
Get the latest on L.A.'s teams in the daily Sports Report newsletter.
You may occasionally receive promotional content from the Los Angeles Times.