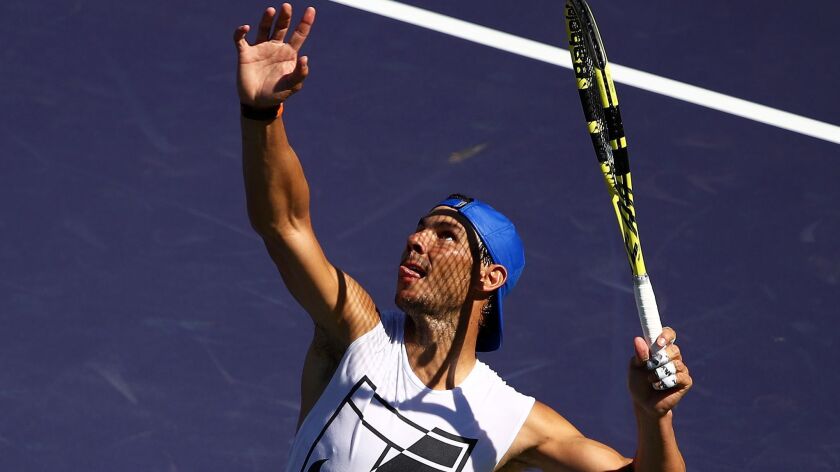 Reporting from indian wells —
Even before it began in earnest, it had that special feel. But then, that is almost always the case at the BNP Paribas Open in the desert. Many sports events fade with time, backslide with age.
Not at Indian Wells.
The streets around the Indian Wells Tennis Garden were packed all day Tuesday. So were the parking lots. And the main draws were still filling out, with the women starting Wednesday and the men Thursday. Players scrambling to get into those main draws battled all over the grounds in qualifying rounds, most often in front of sizable, enthusiastic crowds.
Who could blame the players? A spot in the first round, for either gender, is worth $16,425, and hoisting a championship trophy will enhance a bank account by $1,354,010.
Who could blame the enthusiasm of the spectators, who got in free? There were plenty of recognizable names competing in the qualifying, even several formerly ranked in the top 10.
Anybody who is anybody in tennis is here, with the notable exception of men's defending champion Juan Martin del Potro, who is out with an injury. Naomi Osaka won the 2018 women's title, went on to win the title at the U.S. Open and this year's Australian, and is here for more.
This event is an abundance of riches. The top four men's seeds offer 52 major titles, and that's with No. 3 Alexander Zverev without one. No. 1 Novak Djokovic has 15, including this year's Australian Open; No. 2 Rafael Nadal has 17 and No. 4 Roger Federer has the record at 20. Major titles aren't as plentiful on the women's side, but Serena Williams, seeded 10th, fills the gap with 23 of her own.
The event also frames all this talent with spectacular ambience. It is not clear whether tennis was invented for the desert in March, or the other way around. The day featured barely swaying palm trees, temperatures in a comfortable high-60s range and a feeling that summer may finally be on its way.
Tuesday night brought a new wrinkle, as well as a few sprinkles that threatened to spoil things. But the clouds moved on, a near sellout crowd of 7,441 moved into Stadium 2, and their $25 ticket purchase went to benefit a new event for local charities.
The event was called the Eisenhower Cup, for the hospital that would be among the beneficiaries. It was also promoted as a night with "Rafa and Friends," which meant the $25 ticket would bring a chance to see Nadal, among the greatest players of all time. He was joined by Stan Wawrinka, Marin Cilic, David Goffin, Taylor Fritz, Gael Monfils, Milos Raonic and Dominic Thiem. Pretty heady stuff, especially with 20 Grand Slam titles in the event — Nadal's 17, Wawrinka's two and Cilic's one.
It was a round-robin concoction they called a Tie-Break Ten, which meant the first player to ten points with a two-point margin would win.
The winner didn't seem to be a big deal, even though it was worth $150,000. The funds raised and the fun had on the court were meant to be a higher priority.
"I couldn't say no," Nadal said, when asked beforehand why he would go out there yet another time, when he probably had hours and hours ahead on the courts of Indian Wells. "It will be a good time, plus I love being at Indian Wells."
He will be seeking his fourth title here, and the topic got around to his second one, in 2009, when he played into the wee hours, surviving five match points against Argentina's David Nalbandian and winning at 2 a.m.
"That one was very emotional," he said. "I remember it well, because it meant so much later. I went on to win the tournament."
He will turn 33 on June 3. Much like his friend and rival, Federer, who will turn 38 in August, Nadal is more frequently asked about how near the end is for his career.
"I hope it is not for a while," he said, "but I feel fortunate. I have lots of things I can do and want to do. When it comes to an end, it will be a big change. It will take time to adjust. I know that. But I will be fine."
He also said his golf handicap is 1.5. One of his friends jumped into the conversation and said, "It should improve while he is here."
Take note, PGA.
---