Rory McIlroy enters the Masters as a favorite in more ways than one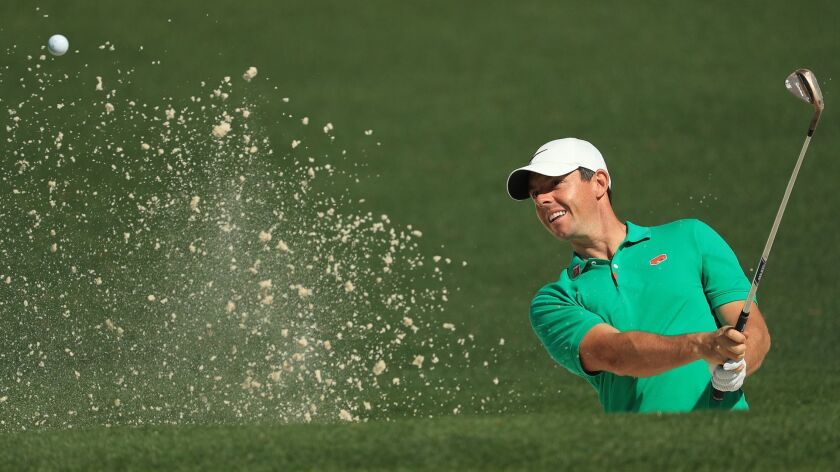 Reporting from AUGUSTA, Ga. —
Golf Channel was in need of another Arnold Palmer.
Last year, its executives were formulating the most aggressive business venture since Palmer helped found the company in 1995.
Their GolfPass program would bring subscribers into the world of one chosen player, intimately, with videos, podcasts and instruction.
They needed a player who would be with them for the long haul. A player who was ambitious yet grounded, good-looking and relatable, a player who didn't offer the slightest hint he'd do anything embarrassing in public or in private.
They needed a player the world not only recognized, but also admired.
There will never be another Palmer, Golf Channel President Mike McCarley reminded himself and his colleagues, but he was convinced there was a man who could be a worthy successor: Rory McIlroy.
"You think about what this business will look like over the next 25 years, and who you would want to partner with for that time," McCarley said in an interview last week. "It leads you back to the same reasons that it worked with Arnold. It was the quality of being genuine. It's that simple.
"We kept coming back to Rory for the same reasons. Arnold Palmer was unique in so many ways, but I think Rory, among the present-day players, comes pretty damn close."
If you haven't noticed, the 29-year-old McIlroy has become the most commercially packaged player of his generation. Not since Greg Norman has a foreign-born golfer had a higher profile in America.
His golf game is pretty fair these days too.
Coming off McIlroy's recent victory in the Players Championship and owning seven top-10s in as many starts in 2019, McIlroy has been installed by oddsmakers as the favorite when the 83rd Masters begins Thursday.
Of course, expectations have been as tall as the Georgia pines before. This occasion continues McIlroy's quest to become the sixth player to complete the career Grand Slam in majors — he's won the British Open, U.S Open and PGA Championship — and he's come up short at Augusta National in four chances.
There is also a vulnerability to McIlroy, whose foibles on the course include blowing the lead on the back nine in the 2011 Masters, which could have marked his first major triumph.
"I think he's as likable as anyone in the sport, and he's more interesting than most in any sport," said Scott Van Pelt, who is anchoring ESPN's Masters coverage this week.
"I think from all of those angles and with the story line he'll bring with him every single year until he wins [the Masters], it makes him one of the most compelling stories for us to follow from the moment we walk on the grounds."
In a similar age group, only Rickie Fowler, 30, seems to be in McIlroy's league for marketability, but check the scoreboard: McIlroy owns 29 worldwide wins and four major titles. Fowler: seven and zero.
It was a milestone moment in 2015 when McIlroy replaced Tiger Woods as the primary face of EA Sports video games. His empire has grown tremendously since, to the point where, by Forbes' estimate, McIlroy earned $35 million last year in endorsements — before the Golf Channel deal.
McIlroy stands beside Woods as the remaining marquee names for Nike clothing, and his club and ball deal with TaylorMade was among the Carlsbad-based company's all-time coups. He was among the first ambassadors for the PGA Junior League program, a stable that has grown outside of golf to include the NBA's Steph Curry.
Sign up for our daily sports newsletter »
GolfPass launched in February and McIlroy dived in, beginning with a documentary about his humble upbringing in Holywood, Northern Ireland, and continuing with modern touches such as the podcast he does with Carson Daly.
Committed this year to playing full time in the United States, and based in a Florida mansion he shares with wife Erica Stoll, a native of New York, McIlroy is both acting and speaking as if he's never been happier.
"I keep saying this: I would dearly love to win this tournament one day," McIlroy said at his Tuesday news conference. "If it doesn't happen this week, that's totally fine. I'll come back next year and have another crack at it.
"But I'm happy with where everything is — body, mind and game."
The public and media recognition for McIlroy was warm from the time he turned pro at 19 and caught everybody's eye with his sharp game and his hair, seemingly the texture of a Brillo pad, spilling out from beneath his cap. In interviews, he was refreshingly thoughtful and frank.
Of course, that earned him screaming headlines on the covers of British tabloids. His private life was under the microscope when McIlroy was engaged to and then abruptly called off his 2014 wedding plans with pro tennis star Caroline Wozniacki.
In golf, McIlroy stirred controversy when he decided not to play in the 2016 Olympics in Brazil and took a further stab when he said he probably wouldn't watch the Games because he'd save his time for "the stuff that matters."
In a defiant tone, he said at the time, "I've spent seven years trying to please everyone, and I figured out that I can't really do that, so I may as well be true to myself."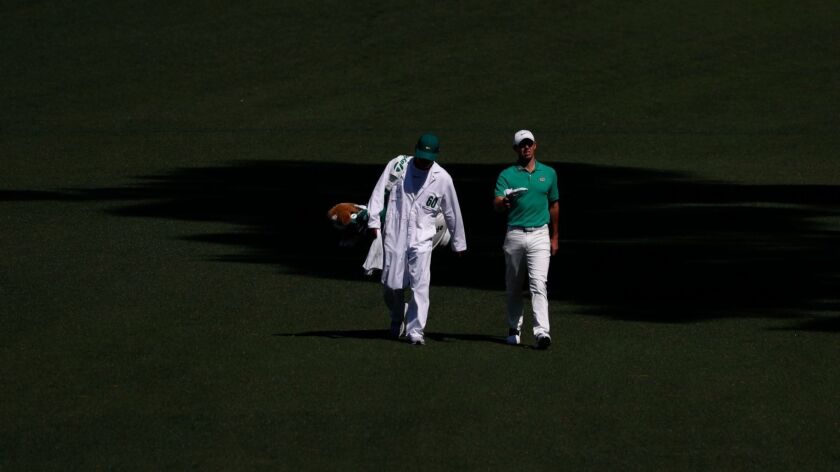 There has never been an indication that McIlroy says anything simply to command attention.
"I feel like he's truly as transparent an athlete as we have in sports," Van Pelt said, "because so many others that become brands are so guarded about the brand that they don't let you know the person. I think Rory lets us know the person."
A voracious reader, McIlroy was asked his favorite book from the last year, and he reeled off three — all of which had an introspective, self-improvement bent to them. He mentioned a fourth, the biography of Steve Jobs.
Golf Channel executives who work with McIlroy say he is endlessly curious and full of ideas.
"He's not afraid to embrace the modernization of the game to help it move forward, make it more accessible," McCarley said.
The beauty of McIlroy, he added, is that the golfer also appreciates those who have paved the way for him. In one of their first business meetings, McCarley was prepared to talk proposals and stakeholders.
"And all he wanted to do was talk about Arnold," McCarley said. "He talked about wanting this to be akin to what Arnold had done to give back to the game. It showed his appreciation and the responsibility he feels to give back to golf. It wasn't just another business deal.
"For a 29-year-old who's got the world as his oyster, that's pretty compelling."
---
Get our high school sports newsletter
Prep Rally is devoted to the SoCal high school sports experience, bringing you scores, stories and a behind-the-scenes look at what makes prep sports so popular.
You may occasionally receive promotional content from the Los Angeles Times.