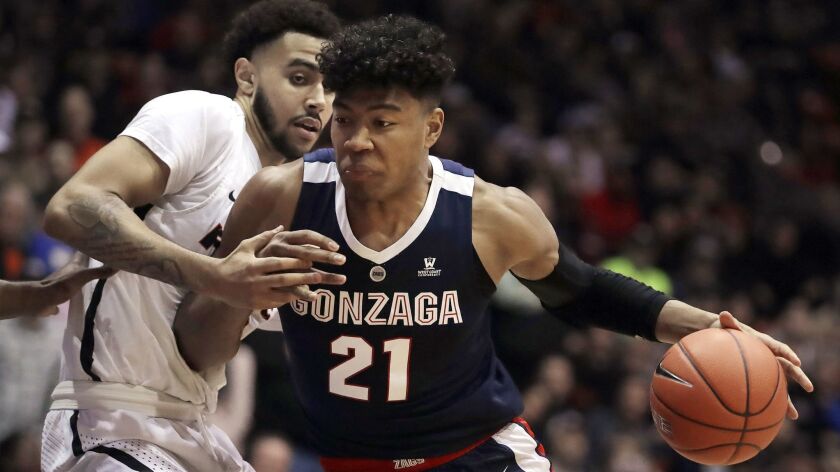 Reporting from SALT LAKE CITY —
The reporters come at Rui Hachimura in waves of notepads, microphones and cameras with glaring lights.
They spot him in the back corner of the locker room, dressed in a gray T-shirt and shorts after practice, his thick frame folded into a small chair. He sneaks a few bites of pasta from a Styrofoam plate as they move in.
"I don't mind," he says. "It's been like this since I was in high school."
The English-speaking media go first, asking Hachimura about his team's chances in the NCAA basketball tournament. The 21-year-old Gonzaga star responds slowly, politely, pausing to find suitable words in a language that is still unfamiliar.
Things go more smoothly when the Asian reporters take their turn, the conversation flowing in Japanese, his answers accompanied by an occasional smile flashed from beneath piles of curly, black hair.
"Rui is such a good kid," assistant coach Tommy Lloyd says, watching from across the room. "He deserves an amazing amount of credit for what he's done."
With No. 1-seeded Gonzaga facing No. 4 Florida State in a regional semifinal at Honda Center on Thursday, the college basketball spotlight has focused on Hachimura for two reasons.
The 6-foot-8 forward ranks among the best players in the game, leading one of the best teams in the nation. When asked to describe him, Baylor coach Scott Drew says "he's like a lot of guys I see playing in the NBA."
Just as important as what he is, Hachimura has drawn attention for what he was.
Three years ago, he traveled to this strange, new land as a Japanese teenager who barely spoke English. Recruited to play a sport where Asian-born players remain uncommon at the elite level, he had to prove himself.
"I knew this was my good opportunity," he recalls. "My only opportunity coming to play in the U.S."
::
There isn't much question about Japan's favorite sport, so it makes sense that Hachimura gravitated toward baseball while growing up in the coastal city of Toyama. The son of a Beninese father and Japanese mother, he played pitcher and catcher through grade school.
Then, around age 12 or 13, the game's slow pace grew boring.
"I just wanted to do something else," he says.
Basketball seemed worth a try, especially when Hachimura hit a growth spurt, outpacing other kids his age.
National coaches took notice and put him on their junior team. At the 2014 under-17 world championships, he scored 25 points against a U.S. squad that included future NBA players Jayson Tatum, Harry Giles and Josh Jackson.
In an age of instant access, video of the performance found its way across 5,000 miles of Pacific Ocean to the Gonzaga campus in Spokane, Wash.
The Bulldogs have a history of recruiting abroad, a tradition that dates back to the late 1950s and 7-3 center Jean Claude Lefebvre — the "Eiffel Rifle" — from Paris.
Over the years, the list has grown to include another Frenchman, Ronny Turiaf, along with Domantas Sabonis of Lithuania, J.P. Batista of Brazil and a string of Canadians, including Kevin Pangos and Kelly Olynyk.
They're going to see who we are. Who Gonzaga is.
Rui Hachimura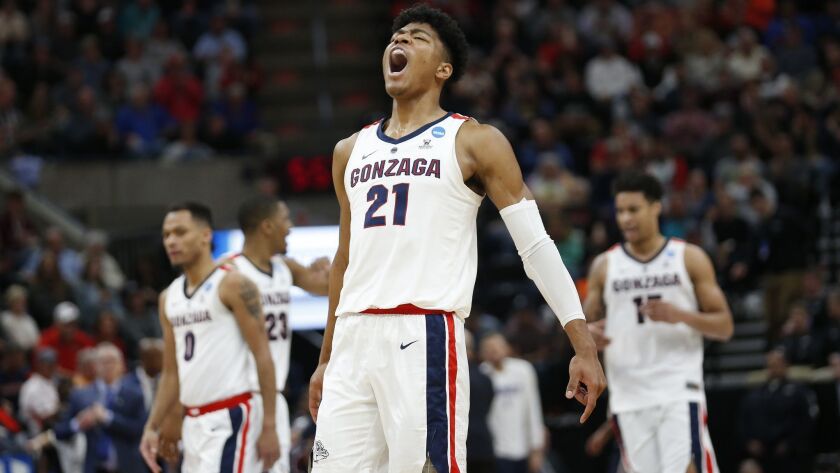 Pursuing talent around the globe can require ingenuity. Most of the responsibility falls on Lloyd, who knows how to scan YouTube for highlights from distant games and then work the phones, finding someone who knows someone.
"Sometimes," he says, "the first contact might be coming on a ghost Facebook message. Just 'Hey.' "
This unorthodox strategy has helped the mid-major program build a name for itself overseas, rivaling the likes of Kentucky and Duke.
"We go over to there, we can recruit at a different level," Lloyd says. "We can go heads-up with anybody."
Those Hachimura highlights from the junior championship got the wheels turning in Spokane. Lloyd says: "It was intriguing."
::
You need only one hand to count the number of Japanese-born players who have made it to Division I basketball. Gonzaga had never even recruited there, so it took some digging to locate a contact at Meisei High.
A junior at the time, Hachimura knew nothing about the university, but the idea of playing in America was intriguing enough that he traveled to Washington, bringing his high school team's trainer as an interpreter.
They arrived at a school that knows how to pitch foreigners. The coaches can speak intelligently about immigration and the university has a center devoted to teaching English as a second language. In the locker room, the American players are welcoming.
"Having some international dudes here is cool," says Brandon Clarke, a junior forward from Phoenix. "Wherever you're from, once you're here, you are family."
Hachimura liked the team vibe — "a small society," he calls it — and thought Spokane wasn't so different from his hometown, both of the cities located around 300 miles from the nearest metropolis. Something else about the program struck his fancy.
"They go to the tournament every year," he says.
When he signed in 2015, choosing Gonzaga over Arizona and other schools that had shown interest, coaches laid out a three-year plan that would require patience.
The first year was all about acclimation. Though he had begun studying English on his own, earning a qualifying SAT score after several tries, Hachimura spent hours each day in the language center. He faced another steep learning curve on the court.
"The first workouts we did with Rui, I was shaking my head," Lloyd says. "We couldn't even get him to sprint. He'd never been exposed to that kind of practice."
Gonzaga kept him on the bench for most of his freshman season. Hachimura fought the urge to quit, saying: "I just couldn't. I was playing for my country, for my family. I had to trust the coaches."
It helped that Lloyd became a second father, shepherding him through tough moments. As a sophomore, Hachimura got more playing time, averaging 20 minutes and a respectable 11.6 points a game, though language continued to be a challenge.
It made no sense when someone asked if he felt butterflies in his stomach before games. On the road, in loud arenas, his teammates could hear half of what coaches yelled from the sideline and know what to do. Hachimura was left in the dark.
Reporters who began showing up at his locker, many of them from Japan, posed another problem.
"I think he's embarrassed by all the attention he generates," coach Mark Few says. "Especially back home."
The hype figured to intensify this season, which — according to the master plan — would be Hachimura's time to shine.
::
I think he's embarrassed by all the attention he generates
Gonzaga coach Mark Few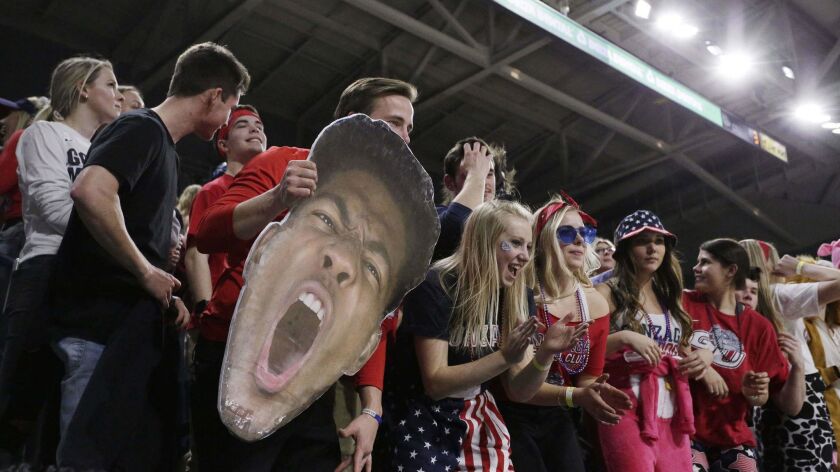 The Bulldogs have reached the Sweet 16 with a top-ranked offense that moves the ball around, four starters averaging in double figures. Their star forward has led the way, scoring 19.7 points and grabbing 6.6 rebounds a game.
"Hachimura gives them a guy that you can go to get the bucket or get fouled," Duke coach Mike Krzyzewski said after his team lost to Gonzaga in the Maui Jim Invitational this season.
The strength and quickness, the shooting touch, were there from the start; the biggest change has been toughness.
With a slight grin, Hachimura recalls his early days in Spokane when teammates pushed him around in practice. Lloyd says: "The Japanese culture has so much honor and respect for others that they basically step back. We told Rui, no, you've got to learn the American mentality because basketball is a game of aggression."
It has taken a while to adjust, making use of that 225-pound frame, especially around the basket.
In some games, he has dominated by bulling his way into the paint, muscling for rebounds. At other times — such as a West Coast Conference tournament loss to St. Mary's and a second-round victory over Baylor in Salt Lake City — opponents have effectively bumped and pestered him.
"I'm still learning," he says.
The results so far are promising enough to put his name on several All-American lists and make him a Wooden Award finalist. Back home, people are buzzing about the home team's prospects at the 2020 Tokyo Olympics.
"I think it's going to be a big deal for my country," Hachimura says. "It has been my goal and it's getting closer and I'm so excited."
First, however, he and his Gonzaga teammates have some business in Anaheim, starting with a rematch against the Florida State team that knocked them out of the tournament last year.
Late-night host Jimmy Kimmel has joked about "a made-up college named Gonzaga … like egg nog, you hear about it once a year, then for 50 weeks it disappears."
Before this week, Hachimura had never heard of Kimmel. He isn't offended by the jokes but figures that a game or two in Southern California might help.
"They're going to see who we are," he says. "Who Gonzaga is."
Leave it to the kid from Toyama to settle the matter. He knows how to make news.
---