Las Vegas is the place to be during first round of NCAA tournament
March Madness brings tens of thousands of people to Las Vegas to gamble. Los Angeles Times sports columnist Arash Markazi finds out why.
Reporting from Las Vegas —
It's 6 a.m. and the sun has yet to rise over the Las Vegas Strip but there is already a line forming three hours before the first game of the first round of the NCAA Tournament as fans try to get a prime table to watch all the games.
No one is supposed to wake up this early in Vegas. It's a city devoid of clocks and last calls where a good night isn't over until you see daylight. That changes once a year for the thousands around the country who make the annual pilgrimage to Sin City for March Madness.

For the record:
5:32 p.m. Aug. 14, 2020An earlier version of this article included information originally published elsewhere, including a description of the Cosmopolitan's annual "Hoops & Hops" event and the Westgate Las Vegas SuperBook, as well as a quote from the president of Las Vegas events. Proper attribution has been added.
Las Vegas is generally considered the second-best place to be if you can't attend a big sports event live. When it comes to the first round of the NCAA Tournament, however, there's no better place to be than Vegas. Unlike the Super Bowl or Kentucky Derby, the first round of the NCAA Tournament isn't one event in one location that's over in a few hours. It's 32 games taking place in eight cities over two days. There's no way to know where or when the best game is going to take place and most fans at those games are usually looking at their phones or trying to find a TV to see what's happening in other games around the country.
That's why the first and second rounds of the NCAA Tournament have become one of the three busiest weekends in Las Vegas, according to the Las Vegas Convention and Visitors Authority. Hotel occupancy during the first week of the tournament has been over 98 percent the previous three years with nearly two million passengers traveling through McCarran International Airport during that time.
The irony of Las Vegas becoming the unofficial home of March Madness is the NCAA wants nothing to do with the mecca of gambling. Scoreboards at sites for first- and second-round games continually showed a message which read, "The NCAA opposes all forms of legal and illegal sports wagering" and directed fans to visit the NCAA's anti-gambling site DontBetOnIt.org.
Nevada has never hosted an NCAA championship of any kind because NCAA rules prohibited championship events from being located in states offering sports wagering. The ban was finally lifted last year following the Supreme Court's decision that opened the door for legalized sports betting nationwide. You can now legally make a sports wager in Nevada, Delaware, New Jersey, Mississippi, West Virginia, Pennsylvania, Rhode Island and New Mexico.
NCAA championship sites, however, have been set through 2026 so 2027 would be the earliest Las Vegas could host an NCAA championship. While the city would like to host a regional at T-Mobile Arena, the home of the NHL's Vegas Golden Knights, which opened in 2016, or a Final Four at the covered $2 billion stadium being built for the Raiders, which opens in 2020, there's one NCAA event Las Vegas has no interest hosting.
NCAA women's tournament: UCLA advances »
"We certainly aren't going to go after the first and second round because we're not going to top what we already have," Pat Christenson, the president of Las Vegas Events, who has developed and recruited events to Las Vegas for over 35 years, told ESPN in 2018. "There's no place you'd rather be than right here."
--
Alan Lankford used to come to Las Vegas with his friends every year for the opening weekend of the NCAA Tournament but seven years ago when his oldest daughter, Stephanie, turned 21, he decided to turn his annual guys' weekend into a daddy-daughter trip.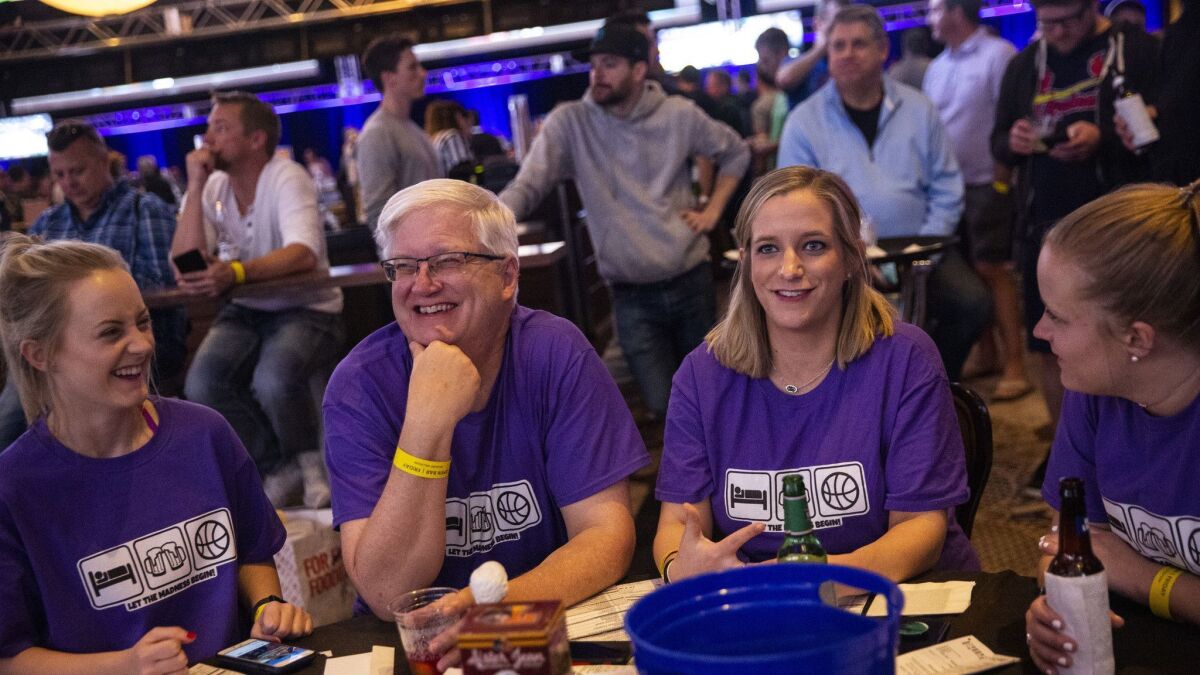 "I'm a father of three daughters and they all played basketball and we bonded through basketball," said Lankford, who makes the trip annually from his home in Kansas City. "So when my oldest daughter turned 21 I decided to bring her out here for opening weekend and we had such a great time, we decided to make it a tradition. As each one of my daughters turned 21, they were able to come out. My wife's not invited. My son-in-law isn't invited. It's just a weekend for me and my daughters."
Lankford was surrounded by his three daughters, Stephanie, 28, Megan, 25, and Paige, 23, wearing matching purple shirts that read "Daddy-Daughter Vegas Trip 2019," as they watched the first round from a table inside the Cosmopolitan. Megan has designed the shirts for the trip since she was old enough to go and made them purple this year for her dad, who went to Kansas State. She had to make one of the shirts slightly bigger than usual this year. Stephanie is seven months pregnant and had to get approval from her doctor to go on the trip.
"Once my doctor gave me the thumbs up, there was no reason not to come," she said. "My dad used to make this trip with his friends but when I turned 21, this trip was a Christmas present and he said we could make this our trip and our thing to do and every year now it's on the books."
The annual trip to Las Vegas for the first round of the NCAA Tournament represents so much more than basketball for the thousands who make the journey each March. Walk around the casinos and sports books and seemingly everyone has a story about making the trip every year to see their brother, father, childhood friend, college roommate or fraternity brother each March no matter where they are in the world. It's a trip they have scheduled and circled on their calendar for as long as they're alive.
UC Irvine vs. Oregon: How the teams match up in the NCAA tournament »
Virginia's sequel to first-round horror show has happier ending this year »
Brett Graffy, a 32-year old financial adviser from New York, has been coming to The Mirage with about 20 of his friends from Notre Dame for the past 12 years. They began making the trip when they were in school and one weekend a year they gather in the same spot where they watched their first March Madness games in Vegas together.
"We were all roommates in the same hall at Notre Dame," Graffy said. "Every single year, we know we're going to be here for the first round of the tournament. Everyone books their flight and hotel six months or more in advance. It's something we look forward to all year."
At the Westgate Las Vegas, Brian Rush, a 44-year old general contractor from Redondo Beach, is sitting in a booth with a dozen of his friends from around the country. They've been making the annual trip to watch the first round of the tournament in Las Vegas for 20 years.
"We've been doing this trip since we were single and we all have wives and kids now," Rush said. "It's grandfathered into our relationships. We come here every year and with most of the guys this is the only three days we see each other all year long."
--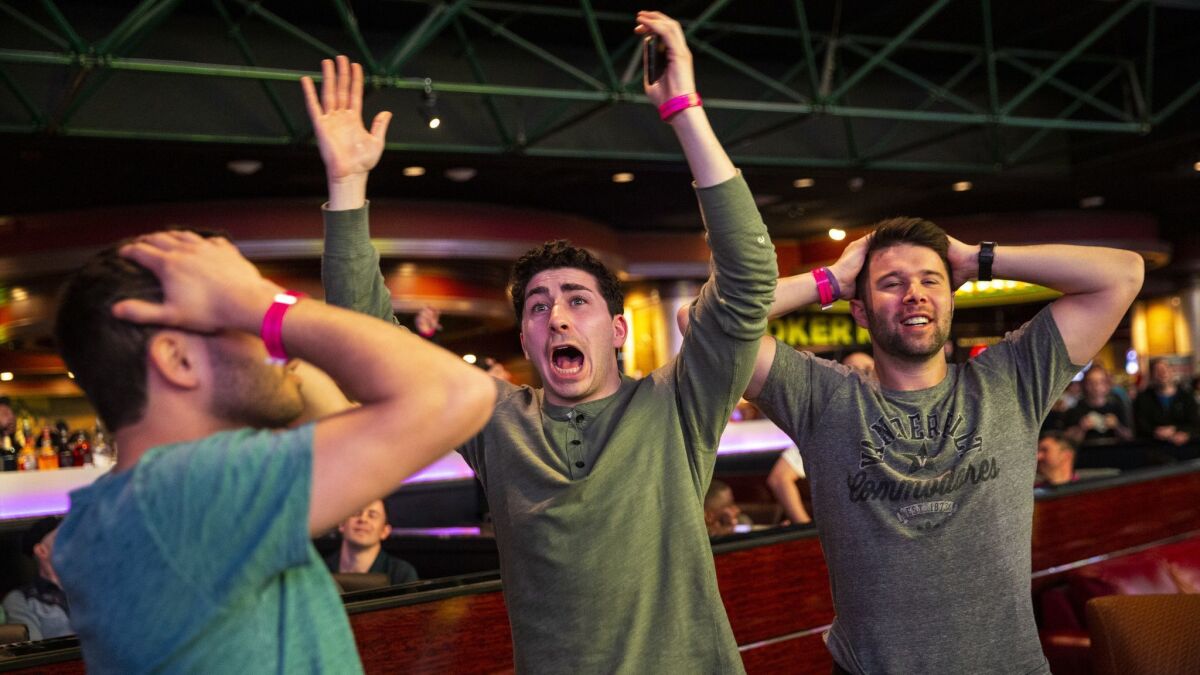 By the time Las Vegas is able to host the Final Four, most states will likely have legalized sports wagering. That doesn't mean the city will cease being the epicenter of March Madness. Vegas and everything it offers is part of what makes the trip so memorable for those making the annual pilgrimage every March.
"Las Vegas is hard to beat for March Madness," said Jay Kornegay, the vice president of race and sports operations at the Westgate Las Vegas SuperBook. "You have some of the best hotels, restaurants, clubs, shopping and shows in the world. But, of course, many people want to place a bet on the games when they're here and we'll handle more money on the first four days of the tournament than the Super Bowl."
The Westgate Las Vegas SuperBook is, according to ESPN, the world's largest race and sports book, with 4,488 square feet of HD video screens above 19 wagering windows facing 300 lounge chairs and a 60-seat bar. During the first two rounds of the NCAA tournament, the SuperBook expands into the 1,500-seat International Theater, where Barry Manilow regularly performs, to show all the games on giant HD screens with wagering windows set up outside.
NCAA tournament, Midwest Regional »
NCAA tournament, East Regional »
The Cosmopolitan has a much smaller sports book but they go all in on March Madness with their annual "Hoops & Hops" event. As ESPN previously reported, the hotel transforms a 40,000-square-foot ballroom on the fourth floor into a giant "man cave" complete with 22 22-foot-by-12-foot HD projection screens, a center bar surrounded by 16 more HD monitors, a hardwood basketball court and a dedicated on-site sports book. Admission to the party, which included an open bar for 13 hours, went for $225 each day and sold out on Thursday and Friday. The party attracted more than 6,000 customers over the first three days of the tournament.
"This is the place where old college buddies get together and it's their time away from the family," said Fedor Banuchi, the vice president of entertainment at The Cosmopolitan of Las Vegas. "They choose Las Vegas and March Madness as the weekend where they want to get together and celebrate. It's a tradition they follow every year. You start to see the same faces every year and the same guys who maybe lost a bet the night before waking up early to save the best seats for the group."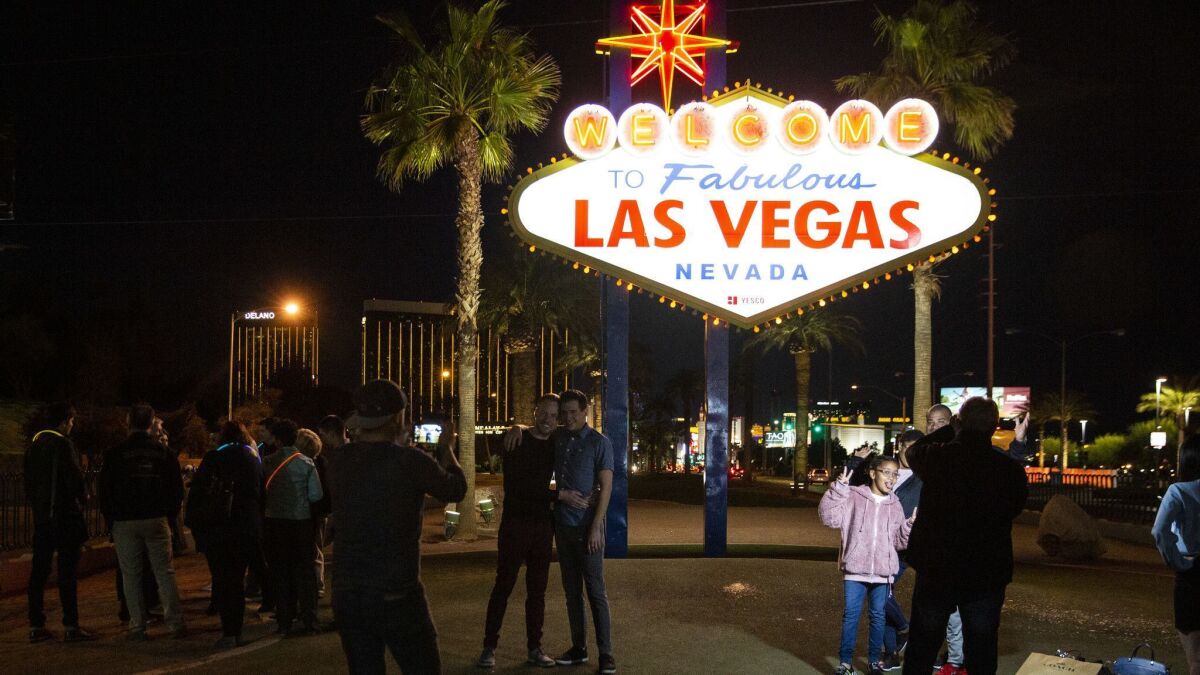 --
Las Vegas is a town without pity when it comes to its visitors. The Strip was built on a foundation of bad beats and sad stories told to tourists on the drive or flight home. But there's something different about Las Vegas during March Madness. No matter how badly your bracket was busted or how much you lost at the tables, it's hard to feel like a loser after reconnecting with friends and family and making plans to do it all over again next year.
"I get to watch basketball with my daughters from 9 in the morning until 10 at night," Lankford said after watching UC Irvine upset his alma mater, Kansas State. "Other dads who have young kids have come up to me and said, 'God, I only hope my kids do this with me.' They're in awe. It's one of the few things a dad gets to do to bond with his girls. I'm going home a winner no matter what happens in the games."

---
Get our high school sports newsletter
Prep Rally is devoted to the SoCal high school sports experience, bringing you scores, stories and a behind-the-scenes look at what makes prep sports so popular.
You may occasionally receive promotional content from the Los Angeles Times.