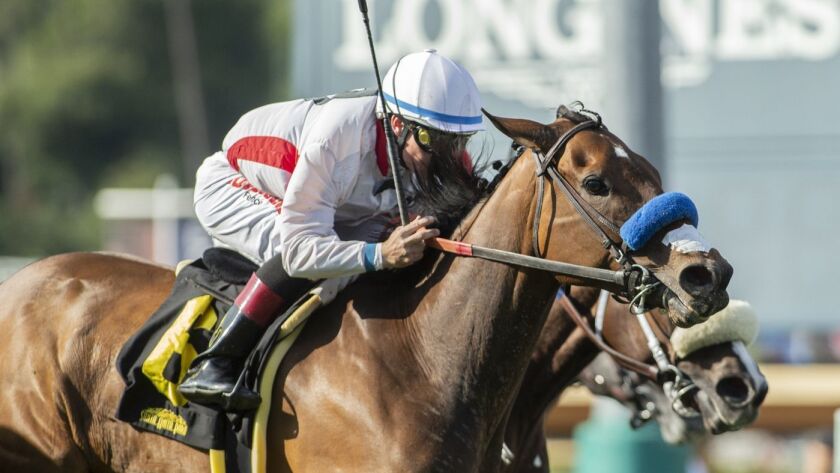 It took 27 days, eight races Friday and six Saturday, for the Santa Anita racing world to, if only for a few minutes, feel like everything had returned to normal.
Pushed to the back of the mind were the 22 horse deaths that had shuttered the track for almost a month. The medication changes were an afterthought. The impending no-whip rule was too far away to give any thought to.
Instead, sitting atop St. Joe Bay in the winner's circle, was Victor Espinoza doing a muscle-flexing pose after winning the Grade 2 $200,000 San Carlos Stakes, his first win in 301 days, and 252 days after being temporarily paralyzed in a racing accident. It was only his fifth start since returning to riding in races Feb. 18.
"I was happy to be back and ride horses and everything but it's nothing like winning a race, especially a big race like today," Espinoza said. "This win means a lot to me because of the ups and downs and the times I never thought I would ever come back and ride. At the end of the day, it always a great feeling to do what I did in my career, which is winning races."
It was the Hall of Fame jockey's 3,358th win in a little more than 22,000 starts. But he'll always be remembered for his three races aboard American Pharoah in 2015 to become the first Triple Crown winner in almost four decades.
Espinoza's career almost ended July 22 when Bobby Abu Dhabi broke down in a workout at Del Mar. The horse died on the track and Espinoza left by ambulance and was partially paralyzed with a broken back.
Espinoza's long comeback reached a pivotal moment when he returned to the track and got aboard St. Joe Bay on Jan. 5 for his first workout since the accident. The 7-year-old gelding was selected by trainer John Sadler to be Espinoza's first horse to see if he could ride again because St. Joe Bay was easy to handle. The horse is owned by Kosta and Pete Hronis, this year's Eclipse Award winners for owner.
But Saturday, it was a different horse than he worked on that chilly January morning.
"He's changed a lot since when I first worked him," Espinoza said. "His last work, he was a different horse, so it gave me a positive mentality going into the race. I thought I had a chance, but I never thought I was going to win that easy."
The definition of easy in this instance was three lengths in the seven-furlong race. He paid $33.60, $14.20 and $7.40. Dr. Dorr was second and Kanthaka was third.
It was Sadler's second trip to the winner's circle in two races, but only his first win. His horse Catapult lost an excruciating eight-minute photo to Ohio in the Grade 1 $400,000 Frank E. Kilroe Mile the race before. He and Ohio trainer Michael McCarthy had jokingly agreed to split the purse. As time dragged on, everyone assumed it would be a dead heat until the scoreboard flashed the results.
"That's one of the toughest beats we've ever had," Sadler said. "I thought he ran a great race, I'm really proud of him."
McCarthy also thought Catapult won.
"I thought they got the bob," McCarthy said. "I was watching on the big screen and I knew it was pretty close. I was thinking dead head since it was taking a while."
Ohio paid $21.20, $5.80 and $3.80. Desert Stone was third and River Boyne was fourth. It was jockey Ruben Fuentes' biggest win.
One race later, after winning the San Carlos, Sadler came bounding down the concrete runway to the winner's circle and said without prompting, "Before you ask, no, it doesn't make up for the last race."
He later recognized Espinoza's accomplishment.
"We're really happy for Victor, who's on his comeback," Sadler said. "He's worked hard and it's been tough with the calendar. He was ready to go a month ago and he had to stop. So, it's good for him to get back to the winner's circle."
The breakdown-free day had two other graded stakes. Secret Spice was the upset winner in Grade 1 $400,000 Beholder Mile for fillies and mares 3-years-old and higher. She beat, in order, Marley's Freedom, Paradise Woods, Selcourt and Mopotism, all horses that have run in the Breeders' Cup.
The Richard Baltas trainee paid $24.40, $6.00 and $4.20. Geovanni Franco was the jockey. The winning margin was 2 ¼ lengths.
It was Baltas' second stakes win of the day having previously won the Grade 3 $100,000 Santa Ana Stakes for fillies and mares going 1 ¼ miles on the turf.
Elysea's World, with Drayden Van Dyke aboard, came flying in the stretch to beat Zaffinah by half a length. She was the favorite and paid $6.20, $3.60 and $3.00. Zaffinah was second and Lynne's Legacy was third.
---