From Russia with dread; Sochi lacks joy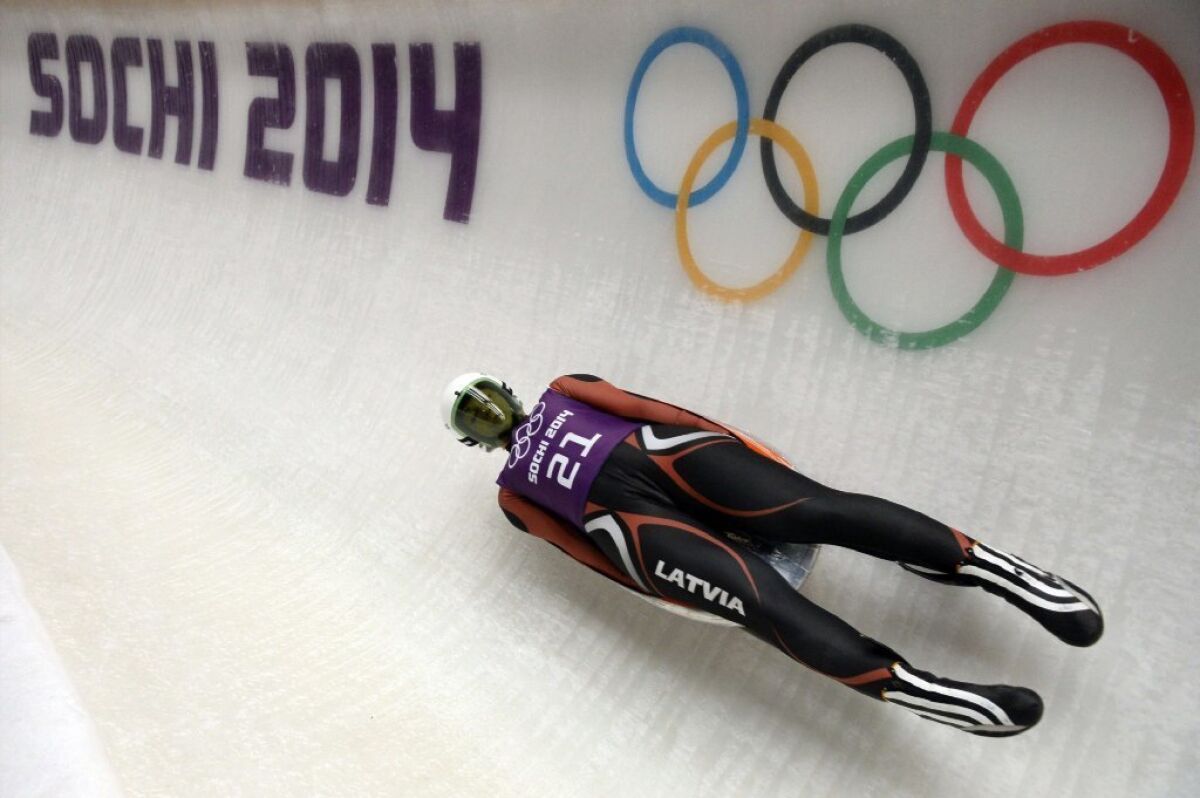 SOCHI, Russia – From the gently rolling Black Sea to the jagged Caucasus Mountains, from gleaming modern stadiums to colorfully ancient Matryoshka dolls, the Sochi Olympics open Friday with every conceivable natural wonder except one.
There is a visible lack of joy.
The strong-armed dream of Russian President Vladimir Putin has thus far succeeded not in embellishing the Olympic motto, but altering it, from ''swifter, higher, stronger'' to, "unfinished, unsettling and uninviting.''
Along the cramped streets in the Adler neighborhood above Olympic Park, the locals keep their heads down and their expressions grim as they walk through a shopping district bereft of any sort of Olympic embrace.
Two days before Friday's opening ceremony, there were no Olympic signs in windows, no Olympic memorabilia for sale, and few willing to even make eye contact with the reporter with the shiny Olympic credential.
Some of their homes have been crushed by bulldozers to make room for Olympic facilities. Their beloved stray dogs, a friendly tail-wagging Adler landmark, have been rounded up and "relocated." Their once-verdant land has turned into a muddy mess by hurried construction crews who are working with an Olympic-record $51 billion and still couldn't finish on time.
"People here didn't really want this, no,'' said Alim Subthan, a retiree. "They do not like what has happened.''
Throughout the Olympic Park area, there are also few smiles, unless you count the wry grins of the young soldiers as they fumble with their cigarettes. There is constant worry about attacks from regional terrorists who have engineered several recent bombings and have threatened to use this occasion to embarrass their longtime nemesis Putin.
There is also a sense of repression in the wake of Russia's recently enacted anti-gay legislation, the Internet filled with videos of Russian gangs assaulting men believed to be homosexuals. It's so discomforting for some Americans here that USOC boss Scott Blackmun used his group's welcoming press conference Thursday to restate a sad and obvious truth.
"You want the athletes to be aware of the fact that if they are not in an accredited area and they are wearing Team USA apparel, then they create an increased risk for them," he said.
This uncertainty is also seemingly felt by the athletes themselves, who have already made clear statements about the safety of the venues. On Wednesday, U.S. Olympic star Shaun White dropped out of one of the Games' new and glamorous events, slopestyle snowboarding, because he was concerned about the course. A day later, the women's downhill skiing practice was delayed because the skiers complained about the unsafe difficulty of the course, claiming that it had not been properly smoothed by forerunner skiers.
"You're welcome, I'll be your test dummy,'' American Laurenne Ross told reporters.
The torch cannot be lighted quickly enough Friday, these Olympics desperately in need of some warmth. The most tested icon during these two-week Winter Games will not be a renowned German luger or Norwegian biathlete, but the Olympic ideal itself.
Can it survive in a Games that are already being unofficially played under protest? The United States is not sending its president, vice president or first lady to the opening ceremony for the first time in 26 years. It is thought to be in part because of the strained relations between the countries over issues such as the anti-gay laws and Edward Snowden. Being sent in their place will be, among others, two openly gay American former Olympians, skater Brian Boitano and women's hockey star Caitlin Cahow.
Can the ideal thrive in a Games that have already been subject to dire warnings from America's security boss? Recently, U.S. Rep. Michael McCaul (R-Texas), chairman of the House Homeland Security Committee, told CBS News, "The security threat to the Olympics [is] the greatest I think I've ever seen."
With the possible exception of the legendary furry-hatted Cossack vigilantes who meet visitors as they arrive at the Adler/Sochi International Airport, the security presence here has been visibly underwhelming. There are a variety of men in different sets of police uniforms hanging around sporadic street corners, but they all appear to be 15 years old, and none of them carries a gun. In terms of security checks, it can be more difficult to get into a USC football game at the Coliseum than the main press center.
And if the Olympic ideal does survive, how many visitors will be settled enough to recognize it? The early arrivals here, mostly journalists, were placed in hotel rooms that lacked running water, electricity, and even doorknobs. The lack of preparedness has been only slight less unsettling as the lack of privacy, with Russian officials admitting that visitors will be under constant electronic surveillance.
"We all like Putin,'' said Subthan, the Adler retiree. ''But we know he likes to do things a little too strongly.''
While no Olympics in recent memory have begun under such a cloud, these Games can still be saved as other troubled ventures have been saved, with great athletic performances and triumphs of the spirit.
Will the Russian hockey team bring homeland glory to fans who will surely fill the Bolshoy Ice Dome? Will South Korea's popular Yuna Kim defend her Olympic figure skating title against Japanese rival Mao Asada? Will the Jamaican bobsled team have a cool run?
While Team USA will be led by familiar names like White and downhill veteran Bode Miller, there could be new stars such as slalom favorite Mikaela Shiffrin and ski jumper Sarah Hendrickson. American fans love teams, and the Olympics could deliver there, with both the men's and women's hockey teams expected to challenge for a gold medal while the much-maligned figure skaters could also medal in the new team competition.
There is plenty of room here for inspiration, plenty of time for tears. But right now, the Sochi Olympics feel as distant as the city of Sochi itself, which is 30 minutes down the road.
Walking along a nearly deserted Black Sea boardwalk on the eve of the opening ceremony, I passed three elderly women wearing colorful shawls contrasting their thick gray overcoats. Hoping to spark some recognition, I held out my credential and offered the universal name for the world's greatest sporting event happening right down the street.
"Olympics!" I said.
"Nyet," they said in unison, and hurried on their way.
Twitter: @billplaschke
---
Get our high school sports newsletter
Prep Rally is devoted to the SoCal high school sports experience, bringing you scores, stories and a behind-the-scenes look at what makes prep sports so popular.
You may occasionally receive promotional content from the Los Angeles Times.