Preparing for the Sochi Winter Olympics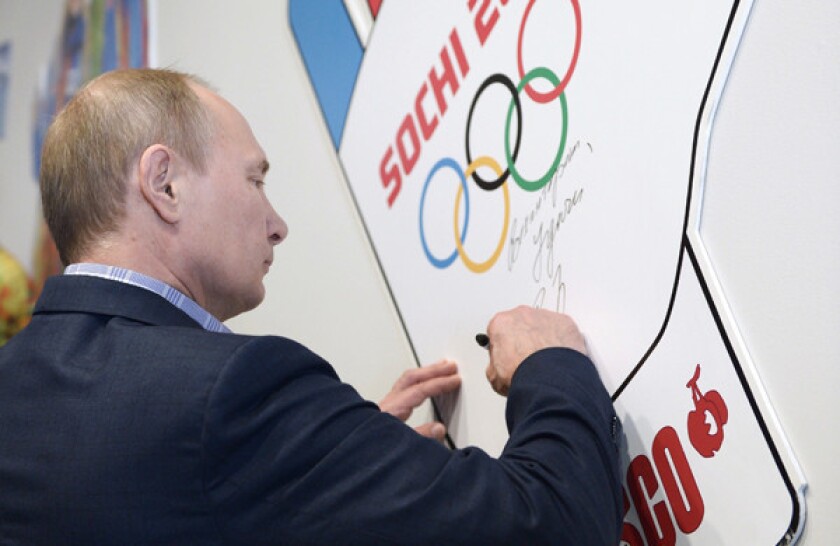 The countdown has begun — only 30 days remain until the opening ceremony for the 2014 Sochi Olympics.
Eighty-five countries are expected to bring 5,500 athletes and team members to Russia in early February. They will compete in 98 events spread over seven winter sports.
But numbers tell only part of the story.
"In Sochi, the athletes will once again discover the magic of the Olympic Games," said Thomas Bach, president of the International Olympic Committee. "In turn, the athletes will share this magic with the rest of the world."
Over the next month, The Times will offer daily stories on the competitors and issues central to these Games. The series begins with a primer that answers 30 basic questions.
1. Where is Sochi? The coastal resort is on the Black Sea, about 1,000 miles south of Moscow. It is one of only a few Russian cities with a subtropical climate, but the Caucasus Mountains are nearby.
2. Will all of the competition take place in the city? As with many Winter Games, the events will be split. Figure skating and other indoor sports will be held in a "coastal cluster" of Sochi arenas. Outdoor sports such as skiing will be contested in a "mountain cluster" about 30 miles away.
3. If Sochi is subtropical, will there be enough snow? Last year, some test events had to be canceled. But this winter, early storms have blanketed the mountains and forecasters wonder if so-called "snow cyclones" will create weather problems.
4. What if the weather turns warm? The Games' organizers have stored about 450,000 cubic meters of last winter's snowfall under thermal blankets. They have also installed a massive snow-making system.
5. How much will these Olympics cost? Originally budgeted at $12 billion, Sochi could now top the $50-billion mark. That would make these Games the most expensive ever, exceeding the cost of all previous Winter Olympics combined.
6. Why are they so expensive? Hoping to showcase his country, President Vladimir Putin has spared no expense, taking the opportunity to build Sochi into a year-round tourist destination. There have been reports of widespread corruption, critics alleging that much of the money has found its way into the pockets of Putin's cronies.
7. Will the facilities be finished on time? Last week, Putin toured Sochi and declared it ready. Almost. There have been delays with some facilities, including Fisht Stadium, where the opening ceremony will take place.
8. Why is terrorism of such concern? Sochi is considered vulnerable because of its proximity to the North Caucasus, where Islamic militants have waged a violent insurgency. Recent bombings in Volgograd, about 400 miles away, have heightened concerns.
9. Can the Russian government keep athletes and spectators safe? Security forces are creating a lockdown zone around Sochi this month. Tens of thousands of police and army troops have arrived from throughout the country to patrol the city's streets.
10. Why have gay rights become an issue with these Olympics? The Russian government recently adopted legislation that criminalizes the discussion of "nontraditional sexual relations" around minors. Critics say the law effectively bans events such as gay pride parades.
11. Will there be protests? The legislation has drawn criticism from around the world. Some athletes might speak out or show support for gay rights by wearing pins on their uniforms.
12. How might the Russian government react? Government officials plan to establish one or more protest zones in the city. But it isn't that simple — demonstrators must receive permission to gather.
13. As for sports, will these Winter Games look any different? The IOC has added 12 events: figure skating team competition, luge team relay, biathlon mixed relay, women's ski jumping and men's and women's competitions in ski halfpipe, ski slopestyle, snowboard parallel special slalom and snowboard slopestyle.
14. Why were the events added? The figure skating team competition expands a highly popular event. IOC executives hope that new extreme sports — ski halfpipe, slopestyle, etc. — will attract a younger audience.
15. Who will be the biggest U.S. star? With no favorites in figure skating singles, others must shine. Shaun White on his snowboard? Shani Davis in long-track speedskating? The U.S. men's hockey team?
16. Will America have a breakout star? Two teenagers show potential. Mikaela Shiffrin has become a force in the slalom. And if Sarah Hendrickson recovers from knee surgery, she will be a favorite in the inaugural women's ski jumping.
17. Who will be missing for the U.S.? Three of the biggest names and defending gold medalists. Skier Lindsey Vonn and skater Evan Lysacek are injured. Short-track speedskater Apolo Ohno has retired.
18. Can the men's hockey team avenge its gold-medal loss to Canada in 2010? Team USA executives have focused on speed, fielding a roster that theoretically suits the larger Olympic rinks. Thirteen players return from the Vancouver squad.
19. Will Jonathan Quick be ready to play? The Kings goalie was sidelined by a strained groin for almost two months. He began his comeback with a 3-1 victory over the Vancouver Canucks on Saturday night.
20. Are any other Kings or Ducks on the U.S. team? Kings forward Dustin Brown and Ducks defenseman Cam Fowler made the roster. Other local pros, such as Anze Kopitar and Jonas Hiller, will represent their native countries.
21. Who are the favorites in women's figure skating? Yuna Kim of South Korea is the defending gold medalist and world champion. Italy's Carolina Kostner and Japan's Mao Asada could contend for the title.
22. What about the men? The early favorite is Patrick Chan of Canada, but he could face heavy competition from Spain's Javier Fernandez and two Japanese skaters — Daisuke Takahashi and Yuzuru Hanyu — among others.
23. Will the Americans go without a singles figure skating medal for the first time since 1936? On the women's side, Ashley Wagner and Gracie Gold figure to make the team and be competitive. Max Aaron and Jeremy Abbott could lead the men. None are favored to reach the podium.
24. Will the U.S. win the overall medal count? It will be tough for the Americans to top the 2010 Vancouver Games, where they set an Olympic record with 37 medals. But they have veteran athletes and talent in the new events.
25. How will Russia do? The Russians ranked sixth in total medals with 15 in Vancouver. Research has shown the home country enjoys an average gain of 13 medals, which would put them near the top of the standings.
26. What about the prospect of drug cheaters? Bach, the IOC president, has called these the Games the "toughest ever" in terms of scrutiny. The IOC has increased pre-competition testing by 57%.
27. A luger died at the Vancouver Olympics — could the same thing happen in Sochi? Organizers have taken steps to make the sliding sports safer. The Russian track includes brief uphill sections designed to limit speed.
28. How much of the Games can we watch? NBC Universal plans to offer a Winter Olympics-record 1,539 hours of coverage — an average of 85 hours a day — on various broadcast and online platforms. Televised events will be spread over NBC, NBCSN, MSNBC, CNBC and the USA Network.
29. What about live streaming? NBCOlympics.com will provide more than 1,000 hours of live streaming events, rewinds and video highlights.
30. What do the medals look like? Russian craftsman have created a mosaic of cultural designs. The medals depict both the mountaintops above Sochi and the Black Sea beaches below.
david.wharton@latimes.comTwitter: @LATimesWharton
---
Get the latest on L.A.'s teams in the daily Sports Report newsletter.
You may occasionally receive promotional content from the Los Angeles Times.