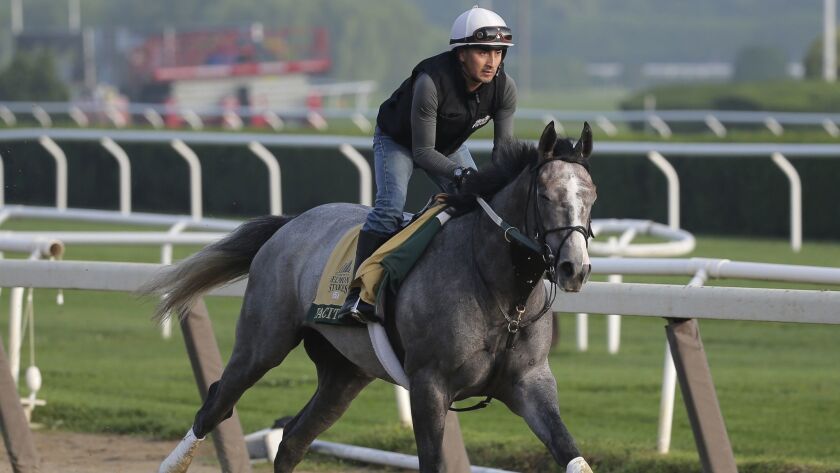 Reporting from Elmont, N.Y. —
The mystique that surrounds the Belmont Stakes goes far beyond its 1 1/2-mile distance, perhaps the only time in a horse's career it will be asked to run that far on dirt.
It is New York's race and the city embraces it in its own blue-collar way. Even sports talk radio punctuates its endless discussion of the Yankees with where the hosts are going to watch the Belmont.
Five of the eight trainers that represent seven of the 10 horses in the field run a stable out of Belmont Park.
No one seems to mind that there is no Triple Crown on the line.
What always remains an incontrovertible fact is that the Belmont Stakes is the last chance every 3-year-old horse will get to win one of the classic Triple Crown races.
"You know, Belmont is sort of home for us now," said Hall of Fame trainer Bill Mott. "It would be great to come back and do it again. It was exciting with Drosselmeyer [in 2010]. He was a bit of price in the race that day, and it was a pretty good feeling to win. I'd like to do it again."
Mott's horse on Saturday will not bring a price. Tacitus is the 9-5 morning-line favorite. The fourth-place finisher in the Kentucky Derby (moved to third after the disqualification of Maximum Security), had five weeks to prepare for the Belmont.
"With the shipping and everything, it's a little less stress on him," Mott said. "Had he won the Derby, we would have probably given the Preakness a try, but we just didn't feel it was necessary or in the horse's best interest."
Even though Tacitus calls Belmont his home, he has only raced the course once, a fourth-place finish in his first race. He went from there to break his maiden in his second race and followed that with wins in the Tampa Bay Derby and Wood Memorial before running at Churchill Downs.
His Kentucky Derby was good but hardly spectacular.
"He had to alter course several times in the race," Mott said. "He never had to check. He never got stopped. Ate a lot of mud. Ate a lot of dirt. The track was like pea soup that day, which was very disappointing."
The weather on Saturday in New York should be perfect. The Belmont Stakes has not had an off track since 2011, when Ruler On Ice won the race.
Todd Pletcher has two horses in Saturday's race, Spinoff, who finished 18th in the Kentucky Derby, and Intrepid Heart, whose last race was a third in the Peter Pan Stakes at Belmont.
"It's a race we really cherish," said Pletcher, who has won the race three times. "It's home for us and I think one of the advantages is most of our horses have trained five weeks at Belmont after the Derby. It helps and it's a race we really enjoy."
A common misconception about the longest of the Triple Crown races is that it is set up for horses that are fast finishers. In fact, the early part of the race is usually run so patiently that horses on or near the lead can often withstand any late rallies by horses that ran most of the race in the back.
Sign up for our horse racing newsletter »
"It's just a different race," said trainer Mark Casse, who brings in Preakness winner War Of Will, the 2-1 second choice. "We used to always say if they are running at the end of the Kentucky Derby (1 1/4 miles) that they are going to love the Belmont. Doesn't work that way. I think speed is much tougher going 1 1/2 miles.
"The key to it all is having a horse that will relax, because the course that is trying to fight you early is going to be tiring in the end. So that's the key. Nobody knows how they are going to do that until you actually run them."
It's a point echoed by Dale Romans, who is training Preakness runner-up Everfast.
"It's just a grueling, tough race," Romans said. "I think it comes down to the horse's natural ability to get there, and you really don't know if they have it or not until you try them."
It will be unknown territory. Five of the starters have not gone beyond 1 1/4 miles; two have never been beyond 1 3/16 miles and three have never gone beyond 1 1/8 miles. On Saturday, by 3:45 p.m. PDT, everyone should know exactly how much that extra distance matters.
---