Column: Taylor Fritz wants to reach the next level of tennis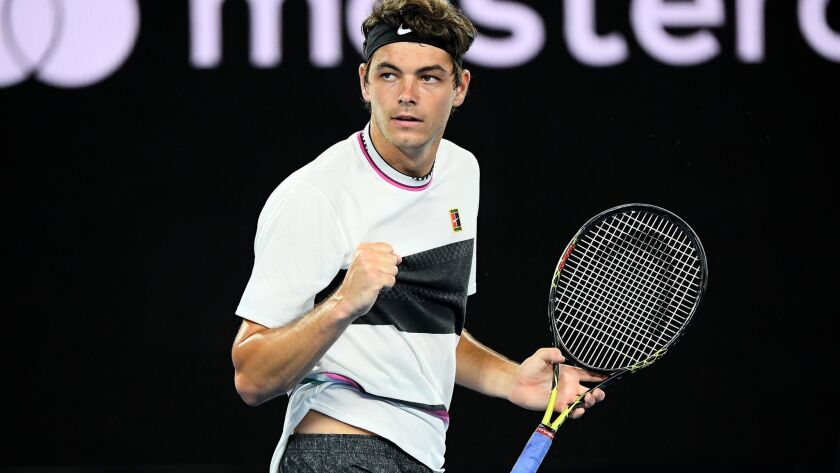 His big breakthrough is coming. Taylor Fritz is sure of it.
The 21-year-old from Rancho Palos Verdes with the booming serve and potent backhand senses that his signature moment is close, shimmering just beyond his racket's reach. His belief is reinforced, not shaken, when he sees his contemporaries enjoying impressive runs at significant tournaments, most recently when 21-year old American Frances Tiafoe reached the Australian Open quarterfinals and 20-year-old Stefanos Tsitsipas of Greece stormed into the semifinals. "That could and should be me," Fritz said. "I feel I'm right there. It's just any week."
That big run has been elusive for Fritz, who will begin defense of his Oracle Challenger Series tournament title Wednesday at the Newport Beach Tennis Club. Fritz will face Marcos Giron, who won the 2014 NCAA singles title while at UCLA, and will team up in doubles with friend and compatriot Mackenzie McDonald, the 2016 NCAA singles champion with the Bruins.
Fritz is ranked 50th in the world and doesn't have to compete at this tournament, where players can earn points toward getting a wild-card berth into the main draw of the BNP Paribas Open at Indian Wells in March. But he has other incentives to be here.
"Anything that would help me get my ranking up and get me seeded at tournaments will make my draws a lot easier and give me a much better opportunity to go deep in these tournaments," he said Tuesday. "It's worth it, given I live 45 minutes from here. I would just be at home hanging around this weekend anyway, so might as well play a tournament."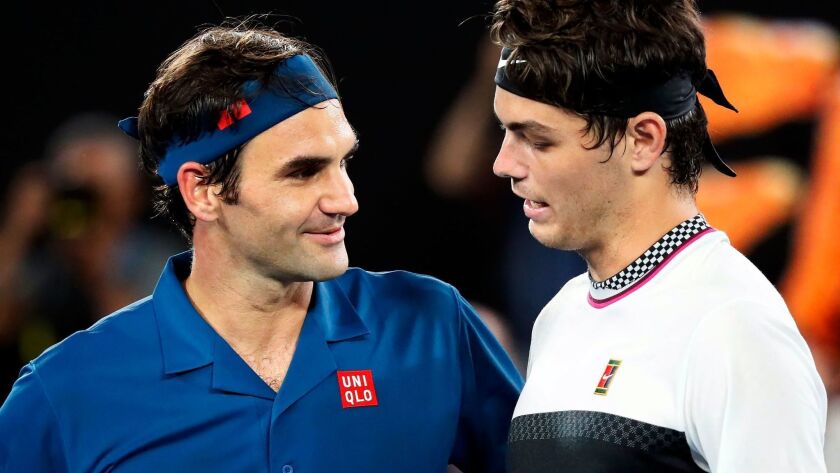 Fritz has improved his game the past few years, polishing his raw power and developing a knack for playing well on big points, and he has some solid results to show for it. Among them was reaching the fourth round in Indian Wells last year.
"Another example of me going really deep in the tournament but missing out on the really, really big points that you get for winning a couple more rounds," said Fritz, who reached the semifinals of the U.S. Men's Clay Court championships a few weeks later.
He also made a splash last week when he upset 30th-seeded Gael Monfils to reach the third round of the Australian Open, displaying physical and mental strength against the 32-year-old Frenchman to win two of three tiebreakers in their four-set match.
"That's the way I see myself competing," Fritz said. "I competed incredibly well. I played pretty well. I think that how I've been playing as of lately and the level I'm at, I think that's my level and that's where I should be playing. That should be the benchmark for most of my matches."
He fell short of that level in a 6-2, 7-5, 6-2 loss to defending champion Roger Federer on the big stage at Rod Laver Arena.
"I would have been happy playing something like that against Roger," Fritz said of his performance against Monfils. "Of course, Roger makes it very uncomfortable because he stands so close to the baseline and doesn't give you any time. But the way I competed [against Monfils] was really great. I'm proud of how I performed in a lot of important moments in that match and I fought through a lot of tough situations. We were both dead tired, it was so physical."
Not that there's any shame in losing to Federer. Plenty of people have lost to the 20-time Grand Slam champion. Fritz left the court with regrets, not embarrassment.
"It doesn't make sense to be discouraged or upset when you lose to the best player of all time, but I still was pretty disappointed because I felt like I'm ready. I was ready," Fritz said. "I still feel like I am ready to beat the best players in the world and perform at that level because other guys are doing it, too. I just didn't play as well as I would have liked. Not to say that would have changed anything at all. I just would have been a lot happier leaving the court with a loss if I had played at the level I can play at and had showed everybody what I know I can do."
He's still chasing the magical runs that Tsitsipas, Tiafoe, and 19-year-old Denis Shapovalov have enjoyed the past couple of years.
"All the young guys have one big one. I feel like I've had the same consistency almost, but not the big result," he said. "Unfortunately for me, the rankings don't favor consistency. They favor big results. It's much better to lose first round two weeks and then win the third week than to make semis all three weeks. I feel like I always win at least a round or two at every tournament. I don't go out in the first round too often. My consistency at winning matches at this level is good, but I'm just missing those upper, upper-level results, like going all the way. Any time. I think once I get that, once I get there, I'll be right there. I'll be top 20."
He can see it. Feel it. It's time for him to seize his moment and do it.
Follow Helene Elliott on Twitter @helenenothelen
---
Get our high school sports newsletter
Prep Rally is devoted to the SoCal high school sports experience, bringing you scores, stories and a behind-the-scenes look at what makes prep sports so popular.
You may occasionally receive promotional content from the Los Angeles Times.