Fords dominate in two Daytona 500 qualifying races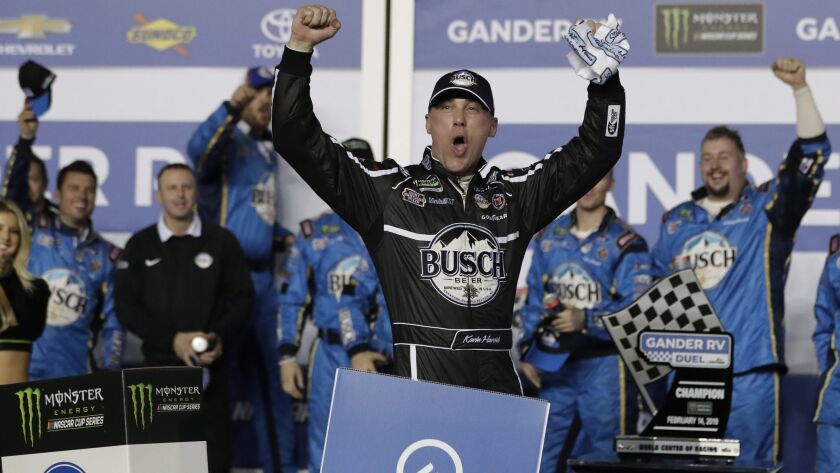 Reporting from daytona beach, fla. —
There are few normal things about the Daytona 500. For starters, NASCAR's most important race is first on the schedule, not last. And it doesn't qualify its starting field like everyone else. The first two positions are through time trials but the rest of the field is determined by a pair of 150-mile races on the Thursday night before the race on Sunday.
So, with that sense of nothing is as we expect it, it makes perfect sense that the leading manufacturer who won 19 races last year, and had the points champion in Joey Logano, would scrap its successful Ford Fusion and replace it with the more commercial looking Mustang.
The drivers are about winning races and Ford is about selling cars and maybe both can achieve their goals.
The first 60-lap, 150-mile qualifier was a sweep for Ford as Kevin Harvick, Ricky Stenhouse, Jr. and Paul Menard took the top three positions. The second race also brought a Ford sweep with Logano, Clint Boyer and Aric Almirola.
Boyer already seems sold on the new car.
"Have you ever driven a Fusion and gotten out of that and gotten into a Mustang?" Boyer asked. "You get some looks. Damn right I feel better in a Mustang.
"It's a tall order bringing a new car to the forefront like Ford has done. But [the important thing] is we put a Ford in the winner's circle."
In order to be successful on a superspeedway such as Daytona, you need help in drafting, lining up in a way that both cars benefit from less aerodynamic drag.
"Everybody at Ford Performance always makes it well known that they expect us to work together and do everything we can to get a blue oval in victory lane," Stenhouse said. "Especially with the Mustang, now that we are running it.
"Obviously, I wanted to be the first one in victory lane but I felt we had a really good shot if we had us three of us up there. Going into the race, I felt a Ford would be in victory lane because we all work so well together. … We're getting pretty good at it."
Harvick agreed: "When we all work together, it's hard to beat the Fords."
The two winners ran very different races. Harvick ran his as the head of a train of cars, leading 44 laps. Logano made a bold move from fourth with a little more than a lap to go and ended up leading only one lap.
The twin qualifying races have twin goals. Get the best qualifying position but do it without wrecking the car. The races rarely have the risk taking that happens Sunday.
William Byron, who previously qualified for the inside spot in the first row, finished a safe 16th in the first race. He was the last car on the lead lap. Alex Bowman, who's on the outside of the first row, finished 13th in the 21-car second race. He finished as the first car, one lap down. Both safe spots. And they both drive Chevrolets.
Rows, two, three and four are all Fords.
---
Get the latest on L.A.'s teams in the daily Sports Report newsletter.
You may occasionally receive promotional content from the Los Angeles Times.