Column: Sloane Stephens and Madison Keys show they're ready for the spotlight now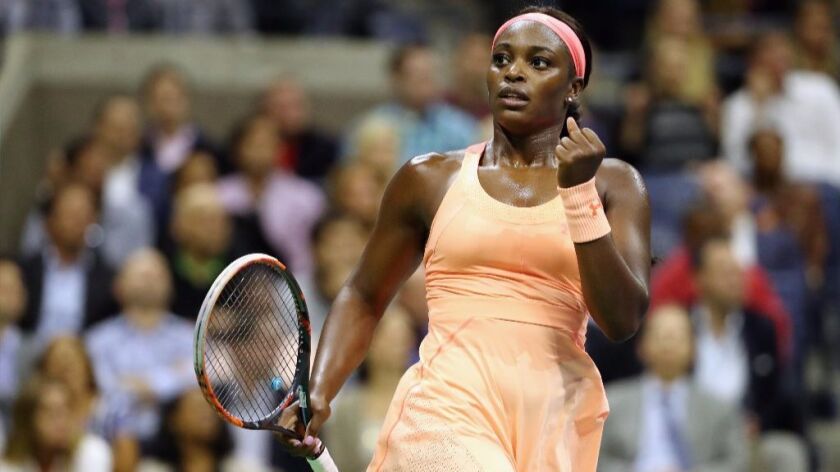 Reporting from new york —
Sloane Stephens was stuck on her couch in January for the duration of this year's first Grand Slam event, the Australian Open, her leg immobilized by a massive cast that protected her surgically repaired left foot. On Saturday she will play for the championship of the year's last Grand Slam, the U.S. Open, co-starring with Madison Keys in an all-American showcase of first-time Slam finalists.
Their success attests to the new depth of American women's tennis and confirms the exceptional nature of two young women who might have seemed to be moving at a slow pace in turning their potential into success but have gotten there all the same.
Stephens, who ranked 957th in the world in late July when she returned from an 11-month injury absence and was unseeded here as the 83rd-ranked player, played a gutsy third set against seven-time Grand Slam winner Venus Williams on Thursday to seize a 6-1, 0-6, 7-5 victory before an emotionally spent crowd at Arthur Ashe Stadium. Keys, 22, had an easier time in capping the all-American night with a 6-1, 6-2 rout of CoCo Vandeweghe, but neither found it easy to be labeled the Next Great American Tennis Hope before they were ready to carry that burden. They're ready now. "I'm just super proud and honored to be a part of what these four girls were, what we did tonight," Stephens said.
Keys, who acknowledged she didn't expect to win here and was "just going match by match," savored the night that much more because she and Stephens have become friends over the years. "I can't think of a better person to have this first experience with," Keys said.
Stephens, 24, has always been a good defender but was forced to refine other elements of her game. She had to become more nimble with her footwork — which is now one of her strengths — add nuances that give depth and extra dimensions to her power-dependent game, and become more positive when things aren't going so well, as in Williams' second-set revival Thursday. In the third set, though, Stephens discovered she had another asset to tap after Williams took a 5-4 lead and was two points away from victory at 30-all.
"That I'm a real fighter, that I have a lot of grit. Surprising," said Stephens, who hit a spectacular backhand passing shot to get back into that 10th game and trigger a match-closing roll.
"I don't give up. I'm not just going to give it to someone. I'm not just going to let them take it from me. I'm going to make sure I give everything that I have, and I leave everything on the court at all times, no matter what."
It was a difficult loss for Williams, whom Keys and Stephens have said they idolize. Williams, told of their respect for her, was unmoved, probably because her loss was so fresh. "To be honest, I'm definitely here to win my matches, not for consolations," said Williams, who was serenaded by a standing ovation from Stephens and the appreciative fans as she exited the court.
For the last few years Stephens has been, in some ways, a victim of her own success. She was 19 when she defeated Serena Williams to reach the Australian Open semifinals in 2013, a triumph that immediately raised Stephens' profile and the expectations for her future. She made the quarterfinals at Wimbledon that year but didn't get past the fourth round of another Slam until she got past three seeded players here and then defeated the ninth-seeded Williams.
"I was a baby then," Stephens said of that 2013 semifinal. "I didn't know as much as I know now. I think a lot of life has happened. I have been through a lot."
Keys has had her share of tribulations, too, most recently two wrist surgeries that also made her a spectator during this year's Australian Open. Seeded No. 15 here, Keys was sharp from the start against No. 20 seed Vandeweghe and never faced a break point. Keys hit 25 winners and made only nine unforced errors.
"I thought at some point she might start running a little bit colder than what she was doing," said Vandeweghe, who teared up several times during her post-match news conference. "I was fighting as hard as I could for as long as I could but she stayed hot the whole time."
Keys took a medical timeout after she tweaked something in her thigh just to be sure it would not become a bother, but that was the only blip on her otherwise joyous night. "It feels absolutely amazing," she said. "These are the moments growing up that you dream about."
For Keys or for Stephens, a dream will come true on Saturday.
Follow Helene Elliott on Twitter @helenenothelen
---
Get our high school sports newsletter
Prep Rally is devoted to the SoCal high school sports experience, bringing you scores, stories and a behind-the-scenes look at what makes prep sports so popular.
You may occasionally receive promotional content from the Los Angeles Times.