Karolina Pliskova blows by Serena Williams to make U.S. Open finals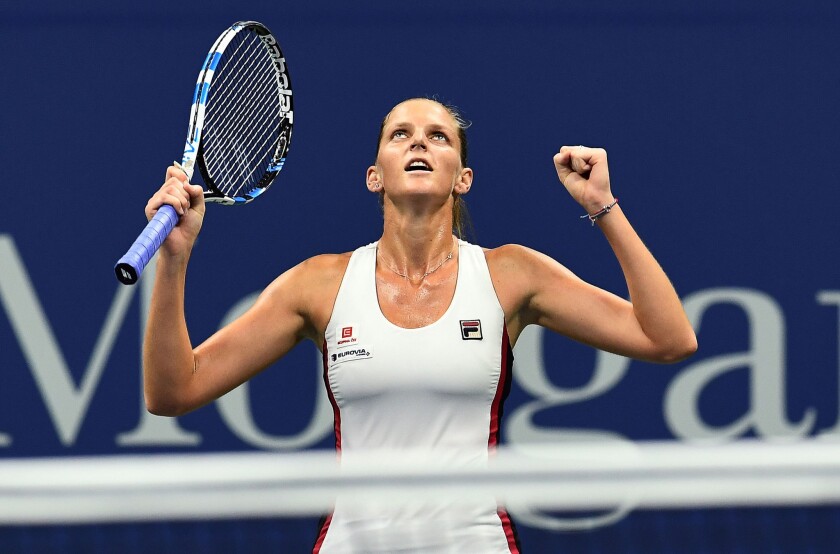 Reporting from NEW YORK —
Serena Williams caught a glimpse of what it could be like to face her own serve.
A glimpse was just that.
Karolina Pliskova fired aces past Williams. She picked her spots and did what so many on the tour simply cannot accomplish against Williams: win free points on her own serve.
At her best, Williams, at 34, is the most dominant female tennis player in the world. Her blend of power and touch permitted her to dominate the tour. But Williams was far from her best Thursday night in the U.S. Open semifinals, and Pliskova eliminated the top seed, 6-2, 7-6 (5).
Pliskova, from the Czech Republic, painted lines and consistently went for broke, She started to falter briefly in the second set when the realization presumably dawned on her that she could beat the No. 1 player. She hit the reset button in a dramatic second-set tiebreaker and won in 1 hour 26 minutes as Williams double-faulted on match point.
In Saturday's final, No. 10 Pliskova will face No. 2 Angelique Kerber of Germany, who beat Caroline Wozniacki of Denmark, 6-4, 6-3, in the second semifinal and will take over the No. 1 ranking from Williams next week.
"I wasn't able to move the way I wanted to move," said Williams, who said she was hindered by an injured left knee. "When you're injured, you're thinking of other things when you should be playing and thinking of your shots. My mind was just a little bit everywhere."
Pliskova, who also brings a heavy game to the court, overpowered Williams, hitting 27 unreturned serves, seven of them aces. Pliskova, who earlier in the tournament eliminated Serena's older sister Venus in the fourth round, leads the tour in aces in this year in a breakout season.
"Probably America hates me because I beat both Williams sisters," said Pliskova, joking in an interview with ESPN, adding later, "For the crowd, it's probably not the best I beat them in their country, but for me, it's really something special. Obviously the match with Venus helped me, like I said, not only with the game, but also with the crowd….I was prepared for a fast game, for great serving, and probably it helped me.
"That's why maybe I won the match today."
Williams, who was attempting to win her 23rd Grand Slam singles championship and seventh U.S. Open title, was playing the night session on back-to-back nights and at times, looked fatigued and frustrated. She started the match with an ace, held easily in the first game but it was pretty much a tough struggle after that.
Serena said she had been dealing the injured knee since the second round and it curtailed her movement. Still she was adamant that fatigue was not a factor, having gone three tough sets against Simona Halep of Romania in the quarterfinals Wednesday night.
"OK, I'm not going to repeat myself," Williams said. "I wasn't tired from yesterday's match. I'm a professional player; been playing for over 20 years. If I can't turn around after 24 hours and play again, then I shouldn't be on tour….It wasn't a five-hour match.
"Fatigue had absolutely nothing to do with it. If I was tired, I should definitely get a new career."
The loss created a change at the top of women's tennis. Williams has been No. 1 for 186 consecutive weeks. Pliskova, of late, has been the one controlling the positioning for No. 1. Kerber had the chance to move to No. 1 just before the Open, but Pliskova beat her in the final at Cincinnati in August.
Now Pliskova helped Kerber. Kerber had her own Slam breakthrough this season, having defeated Serena in the final at the Australian Open and losing to her in the Wimbledon final.
Kerber raced out to leads of 4-0 in the first set and 5-1 in the second before Wozniacki started to find her range, but it was too little, too late.
Now comes another shot at a second major singles title and the No. 1 ranking.
"It's just incredible," Kerber said in her on-court interview. "It's a great day…To be here in the final for the first time, it means a lot … To be No. 1 sounds amazing."
The only other German woman to reach the No. 1 ranking was the legendary Steffi Graf, who, like Williams, won 22 Grand Slam singles titles.
"I think she's proud of me to be the next one," Kerber said.
lisa.dillman@latimes.com
---
Get the latest on L.A.'s teams in the daily Sports Report newsletter.
You may occasionally receive promotional content from the Los Angeles Times.