Column: Clay-court conqueror Iga Swiatek holds off Ons Jabeur to capture first U.S. Open title
NEW YORK —
Not until the U.S. Open women's championship trophy was safely in her grip did Iga Swiatek flinch over the course of two chaotic, emotional weeks.
Listening to the crowd cheer Saturday after she had quashed a spirited pushback by Ons Jabeur in closing out a 6-2, 7-6 (5) victory at Arthur Ashe Stadium, Poland's only Grand Slam singles champion was startled by a loud pop. She recoiled, uncertain what had happened.
When streamers began falling, she realized the sound was part of a victory ceremony unfolding on the court. She adjusted quickly, just as she had done while she rampaged through the field at Flushing Meadows. Displaying the poise of a newly minted three-time Grand Slam singles champion, she smiled, savoring a moment she wasn't sure would be hers to enjoy this year.
Swiatek, 21, had solidified her status as a clay-court conqueror by winning the French Open for the second time in three years, but she was bounced early from subsequent tournaments. Losing twice on hard courts before the U.S. Open led her to question if she could win on the hard courts at the Billie Jean King National Tennis Center. She also disliked the balls used at the Open, labeling them horrible.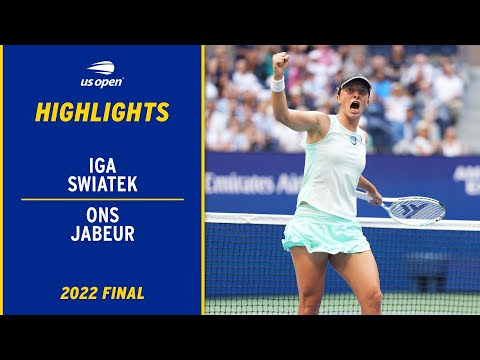 "I'm just not expecting a lot," she said of her thoughts before she arrived. "For sure, this tournament was challenging. It's New York. It's so loud. It's so crazy. I'm so proud that I could handle it mentally."
Swiatek, who credits sports psychologist Daria Abramowicz for her success, became the first woman to win seven titles in a season since Serena Williams won seven in 2014. Of the last 10 finals she has played, Swiatek has won each in straight sets, the definition of a big-time athlete.
Swiatek inherited the No. 1 world ranking when Ash Barty unexpectedly retired earlier this year but she affirmed Saturday that she deserves it. She has the game and the smarts to work her way out of jams or sprint to big leads — and her dimensions extend beyond clay.
"I wasn't sure if I was on the level yet to win actually a Grand Slam, especially on U.S. Open, where the surface is so fast," she said. "It's something that I wasn't expecting for sure. It's also like a confirmation for me that the sky is the limit."
The qualities that distinguish her were clear to Tunisian Jabeur, whose stirring second-set comeback had the sellout crowd cheering for more.
"Just playing better at the right moment, at the important points. She knows, like, exactly what to do. I feel like she improved a lot from last year until the beginning of this year again," Jabeur said. "She is, I think, working on a lot of things that get in her way. She's really set the bar very high. It's great for our sport."
Swiatek will earn $2.6 million for her title. Jabeur, also the runner-up at Wimbledon this year, will receive $1.3 million. They will stand 1-2 when world rankings are issued Monday.
This U.S. Open will be remembered for being transformative. It was difficult to say goodbye to Williams, but the tournament became an occasion to say hello to Swiatek as a dominant No. 1, to celebrate Jabeur as the first African woman to reach the U.S. Open final in the Open Era (which began in 1968), to welcome 18-year-old Floridian Coco Gauff as a top-10 player, and to appreciate the depth in a generation of women ready to challenge for major championships.
Williams' 23 Slam singles titles won't be approached for a while — if ever — but Swiatek has a solid start. Jabeur figures to be a long-time rival for Swiatek. "I'm pretty sure you're going to win some of them, so don't worry," Swiatek said Saturday to console Jabeur.
Aryna Sabalenka and Caroline Garcia, semifinalists here, have resurged. Jessica Pegula has become a force. Danielle Collins' ferocity is stunning. Stars such as Barty and Williams retire — or evolve, as Williams prefers — but new personalities inevitably replace them and have new stories to tell. "Definitely I'm not someone that's going to give up," Jabeur said. "I am sure I'm going to be in the final again."
Swiatek's start Saturday made a rout seem certain. She served well and returned flawlessly, never letting Jabeur unleash her creativity. Swiatek carried that over to the second set, racing to a 3-0 lead, but Jabeur fought back. Swiatek started missing shots as play became more physical. Jabeur pounced, pulling even at 4-4 and 5-5 and saving a match point in the 11th game. Jabeur took a 5-4 lead in the tiebreaker before Swiatek clamped down, winning when Jabeur sent a forehand long.
"Even though at the beginning I was dominating, I knew it's going to be tight and I knew that Ons is going to use any mistake I'm going to make. I didn't want to back out," Swiatek said.
Frances Tiafoe lost to Carlos Alcaraz in five sets in the U.S. Open semifinals Friday night, but Tiafoe was a champion of resilience and defiance.
Swiatek has a ritual of checking her trophy when she wins, but she needed a reminder Saturday. When she lifted the lid she found a helping of tiramisu, her favorite treat. "So nice. I'm going to get dirty," she said, ripping another clean winner.
In the men's final Sunday, Carlos Alcaraz of Spain will face Casper Ruud of Norway for the title and the No. 1 world ranking. Neither has won a Grand Slam singles title. Only Ruud previously reached a Slam final, and he was routed by Rafael Nadal in straight sets at this year's French Open.
The quick, acrobatic Alcaraz, 19, has played three straight five-set matches here but somehow hasn't looked tired. "I feel great," he said after his late-night win over Frances Tiafoe on Friday. "Right now I'm just so, so happy. I thought about a young man like 10 years ago dreaming for this moment right now."

Get our high school sports newsletter
Prep Rally is devoted to the SoCal high school sports experience, bringing you scores, stories and a behind-the-scenes look at what makes prep sports so popular.
You may occasionally receive promotional content from the Los Angeles Times.