Should Zion Williamson be paid for the all the attention CBS is paying him?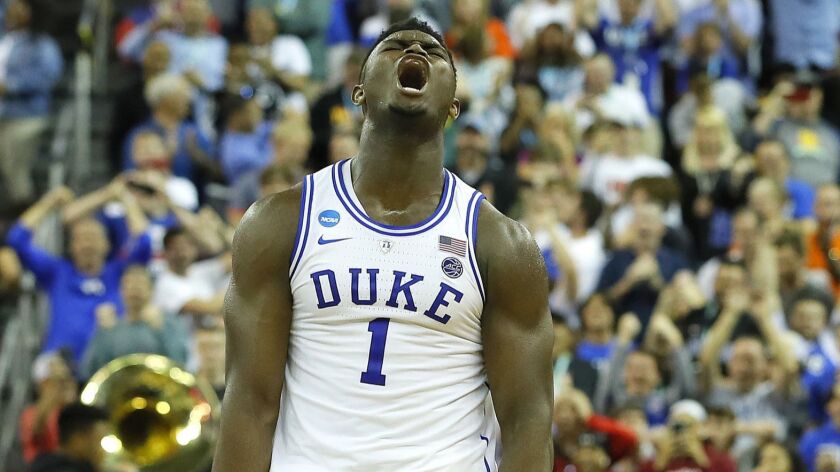 The NCAA tournament resumes this weekend … or rather the NZAA tournament in which the "Z" stands for Zion Williamson. We could pretend this monthlong exhibition of amateur basketball is a showcase for scholastic pursuit or we can acknowledge this ain't amateur basketball and that Williamson is the reason most people are watching.
CBS certainly seems to think so. At the start of the tournament the network announced it was debuting a "Zion Cam."
"Because of Zion, we have added a camera dedicated to him the whole time he is on the floor," CBS producer Mark Wolff told the News & Observer of Raleigh, N.C. "We hired a cameraman, a camera, a digital tape machine to record everything he does.
"We were recording his workout here today in the event something were to happen. We are monitoring Zion 24/7."
I was peeved at the move and did what any sensible person would do — I tweeted. And as usual the trolls reconfigured my faith in humanity. But for every three or so rude comments for the sake of being rude there was a tweet illustrating a larger point. And it is here, nestled in the warmth of punctuation and thoughtfulness, is where I will engage in my first Twitter bag.
@spankyburke93 said:
They can't make it anymore obvious that they want this team to win this all this year
Spanky brings up an excellent point: the optics. If an NCAA broadcasting partner dedicated resources to the coverage of one athlete, it would appear as if the parties involved would want said athlete to be in competition for as long as possible. Obviously the dramatic ending to the matchup between Duke andCentral Florida completely undermines this conspiracy theory. Nevertheless, if Duke goes on to win the remainder of the games by comfortable margins, it would look funky. Again, not saying something fishy is at play but fans are quick to point out conflicts of interest. It's the reason why some believe the NBA stretches out playoff series to cash in on more advertising, or that the Rams made it to the Super Bowl because Los Angeles is a bigger market. As a radio host, I can say such theories are excellent fodder for slow content days. I can also tell you that people believe this stuff. So yeah, if CBS has a Zion Cam, there is incentive to want him to stick around. The idea of such nefarious antics may seem ridiculous, but it's the optics.
@tdbrumfield_
but NCAA athletes cannot profit from their OWN image
A buddy of mine, Hudson Taylor, is one of the greatest collegiate wrestlers of all time. He said something to me years ago I have never forgotten: He was not able to make money at his peak. For example, when he was leading the collegiate world in wins as a member of the Maryland wrestling team, he could not hold a weekend camp for profit at his former high school to share his secrets. It's the same for Jimmer Fredette, who could not hold a shooting camp when the former BYU star's face was everywhere, and for UCLA gymnastics star Katelyn Ohashi, who has to be satisfied with videos of her floor routine going viral, as she cannot charge for a workshop on how to choreograph exciting floor routines.
Williamson is losing a lot of money by not being able to do what CBS is free to do: monetize his popularity. When the NCAA was created, the idea was to have a governing body that would prevent student-athletes from being taken advantage of.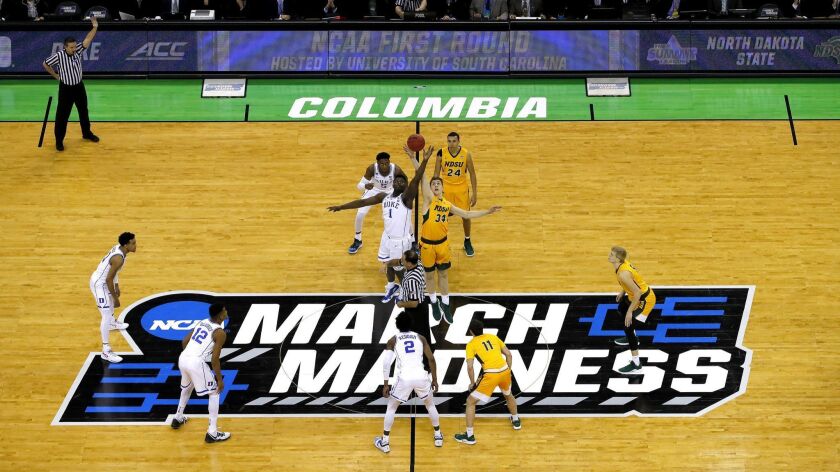 It's fair to question whether the organization has become the predator it was created to guard against. It hasn't even been five years since Ed O'Bannon won a lawsuit accusing the NCAA of violating antitrust law by using his image and that of other former collegiate athletes for commercial purposes. For decades the organization was profiting off student-athletes during and after their collegiate years without having to share any of the profits with them.
@BeyonceGambino
He should be able to have endorsements.
Yeah, he should. If the NCAA doesn't want to pay Williamson for making its annual basketball tournament a pop cultural curiosity, Williamson should at least be able to be a pitchman. He's a physical specimen, so if there's a protein bar or shake that he loves, that's an opportunity.
I understand this would create an environment in which corporations can influence where high schoolers decide to attend school. But the reality is, that environment already exists. Everyone involved has a chance to make money except for the person who is directly responsible for driving the revenue. Calling it slavery — even modern-day slavery — is gross and hyperbolic. However it is certainly against our understanding of a free and capitalistic society and thus is inherently un-American.
@aratiii
he is an 18-year-old college student, not a zoo animal
Raise your hand if you want a camera following you around all day and your last name is not Kardashian. Hell, Instagram offers a thousand different filters because users want to jazz up the pictures they willingly post. The weirdest aspect of this entire Zion Cam conversation to me is that no one in the decision-making space thought it was creepy to stalk a kid. Being on camera while playing for Duke is a given, but this level of attention is not just over the top, it's intrusive. Dude can't pick his nose without it being a news story. He can't utter something out of frustration without being forced to apologize for it later. It's one thing for a kid to post nonstop on social media. It's another for adults to keep cameras on that kid every moment.
@BelieverBrowns
The good news is he is building up his brand to get paid in the NBA. CBS is giving him a ton of free publicity that he will cash in on in a few months. Not a totally just system, I agree. But on the other hand, he isnt totally exploited either.
We assume he's going to do well in the NBA. We assume he's going to get paid. Be an all-star, a Hall of Famer. Let me tell you something — I was privileged to do the first on-camera interview with Ohio State's superstar freshman Greg Oden after he announced he was declaring for the draft. He was projected to be all of the things Williamson is projected to be … and then life happened.
I'm not wishing ill will on him or any player. But I'm experienced enough to know that nothing in sports is guaranteed. Suggesting a player with the media capital of a Zion Williamson should just sit back and wait for the money — while others are moving full steam ahead — is not only unfair, it's grossly presumptuous.
Tim Tebow didn't get hurt, but clearly his athletic, if not earning, peak was during his days at Florida. It doesn't appear as if he's hurting for money, but the millions he could have earned while being the center of the college football universe are forever lost. Chances are Williamson will be just fine. But how many people would be happy driving a multibillion-dollar industry for one employer with the promise of deferred payment being provided by another employer? Because, be not mistaken: The NCAA and NBA may appear to be linked, but the work performed for the former has little impact on how the latter will pay. And yeah, yeah, yeah, Williamson and his cohorts get tuition and room and board. That's like the "okie doke" employers use to justify unpaid internships. True, the university offers college credit so the work done is not without benefit. But just as college credit is not equal to the work interns are often asked to perform, tuition and room and board are not the equivalent of the primary and secondary businesses that exist because of "amateurs" like Williamson.
---
Get the latest on L.A.'s teams in the daily Sports Report newsletter.
You may occasionally receive promotional content from the Los Angeles Times.