Kawhi Leonard's recruitment was a slow process like his free-agency decision
As a star 6-foot-6 forward at Riverside King High in 2008, Kawhi Leonard possessed skillet-sized hands, a 7-foot wingspan and a steely demeanor.
He also had a cellphone. He just never answered it.
That meant that on several occasions a young college assistant coach named Justin Hutson departed from San Diego State's campus and drove to Riverside without knowing whether the recruit would even be there once he arrived. Hutson, now the head coach at Fresno State, eventually learned he could triangulate Leonard's location by calling King's basketball coach, security guard and counselor.
Hutson quickly realized that Leonard was unlike any other recruit he'd pursued, and not only because of his physical gifts. Leonard would be recruited on his terms.
"He was just trying to mind his own business, play basketball," Hutson said, "and be around the people he wants to be around."
Sound familiar?
Eleven years after his last recruitment, Leonard has caused three teams, and NBA fans in at least two countries, to go to unusual lengths to get a read on a star who is as private off the court as he is explosive on it.
While dozens of NBA players quickly agreed to deals as soon as free agency opened Sunday, Leonard's decision is now on its fifth day. While details about other players' leanings quickly leaked, Leonard's preferred destination — Raptors? Clippers? Lakers? — has been shrouded in utter silence, with teams keeping quiet so as to hold true to the reserved sensibilities of Leonard.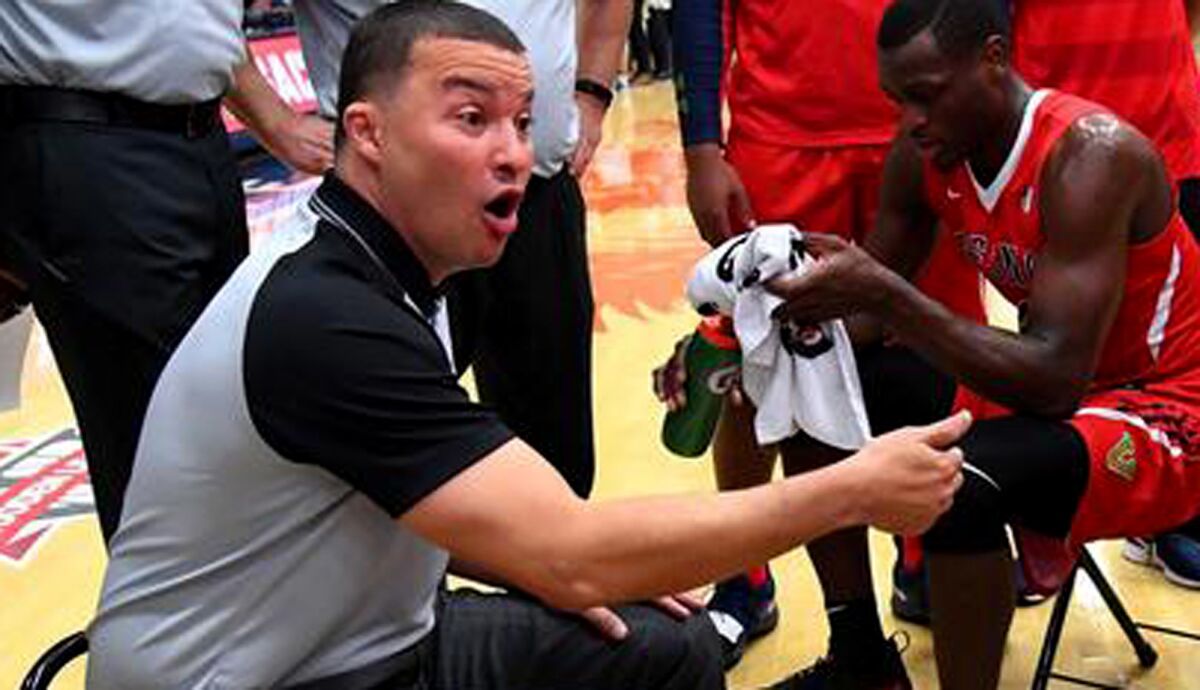 As the most sought-after basketball player in the world after leading Toronto to its first NBA championship, Leonard is no longer the teenager who never received scholarship offers from blue-blood colleges. Times have changed, but everything about Leonard's quiet handling of free agency has felt familiar for Hutson, one of only a few people in the world who knows what it is like to recruit, and land, Leonard.
The major influences on Leonard — his mother, Kim Robertson, and uncle, Dennis Robertson — are the same now as they were in high school.
"He's going to make [his decision] on his own terms, his own time," Hutson said. "He's going to talk to the people important to him about it. He's not going to be out leaking every little bit or have an announcement."
Hutson first saw Leonard during his junior year of high school, not long after he transferred to King from Canyon Springs High in his hometown of Moreno Valley. San Diego State was worried schools with bigger profiles would eventually spot him during the summer club circuit. But Hutson found Leonard to be unusually serious about basketball and loyal to those who treated his game the same.
Sign up for our daily sports newsletter »
Leonard committed during the fall of his senior season with Hutson believing the persistence of the Aztec coaches earned his respect. Except for Leonard's official visit, Hutson doesn't remember Leonard ever visiting San Diego State's campus before he arrived for his freshman year. Coaches came to him — once they tracked him down. "Once I figured out it wasn't personal he wasn't picking up, I just had to go see him," Hutson said. "I think he wasn't picking up for a lot of people.
"It was a fun recruitment, but he didn't talk a whole lot. It wasn't hard having a conversation with him at all if you were one-on-one with him. He wasn't going to waste words. I think there are people trying to see that now, that he does have a personality. He has a really good personality. He's just not going to volunteer it."
Hutson is as intrigued as anyone else about Leonard's choice between the Raptors, Lakers and Clippers.
"I'm excited, I want to know what happens," he said. "But I'm not going to ask him."
He knows better. Leonard probably wouldn't pick up, anyway.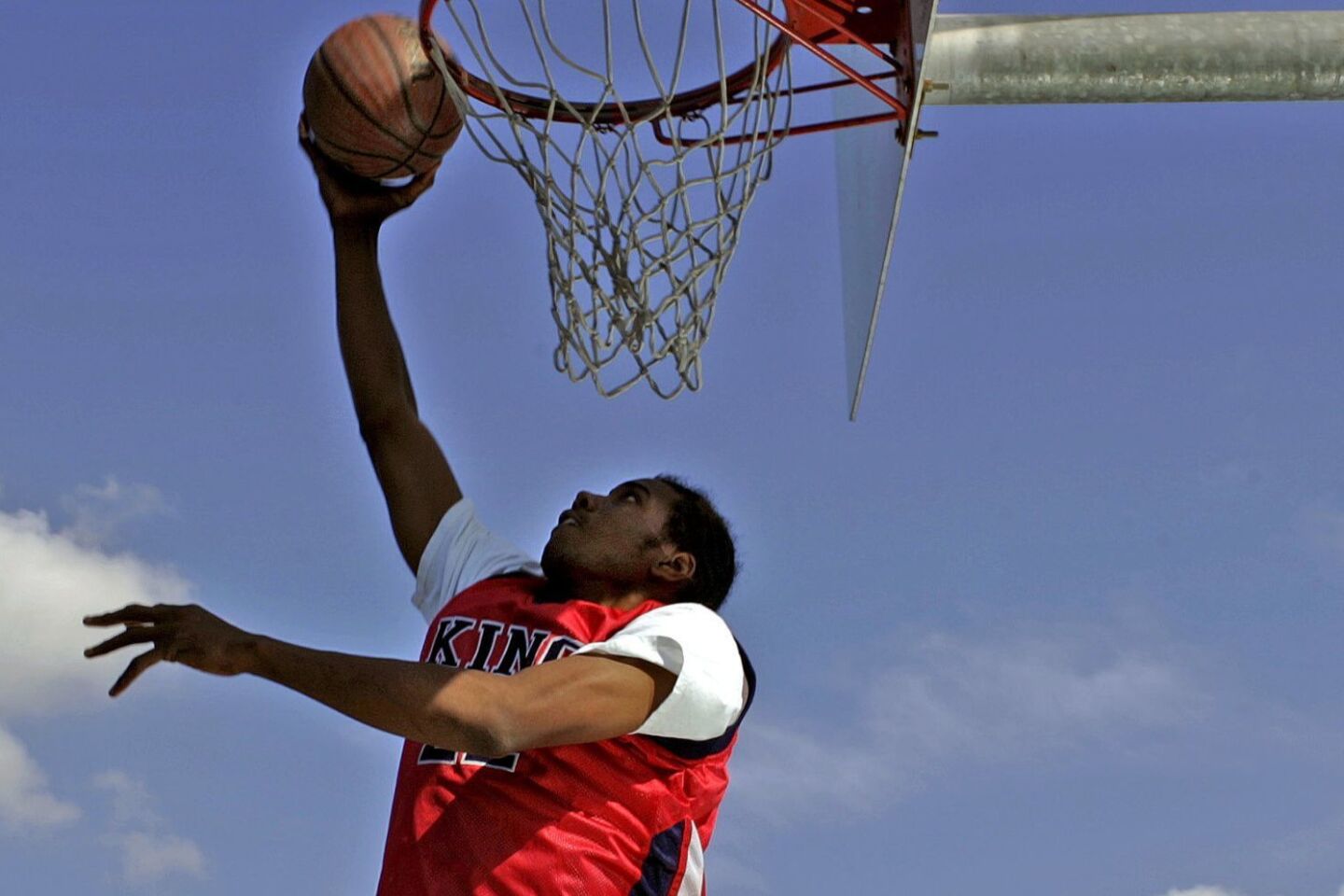 Kawhi Leonard rose to stardom at Martin Luther King High in Riverside.
(Gina Ferazzi / Los Angeles Times)
Riverside King's Kawhi Leonard is fouled by Taft's Bryce Smith a Southern California Regional semifinal playoff game on March 6, 2008.
(Richard Hartog / Los Angeles Times)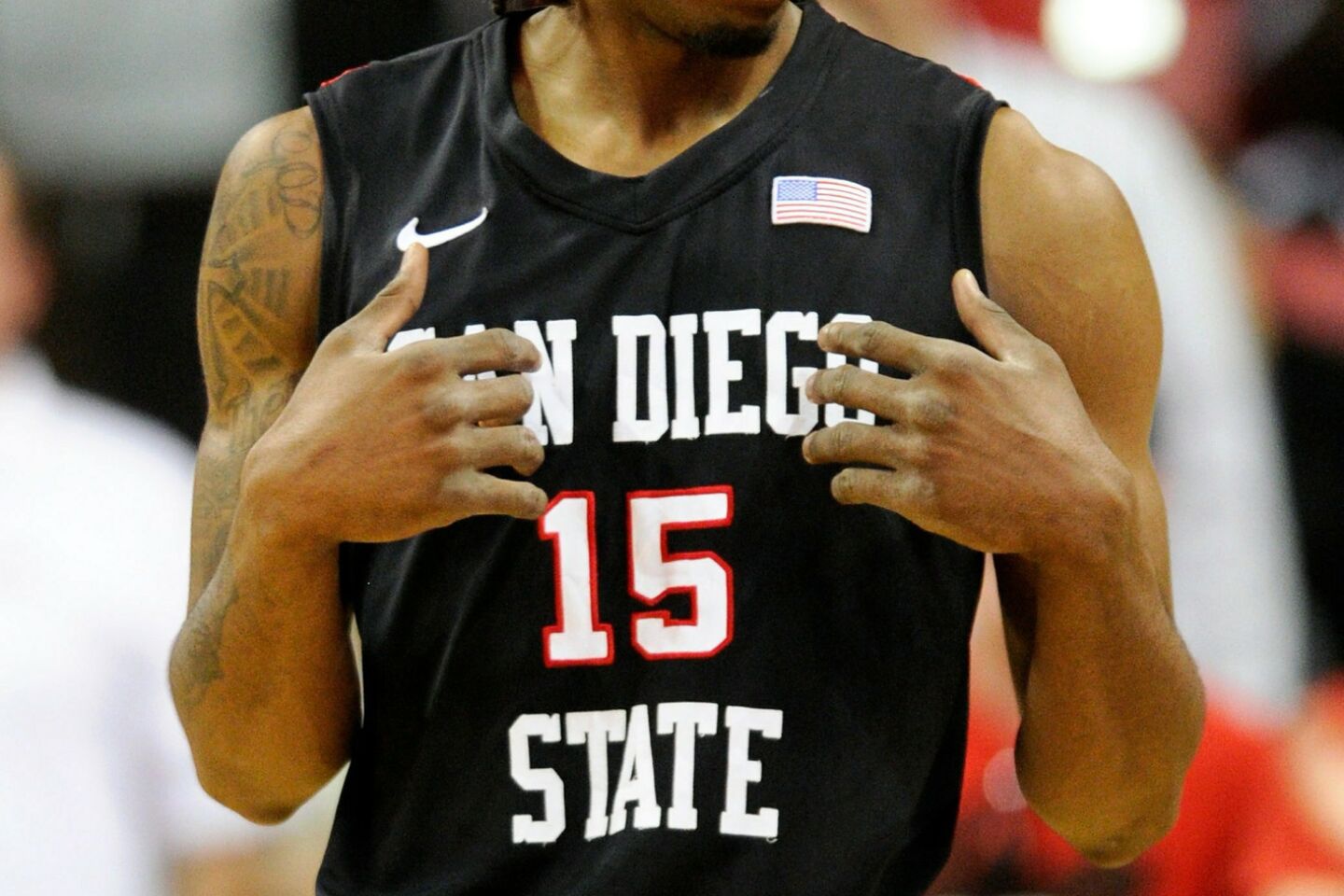 SanDiego State forward Kawhi Leonard reacts after he was mistakenly called for a foul during a game against UNLV Rebels on Feb. 12, 2011 in Las Vegas,.
(Ethan Miller / Getty Images)
Kawhi Leonard of San Diego State Aztecs takes off on a fast berak during a game against Temple during an NCAA tournament game on March 19, 2011, in Tucson.
(Harry How / Getty Images)
San Diego State forward Kawhi Leonard tries to keep possession of hte ball against UConn defenders during an NCAA West Regional semifinal at Honda Center.on March 24, 2011.
(Robert Gauthier / Los Angeles Times)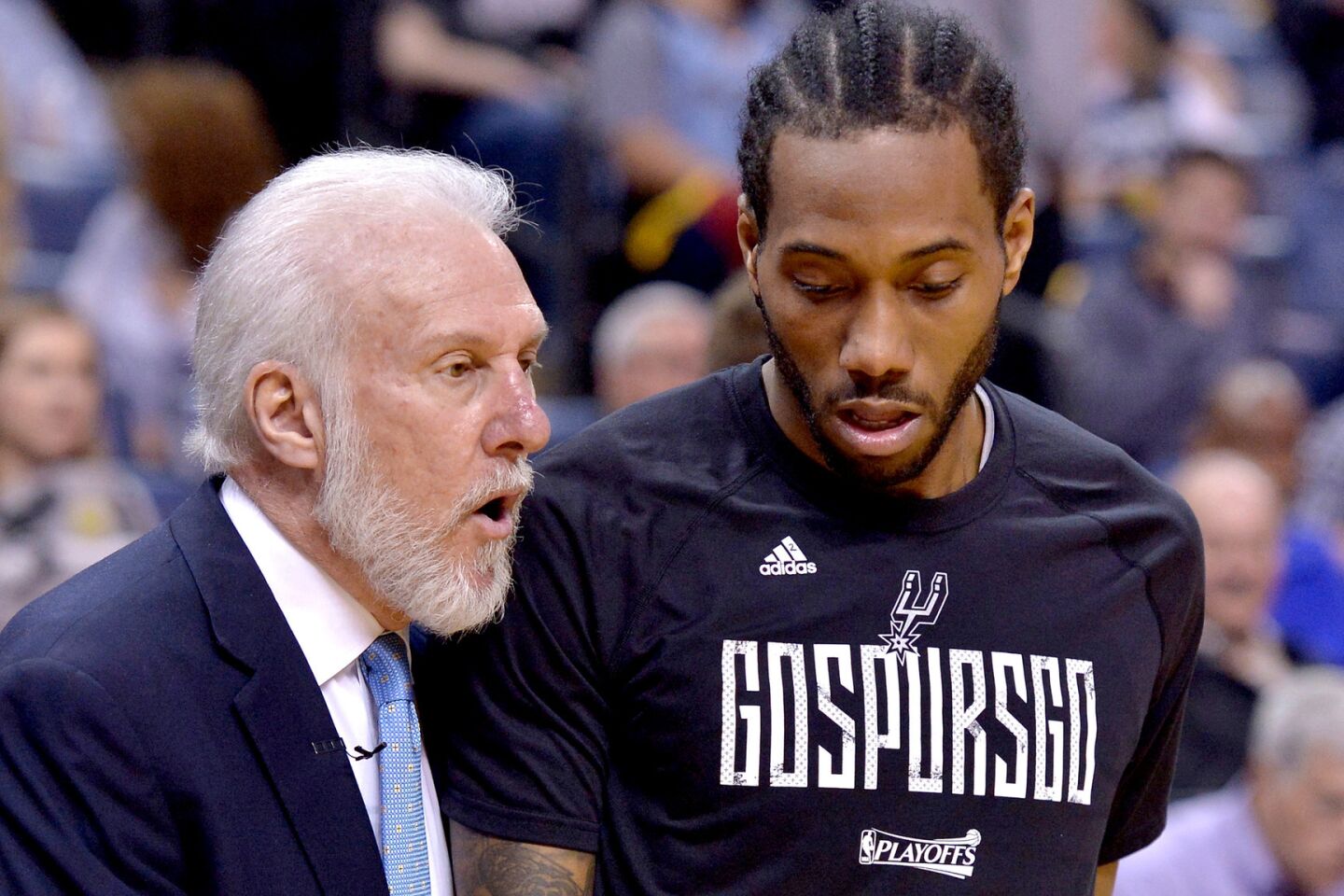 Spurs coach Gregg Popovich talks to Kawhi Leonard during a game in 2017.
(Brandon Dill / Associated Press)
Cavaliers forward LeBron James tries to drive past Spurs forward Kawhi Leonard during a game on Jan. 21, 2017.
(Tony Dejak / Associated Press)
Clippers point guard Chris Paul calls for a timeout as Spurs forward Kawhi Leonard tries to steal the ball from af allen Blake Griffin.
(Lawrence K. Ho / Los Angeles Times)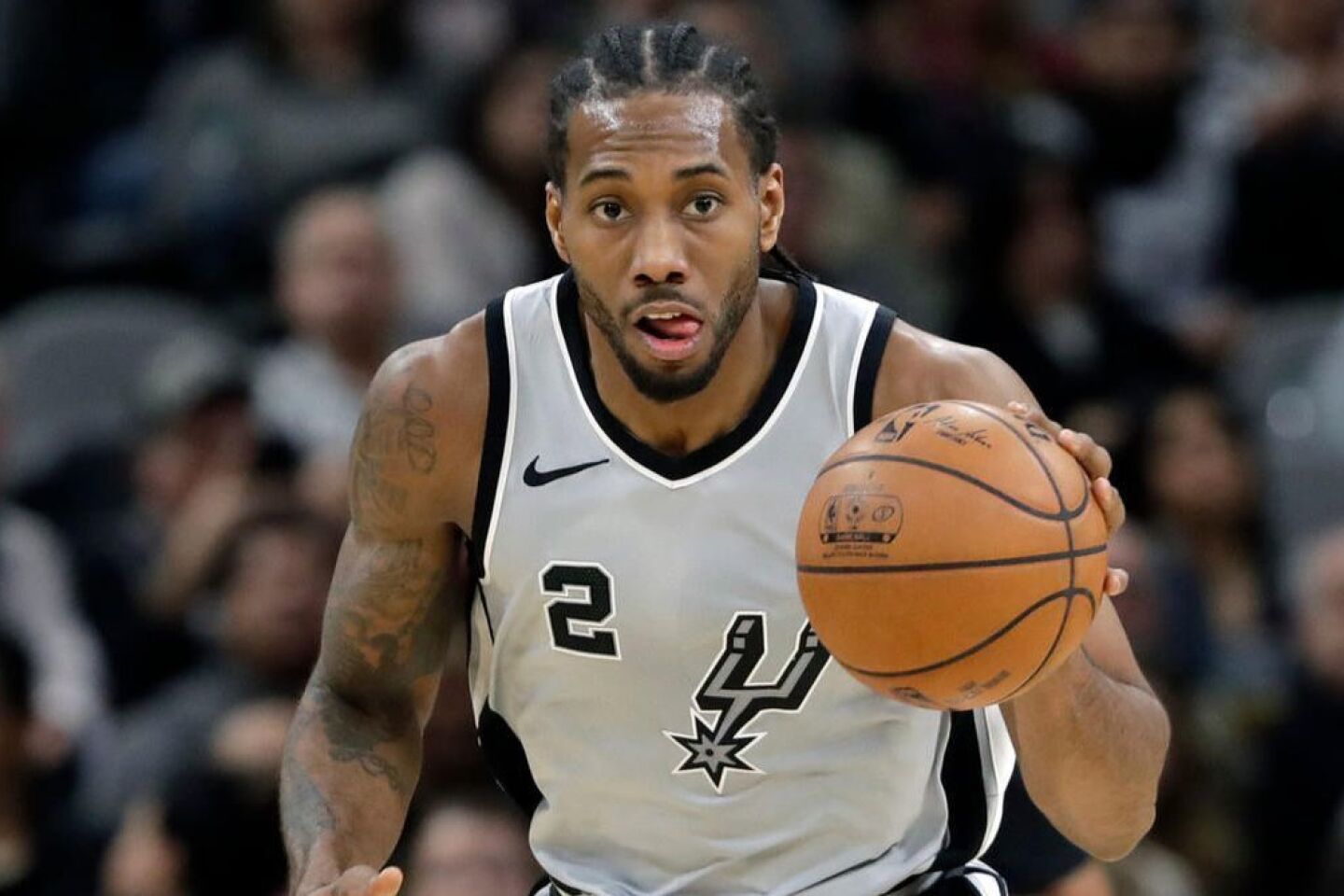 Spurs forward Kawhi Leonard only played nine games during the 2017-18 season.
(Eric Gay / Associated Press)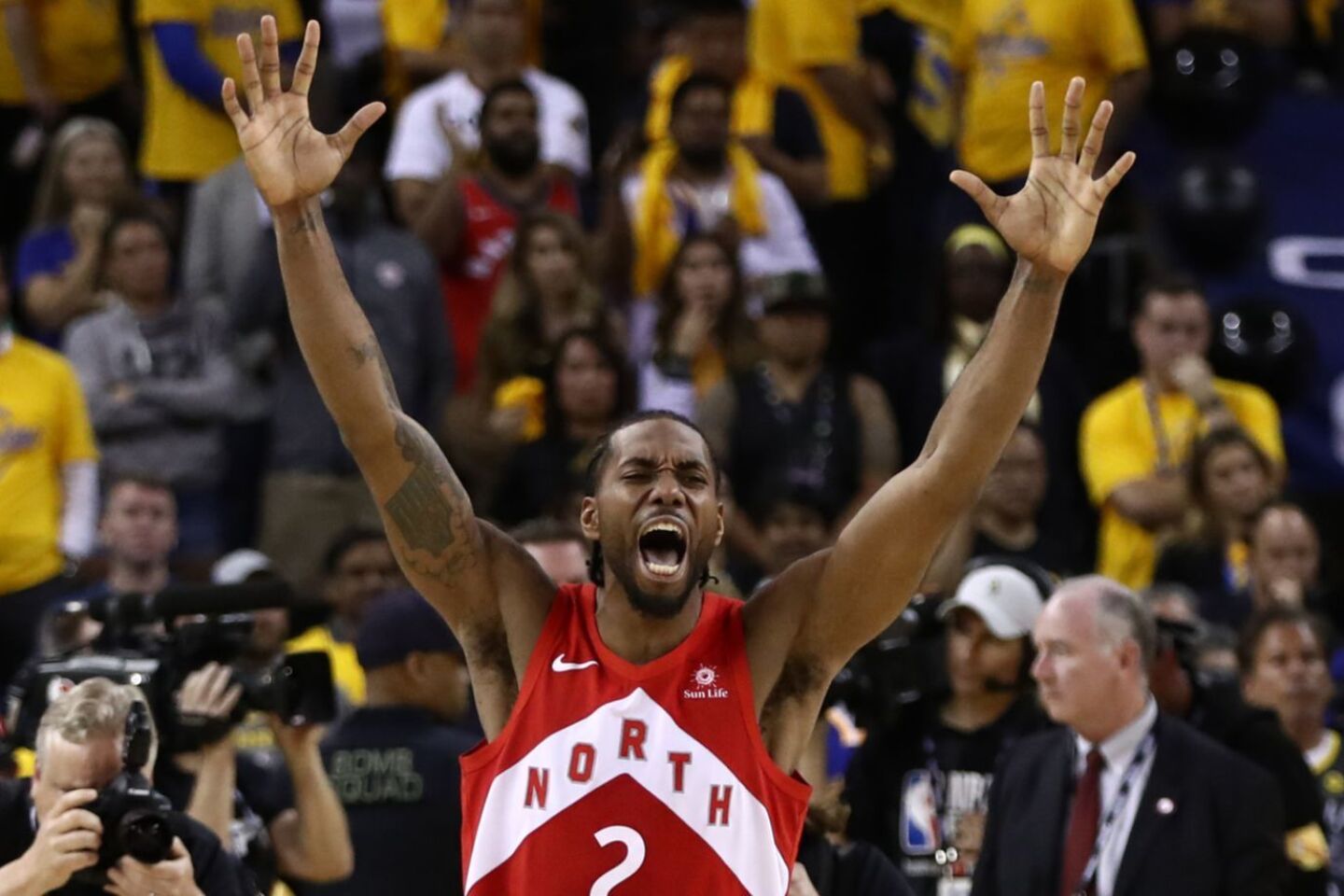 Kawhi Leonard celebrates after the Raptors won the NBA title with a victory over Golden State in Game 6 of the NBA Finals on June 13, 2019, in Oakland.
(Ezra Shaw / Getty Images)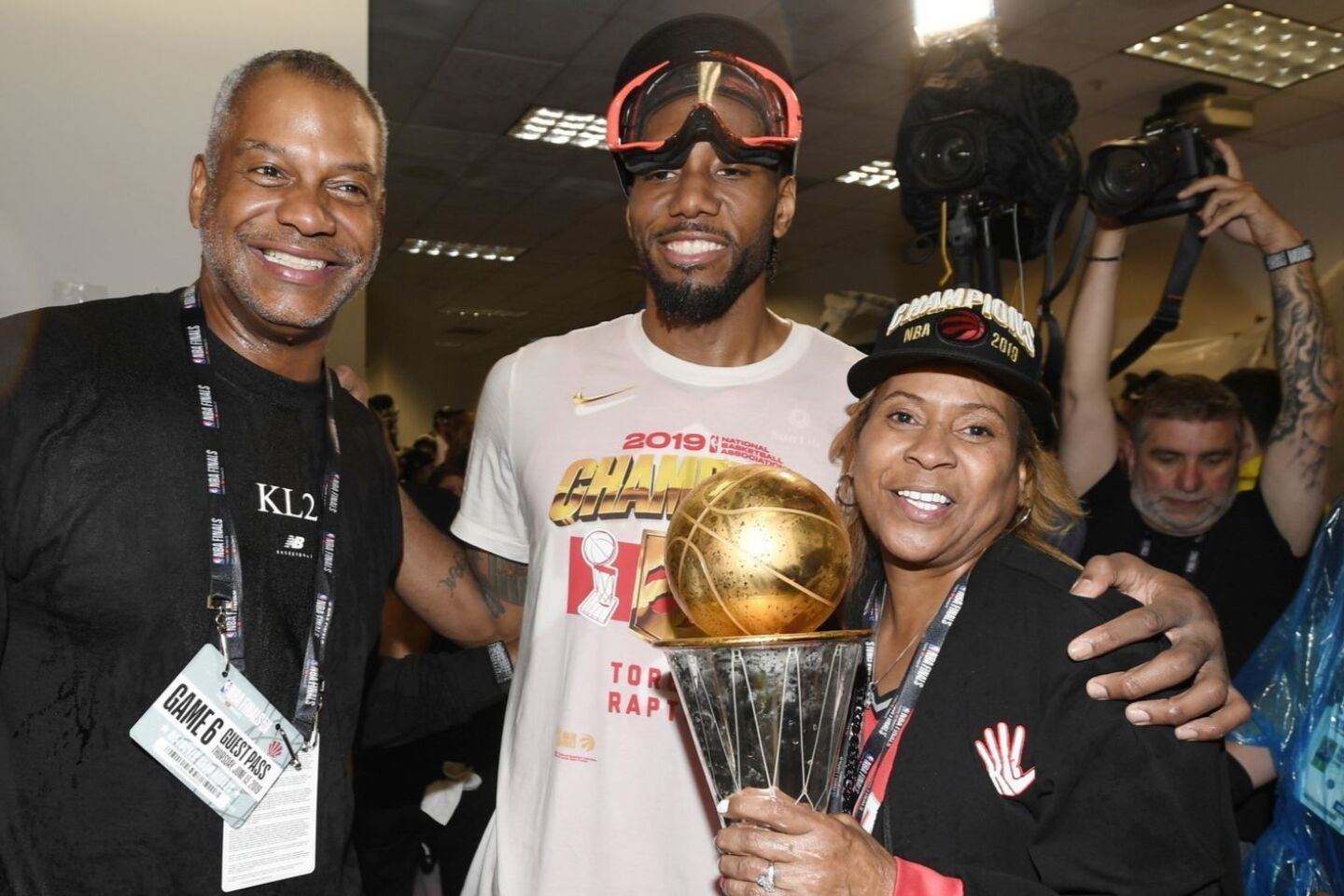 Raptors forward Kawhi Leonard holds the NBA Finals MVP trophy as he poses with his uncle Dennis Robertson and his mother Kim Robertson.
(Frank Gunn / Associated Press)
Twitter: @andrewgreif
Get our high school sports newsletter
Prep Rally is devoted to the SoCal high school sports experience, bringing you scores, stories and a behind-the-scenes look at what makes prep sports so popular.
You may occasionally receive promotional content from the Los Angeles Times.