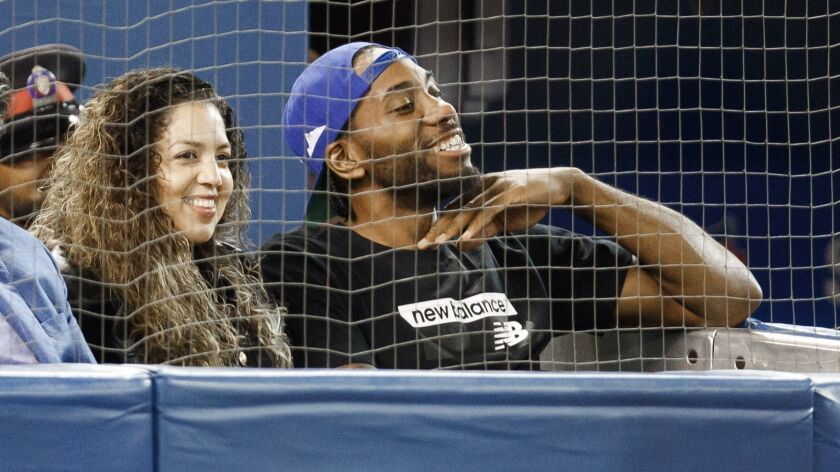 Maybe Kawhi Leonard is in Toronto. Maybe he took a private plane, one owned by Maple Leafs Sports & Entertainment, the parent company that owns the Raptors, from Los Angeles to Canada. Maybe he was one of four men who walked from the fold-down jet steps into a black SUV on Wednesday.
Maybe it was Leonard and his confidantes in one of those cars that Canadian news stations tracked with helicopters. Maybe he was headed for the Hazelton Hotel, where hundreds of onlookers waited. And maybe it was actually him, the tall figure in the gray sweatshirt, standing on the balcony of the hotel's top floor in the blurry cell phone footage.
It's all a guess — the main source of information — as Leonard's free agency heads toward a fifth day.
Credit to Leonard and credit to the teams recruiting the NBA's best free agent and two-time NBA champion that the process has been handled mostly on Leonard's terms — deliberately and quietly. Team officials have largely gone dark, with texts and calls lacking any real information if they're answered.
It has been Leonard's preference that his process be handled this way. There hasn't been an "on-the-record" update on the proceedings since Magic Johnson told The Times' Broderick Turner that he had spoken to Leonard and Leonard's uncle, Dennis Robertson, on Sunday.
The process, though, seems like it could be pushing to a conclusion.
Leonard allowed the Raptors to make their case last, and assuming that his meeting with the team was Wednesday, a decision would be the next step if he already has met with the Lakers and the Clippers.
Sign up for our daily sports newsletter »
While it feels like this whole thing is moving at a torturous pace, Kevin Durant didn't announce he'd be leaving Oklahoma City for Golden State until July 4. LeBron James' "Decision?" He didn't commit to the Miami Heat until July 8. Before that, Shaquille O'Neal didn't sign with the Lakers until July 19.
The cost of the wait, particularly for the Lakers, could be disastrous. The team has added only two players in free agency, neither of whom is expected to be in their starting lineup, while the market for viable role players has shrunk considerably. Even if the Lakers are able to sign Leonard, the rest of the roster will need to be filled almost entirely by players on minimum contracts.
The team will need to build depth from a pool of players that range from proven starters like Marcus Morris to talented, but flawed, reserves like Quinn Cook. Kyle Korver's expected buyout from Phoenix after Wednesday's trade with Memphis (along with a possible Andre Iguodala buyout) could help make Rob Pelinka's roster construction a lot easier.
The Clippers would probably be content to try to recreate the magic they found after the Tobias Harris trade last season, building for a future with their mix of young players like Shai Gilgeous-Alexander, Landry Shamet and Montrezl Harrell, and veterans like Patrick Beverley, Lou Williams and Danilo Gallinari while maintaining future financial flexibility.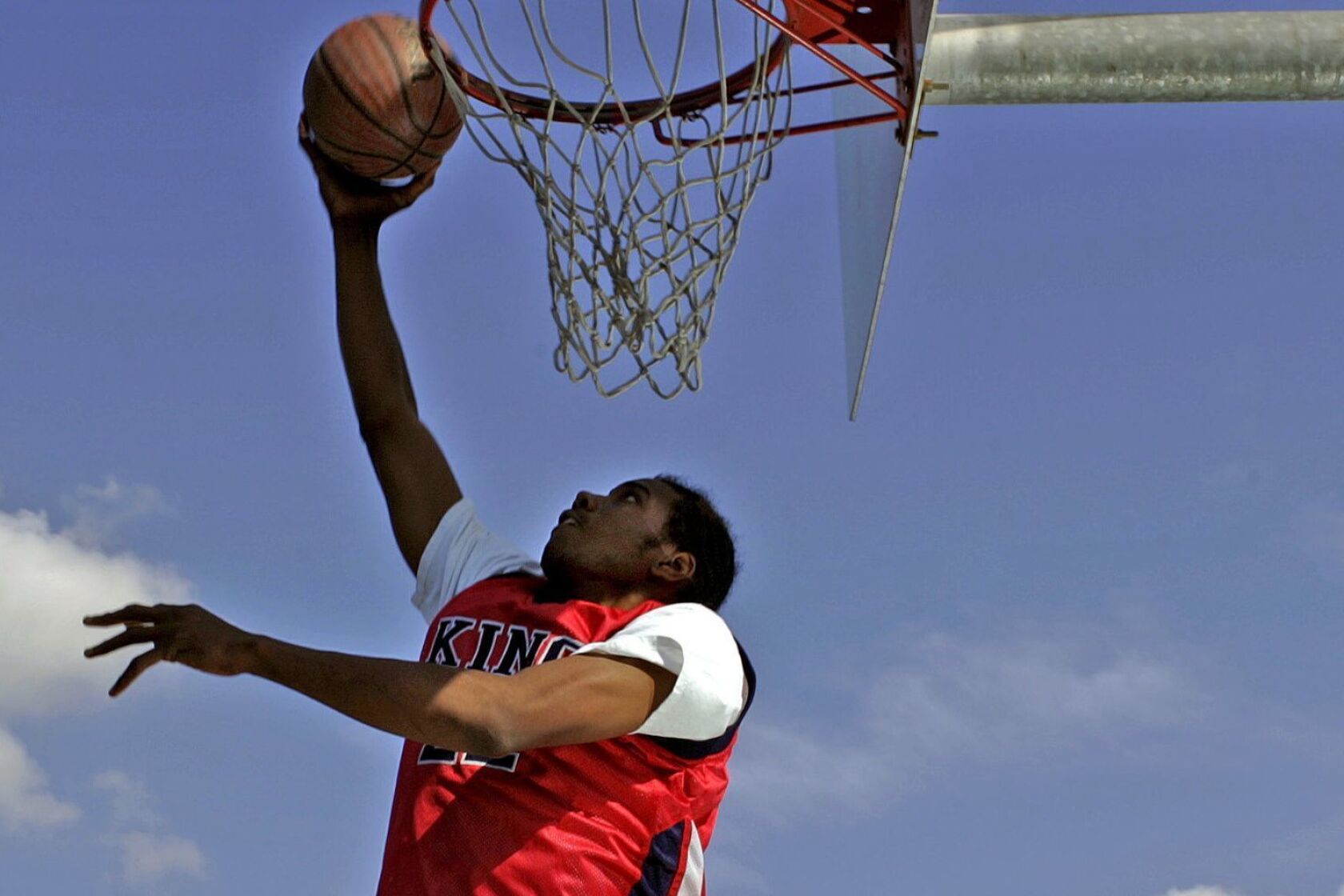 Kawhi Leonard rose to stardom at Martin Luther King High in Riverside.
(Gina Ferazzi / Los Angeles Times)
Riverside King's Kawhi Leonard is fouled by Taft's Bryce Smith a Southern California Regional semifinal playoff game on March 6, 2008.
(Richard Hartog / Los Angeles Times)
SanDiego State forward Kawhi Leonard reacts after he was mistakenly called for a foul during a game against UNLV Rebels on Feb. 12, 2011 in Las Vegas,.
(Ethan Miller / Getty Images)
Kawhi Leonard of San Diego State Aztecs takes off on a fast berak during a game against Temple during an NCAA tournament game on March 19, 2011, in Tucson.
(Harry How / Getty Images)
San Diego State's Kawhi Leonard grabs a rebound from UConn's Roscoe Smith during an NCAA tournament Sweet 16 game at Honda Center on March 24, 2011.
(Chuck Liddy / TNS)
San Diego State forward Kawhi Leonard tries to keep possession of hte ball against UConn defenders during an NCAA West Regional semifinal at Honda Center.on March 24, 2011.
(Robert Gauthier / Los Angeles Times)
Kawhi Leonard poses with NBA Commissioner David Stern at the 2011 NBA draft in Newark, N.J. Leonard was drafted 15th by the Indiana Pacers and was then traded to San Antonio.
(Associated Press)
Spurs coach Gregg Popovich talks to Kawhi Leonard during a game in 2017.
(Brandon Dill / Associated Press)
Kawhi Leonard receives his second trophy as the NBA's defensive player of the year in 2017.
(Associated Press)
Cavaliers forward LeBron James tries to drive past Spurs forward Kawhi Leonard during a game on Jan. 21, 2017.
(Tony Dejak / Associated Press)
Clippers point guard Chris Paul calls for a timeout as Spurs forward Kawhi Leonard tries to steal the ball from af allen Blake Griffin.
(Lawrence K. Ho / Los Angeles Times)
Spurs forward Kawhi Leonard only played nine games during the 2017-18 season.
(Eric Gay / Associated Press)
Kawhi Leonard takes a phone call during one of his first practices with the Raptors on Sept. 26, 2018, in Burnaby, Canada.
(Jonathan Hayward / Canadian Press)
Raptors forward Kawhi Leonard drives against Warriors forward Andre Iguodala during Game 5 of the NBA Finals on June 10, 2019.
(Frank Gunn / Canadian Press)
Raptors forward Kawhi Leonard is fouled by Warriors guard Klay Thompson during Game 4 of the NBA Finals on June 7, 2019, in Oakland.
(Frank Gunn / Canadian Press)
Kawhi Leonard celebrates after the Raptors won the NBA title with a victory over Golden State in Game 6 of the NBA Finals on June 13, 2019, in Oakland.
(Ezra Shaw / Getty Images)
Raptors forward Kawhi Leonard holds the NBA Finals MVP trophy as he poses with his uncle Dennis Robertson and his mother Kim Robertson.
(Frank Gunn / Associated Press)
Raptors forward Kawhi Leonard takes a selfie while holding his Finals MVP trophy during the team's victory parade on June 17, 2019.
(Frank Gunn / Canadian Press)
The Raptors could see their fate change most based on Leonard's decision. With him on board, even if it's only on a short-term contract, Toronto should go into next season as the favorite to return to the NBA Finals from the East, a conference that underwent a pretty significant shuffling of talent.
Without Leonard, the Raptors would need to rely on the continued development of Pascal Siakam and other young players while they'd wait a season to clear their books of Kyle Lowry's and Marc Gasol's hefty contracts.
While everyone waits, there's nothing to do but guess. Maybe he really has been a Laker all along like that one anonymous "Lakers insider" posted on Twitter. Maybe he has been committed to the Clippers and will sign there, like another pundit said. Or maybe, he's a lock to end up back in Toronto, like someone else said.
With Leonard, until he decides, it's all about "maybes." And once he picks, three teams will definitely have their answer.
Twitter: @DanWoikeSports
---