Column: Lakers vs. Clippers: Could their first meeting this season be a playoff preview?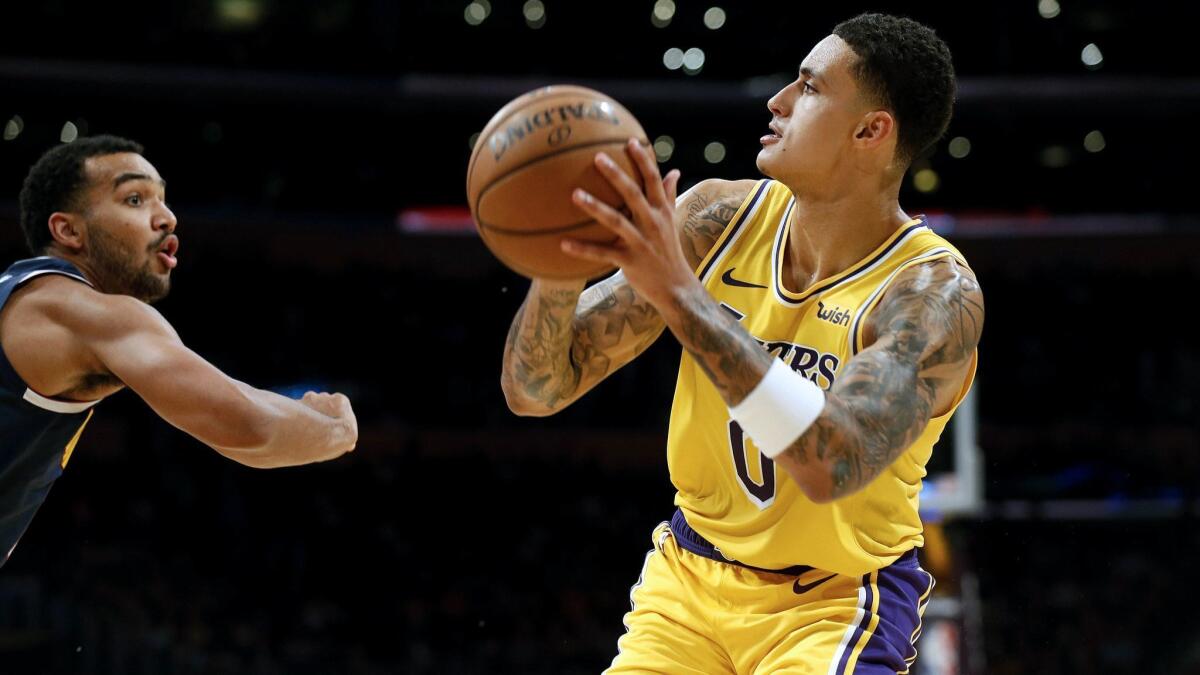 When the Lakers signed LeBron James this summer during free agency, they rightfully regained their place as the most compelling basketball team in Los Angeles — the biggest player on the biggest stage hooping for the city's marquee franchise.
It also threatened to totally eclipse the Clippers, entering their first full season of a rebuild, all the on-court traces of the franchise's best teams now playing in Houston, Detroit, Dallas, Philadelphia and other cities around the NBA.
When the Lakers and Clippers meet for the first time this season on Friday, it's a culmination of a kind of "best-case scenario" for professional basketball in the city. If the playoffs had begun Thursday, the Lakers and the Clippers would meet in the first ever "Hallway Series" in Los Angeles' postseason history.
There's still a long way to go before we get our first Clippers-Lakers playoff series, but we're also approaching the halfway point of the season, and there are big reasons to feel good about both squads.
The Lakers' Christmas Day defeat of the Golden State Warriors validated positive feelings about the team's first two-plus months together. Even with James injuring his groin and exiting the game, role players stepped up to close out the defending champions, with veteran Rajon Rondo and 21-year-old center Ivica Zubac leading the way.
It was fitting. At different times this season, the non-James Lakers have had some moments that have helped the team pick up critical wins. JaVale McGee, who is recovering from pneumonia and might not play Friday, has been better than expected as the team's starting center.
Reserve Lance Stephenson, who has never truly looked comfortable playing for any team other than the Indiana Pacers, has also been a solid offseason addition, a total wild card who can create points just as often as he does something maddening.
Second-year forward Kyle Kuzma built off his rookie season — proving he can still be a focal point in the offense even if he's next to a player of James' caliber — while Josh Hart keeps making winning plays. Veteran center Tyson Chandler has been a valuable bench addition, the Lakers capitalizing on the Suns' decision to buy him out of his contract.
Maybe the best sign for optimism has been the Lakers' disappointments — third-year forward Brandon Ingram and second-year point guard Lonzo Ball. Ingram has looked a little more passive next to James and Ball has been as inconsistent as he was during his rookie season. Ingram should get a chance to get into rhythm over the next week with an increased role during James' absence.
Most importantly, though, James has lived up to the billing, a dominating presence who has added deep three-point range to his game to give the Lakers some spacing they desperately need. His groin injury doesn't seem too serious, and while he almost certainly will miss Friday's showdown, he'll be back in the middle of the MVP discussion.
The Clippers, on the other hand, didn't have the same expectations.
A team full of NBA rotation players, the Clippers have defied pundits by putting together one of the NBA's most efficient offenses despite having a roster without a true superstar.
Forwards Tobias Harris and Danilo Gallinari have been spectacular and both should be in All-Star consideration. Harris is a pure scorer, an inside-outside threat who doesn't have to stop the ball to be effective. Gallinari, long regarded as a wildly talented offensive player, is finally healthy and playing to potential.
Backup center Montrezl Harrell has become a candidate for sixth man of the year thanks to his infectious energy and intensity, but he'll have to get past shooting guard Lou Williams, his teammate and reigning sixth man winner, to do it. Rookie Shai Gilgeous-Alexander could be a future star — a mix of Shaun Livingston, Rajon Rondo and a viable three-point shooter.
Reserve center Boban Marjanovic might be the easiest player to root for in the entire league.
They've beaten some of the best teams in the NBA — the Warriors, Denver Nuggets and Milwaukee Bucks included.
Their destiny rests with the health of Gallinari and Harris — particularly Gallinari. Some scouts think the Clippers will end up in the postseason if he plays at least 65 games this season.
They've done it while maintaining flexibility for next summer's pursuit of free agents Kevin Durant and Kawhi Leonard.
The Clippers and Lakers haven't really had a fun rivalry moment since Lob City's earliest days — Pau Gasol touching Chris Paul's head, causing the point guard to go ballistic might be a high point. But with both teams playing well, with both teams looking like playoff opponents, that could all change.
And basketball in Los Angeles will be better for it.
Twitter: @DanWoikeSports
Get our high school sports newsletter
Prep Rally is devoted to the SoCal high school sports experience, bringing you scores, stories and a behind-the-scenes look at what makes prep sports so popular.
You may occasionally receive promotional content from the Los Angeles Times.