LeBron James poised to reach new heights in 15th season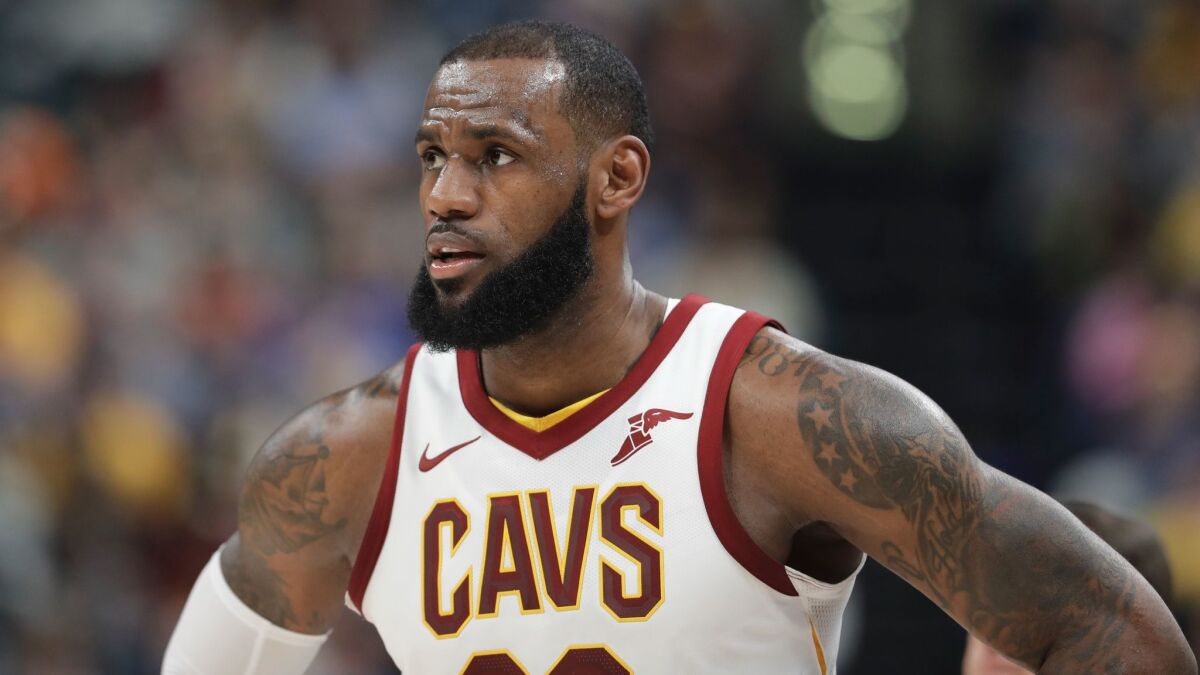 Most of the NBA's greatest players never even reached a 15th season, having gone to college in years that LeBron James spent scoring his first 8,000 points.
Some of the greats who sustained excellence, like Tim Duncan and Charles Barkley, were no longer All-Stars by their 15th seasons.
James is more than one-third of the way to making his 15th season his best.
The world has a short list for what improves with age, and athletes in their 30s rarely make it. Like a basketball piece of art, James looks better with time.
More than 1,300 regular season and playoff games into his career, James is finding motivation earlier in the season than usual. He is making three-pointers easily at his best clip. He is assembling an all-around season that statistically could be better than any player in NBA history, let alone what was believed to be the younger, peaking James.
James has a player efficiency rating (31.4) that nearly matches his age as he approaches his 33rd birthday on Dec. 30. It would threaten Wilt Chamberlain's all-time record (31.8) and be his fifth 30-plus PER. The other four were his MVP seasons.
James has his best scoring average — 28.1 entering Saturday night to rank third in the NBA — despite being awarded fewer free throws than ever and having the second lowest percentage of assisted baskets in his career.
With Kyrie Irving gone, Isaiah Thomas yet to play and Derrick Rose missing in Cleveland, James is a behemoth point guard averaging a career-high 9.1 assists per game to rank third in the NBA.
His career high field-goal shooting percentage (57.7) shows off his stunning efficiency and how he is getting to the rim more than ever. His career high three-point shooting (41.1) is more remarkable, considering he was at 30.9 two seasons ago.
James' shot has a noticeably higher release point to go with a shooting motion that already was concise.
In the current NBA world of air-compression leg massagers and cryotherapy chambers, James isolated against Father Time on the wing is not the mismatch it has been for previous greats.
James is the only player in the NBA to log more than 20,000 regular season minutes since 2010-11, when he was at the usual NBA prime age of 27.
"Keeping my body intact," James said in explaining his career best season to TNT. "Off days. In between games. Day of the games. Just keeping my body fresh for battle. My teammates and my coaches have given me a huge burden to lead this team and it's up to me to be in tip-top shape to do that. I've got to continue to put in the work."
James has the most shot attempts per game since his early Miami seasons out of necessity. That became clear when the Cavaliers got off to a 5-7 start, undermined by a defense that had given up 112 or more points in 10 consecutive games.
Usually one to build up his game throughout the season, James has shown a drive, swagger and level of engagement that looks like something out of a late-season push or playoff series. Boston's success with Irving certainly took him out of cruise control.
Houston's James Harden is the MVP front-runner but James is playing markedly better on defense. The chants of "M-V-P" never stop. They just gained more volume and legitimacy when Cleveland won 13 games in a row.
His consistent command and definitive dominance did not just dig Cleveland out of an early November hole. It put the Cavaliers among the NBA's top four teams by mid-December.
No player of at least 30 years of age has ever averaged 28 points and nine rebounds for a season. Yet here is James doing it and appearing as indestructible and durable as ever. His performance has resurrected the Michael Jordan debates.
A fifth MVP trophy at age 33 would match Jordan's career MVP total. Jordan won his fifth at age 35.
Scottie Pippen told ESPN's "First Take" that he would always pick his former teammate as the greatest player but added, "Statistically, LeBron James is a better player."
Career rebounds per game: James.
Career points per game: Jordan.
Career assists per game: James.
Career steals per game: Jordan.
Career blocks per game: James.
NBA championships: Jordan.
To that end, James is doing some of his most impressive work this season in hopes of reaching his eighth consecutive NBA Finals. James has been at his best when Cleveland needs him most.
In "clutch time," the last five minutes of games with a margin of five points or fewer, James leads the NBA in scoring. He averages 4.9 points in those five minutes of games while shooting 56.1%. Cleveland has won 12 games in those situations, more than any team except Boston.
It all comes just in time for Christmas, when the NBA takes its largest pre-playoff stage and Cleveland gets its first crack at Golden State since the Warriors vanquished the Cavaliers in five games for the NBA championship.
Can a 33-year-old James maintain this until June?
Looking ahead
SAN ANTONIO at UTAH: Thursday at 7:30 p.m. PST. TV: TNT.
Both teams were early surprises. San Antonio went 19-8 until Kawhi Leonard returned to game action Tuesday, and Utah has survived losing Gordon Hayward to free agency and Rudy Gobert to injury for 11 games. The Jazz won six consecutive games to get to 13-11 but have stumbled with a huge disparity between home success and road failure. By Thursday, the restrictions and rust might be off Leonard for a Spurs team made better by Rudy Gay's addition.
---
Get our high school sports newsletter
Prep Rally is devoted to the SoCal high school sports experience, bringing you scores, stories and a behind-the-scenes look at what makes prep sports so popular.
You may occasionally receive promotional content from the Los Angeles Times.