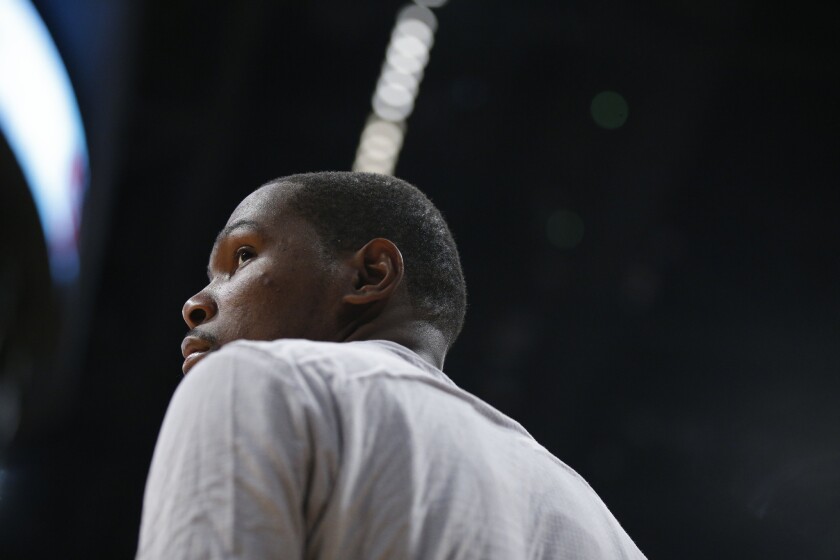 Russell Westbrook had 30 points, 12 assists and nine rebounds, and the Oklahoma City rallied from an 11-point, second-half deficit to defeat Denver, 122-112, on Sunday in Oklahoma City.
Kevin Durant had 26 points and 10 assists for the Thunder, which has won 10 of its last 12 games but was coming off a Christmas loss at home to the Chicago Bulls.
Despite shooting a season-best 57.8% from the field, Oklahoma City trailed as late as the 8:13 mark of the fourth quarter. But the Thunder took control with an 11-2 run that included seven of Enes Kanter's 21 points.
Kenneth Faried had 25 points and 11 rebounds for the Nuggets, who have lost five of six.
Portland 98, at Sacramento 94: CJ McCollum had 35 points, 11 rebounds and nine assists as the Trail Blazers won their second straight, following up Saturday's surprising 105-76 rout of Eastern Conference leader Cleveland. DeMarcus Cousins had 36 points for the Kings, whose coach, George Karl, was denied his 1,155th victory, which would have tied him with Phil Jackson for fifth on the career list.
at Boston 100, New York 91: Isaiah Thomas had 21 points, eight rebounds and six assists as the Celtics won their fourth in a row. Evan Turner had 19 points, Jae Crowder scored 18 and Kelly Olynyk had 11 for Boston. Carmelo Anthony scored 29 points for the Knicks, who have lost four straight.
at Memphis 112, Lakers 96
---