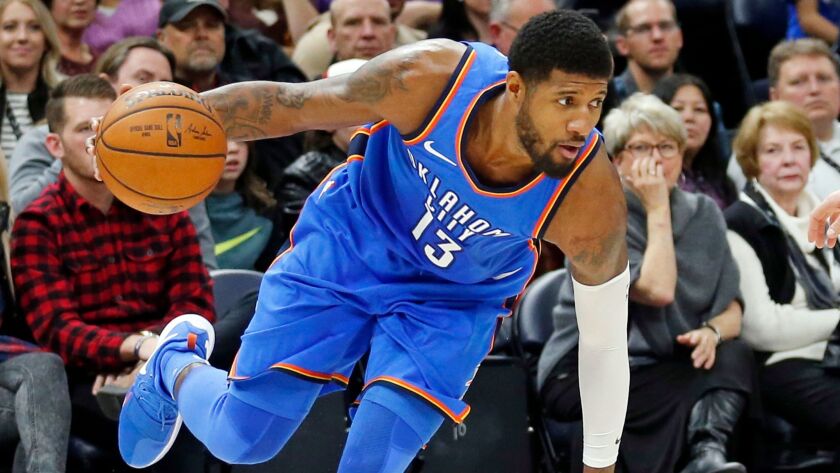 The NBA overhauled the process of choosing All-Star game rosters, including who starts and comes off the benches, to reduce the second-guessing and getting the third degree. But there is no avoiding the snubbed and overlooked.
The NBA de-emphasized positions to backcourt and frontcourt in 2013, diminished fan voting to 50% of the selection process in 2017 and eliminated the West-East format this season. But that was not even general enough for the NBA's position-less direction with swingmen on the backcourt/frontcourt border. Rosters still wound up with 12 players from each conference despite the West's better depth among the game's elite.
In the name of intrigue, the NBA still won.
The week defined the reserves who would play in the Feb. 18 All-Star game at Staples Center and for which team they would do so, but the events stirred questions and buzz for why it unfolded the way it did.
Starters' snubs
The 67th NBA All-Star game's voting process handled this area the best, although LaMarcus Aldridge's reliable play in the absence of Kawhi Leonard in San Antonio was more worthy than defensively unreliable and turnover-prone DeMarcus Cousins being a second New Orleans starter before his season-ending Achilles' tendon tear.
Stephen Curry missed 15 games but next to nobody outside of Minneapolis — Jimmy Butler's two-way play for the Timberwolves has been brilliant — does not want to see Curry starting and starring in this style of game.
The starters were voted upon based on conferences, but not drafted as so. The five East starters (Kyrie Irving, DeMar DeRozan, Giannis Antetokounmpo, LeBron James and Joel Embiid) were nailed, although the way Victor Oladipo has lifted his game and team in Indiana would have made a worthy argument if Irving's and DeRozan's teams were not significantly better.
Reserve snubs
No matter the roster lengths, there will be players on the fringe. Oklahoma City's Paul George didn't make the initial cut, but Saturday he became Commissioner Adam Silver's pick to replace Cousins and now he can return near his Palmdale roots..
George plays both sides of the floor as well as any wing player in the league. His defense is not as interesting or easily numerated to many, although he leads the NBA in steals and deflections.
Although George wound up an All-Star, he already might have been more worthy than another No. 2 on a top team (offense-oriented Karl-Anthony Towns of Minnesota), a player slipping to No. 2 on his own team (Washington's John Wall behind Bradley Beal) or a No. 1 on a lesser team (Damian Lillard of Portland).
Should the likes of New York's Kristaps Porzingis or Golden State's Klay Thompson be All-Stars over Nikola Jokic, who is carrying Denver without Paul Millsap, and Andre Drummond, who is dominating the boards and improving his passing and shooting in Detroit? Lou Williams' career season on an injury-plagued Clippers team could have squeezed one All-Star out of Staples' two home locker rooms.
But the list of contenders could keep going from the trade rumor block (Charlotte's Kemba Walker) to the rare rookie option (Philadelphia's Ben Simmons). In reality, the decisions were easier this year because injuries eliminated perennial picks Leonard, Chris Paul and Blake Griffin, among others, although Paul still had a legitimate case for a 10th All-Star bid after also not being selected last year.
There is the possibility of another injury replacement but there also was only one needed last season (Kevin Love).
Roster intrigue
"Yo @StephenCurry30 that was fun!! Definitely should've been televised"
Ugh. James' after-the-fact tweet said it all. The NBA could have capitalized on the new format of the two top vote-getters, James and Curry, serving as captains to pick teams playground-style from the 24 All-Star selections.
The All-Stars were handled with the sensitivity of a snowflake. Egos were protected by keeping James' and Curry's selections to a private conference call that left everything to conjecture.
The early-season excitement for a new format did not survive once the best new live drama was taken off the air by a league whose ascension has thrived on drama. The midseason exhibition was handled with gloves like the Larry O'Brien championship trophy.
Oklahoma City's Russell Westbrook still was miffed at the roster reveal until he was informed on camera that he probably was not taken last. It was just that Westbrook comes last in an alphabetical listing of rosters … Towns, Wall, Westbrook.
Westbrook did not have another chip for his shoulder, but he still winds up on a series of story lines, like a crossover character.
• James selected Kevin Durant, presumedly first overall, and later paired him with Westbrook for another reunion of their ominous 2016 conference finals pairing.
• James picked Oladipo, giving Westbrook another Thunder reunion from 2017 when Oladipo did not play like he has as a No. 1 option in Indiana.
• James also partially quashed Cleveland turmoil by choosing Love, reuniting Westbrook with his UCLA roommate.
• Although the order was not revealed, it was clear that Curry passed on Westbrook because Curry had the first pick among the reserves. It could have been out of loyalty to Draymond Green and is among the many moments that would have been more interesting in live television than in typed retrospect.
Other than James breaking up the Warriors' quartet by taking Durant, James and Curry kept teammates together.
Team LeBron took Cousins and Anthony Davis from New Orleans and Wall and Beal from Washington.
Team Stephen chose teammates Thompson and Green and kept Butler and Towns from Minnesota together.
There is always the possibility of the Saturday night festivities stealing the weekend show again anyway. A Yahoo-reported field of Oladipo, Orlando's Aaron Gordon and Dallas' Dennis Smith Jr. would be quite a show if potential participant Larry Nance Jr. rounds out the quartet to give the home fans a slam-dunk favorite.
---
UPDATES:
7:30 a.m.: This article has been updated with news that DeMarcus Cousins will miss the rest of the season after tearing an Achilles' tendon.
This article was originally published at 8:20 p.m. Friday.
---