Column: The injury-riddled Celtics aren't limping into the playoffs thanks to rising young stars
After an opening-night loss during which All-Star forward Gordon Hayward broke his ankle, Boston stunned the NBA with a 16-2 start.
Months later, the Celtics remain a hardwood marvel that has won more on the road than at home.
The adjustment to losing their big offseason acquisition already was more than many teams' totality of tweaks over a season, but the hits keep coming.
The other new Boston All-Star, point guard Kyrie Irving, underwent knee surgery. He has not played in three weeks and might not return until the playoffs are underway. If the offensive hit was not enough, top defensive player Marcus Smart was sidelined until late April after he tore a thumb tendon.
Daniel Theis was lost for the season to knee surgery two weeks ago. Jaylen Brown was out six games this month because of a concussion.
Yet the Celtics have been as adaptable as Transformers and as resilient as Captain America's shield to pull off late-season feats that healthy teams would be hard-pressed to do. They are an impressive 13-4 without Irving.
Perhaps freed from pressure, Boston is thriving since it is unlikely to catch top-seeded Toronto in the East or fall back to third. The injury-riddled, youth-reliant Celtics pressed through a 4-0 trip in the West and had a nine-day stretch in which they beat Oklahoma City at home and habanero-hot Portland and Utah on the road.
The win against the Jazz came without the services of three All-Stars (Hayward, Irving and Al Horford) and three potential starting replacements (Marcus Morris, Smart, and Theis). Boston used fourth-quarter zone defense and rallied from a six-point hole with 2:16 to go in Salt Lake City.
"It's a lot but, at the end of the day, no one is going to feel sorry for us," Morris said. "We have to still come out there and compete and win games. It's unfortunate that we went down with a lot of injuries but it has given other guys opportunities to step up and see how they can play."
Coach Brad Stevens has shown an ability to develop and organize a team with a depth of players who feel trusted, particularly the 25-and-under crew of Brown, Jayson Tatum, Terry Rozier, Abdel Nader, Shane Larkin, Semi Ojeleye and Guerschon Yabusele.
Five rookies — Tatum, Theis, Nader, Ojeleye and Yabusele — have been contributors in the main rotation for Boston, with Horford calling Tatum the NBA rookie of the year.
"I think they're doing unbelievable," Stevens said of the Celtics' young players. "It's hard. It's hard to be a young player playing really well for 82 games every minute of every game. As far as consistently bringing it, those guys have been pretty darn good all year for us."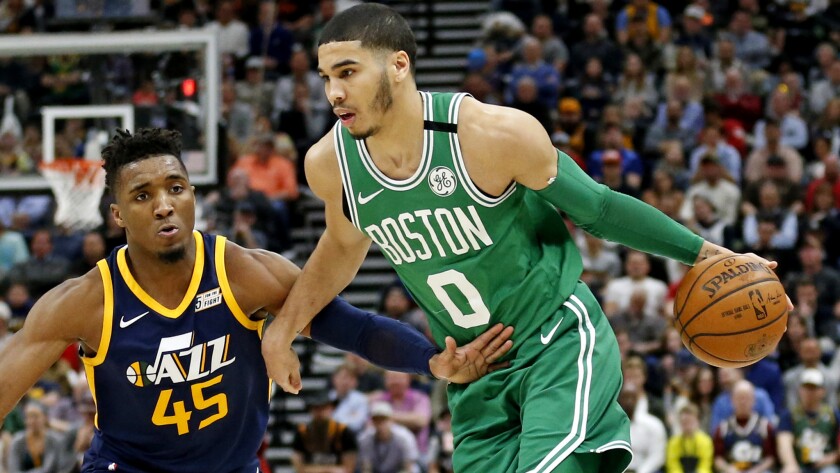 It can be difficult for Boston to play well enough on offense to win without Irving, whose ability to get scores at the rim is particularly missed. But Morris put together the first three-game string of 20-point games in his career. Rozier has scored in double digits for every February and March game and set a career high with 33 points a week ago at Sacramento.
Brown's perimeter shot has improved greatly. Larkin, out of the NBA last season, is a 39% three-point shooter and typified the Boston grit when the 5-foot-11 guard flew in from the perimeter for an offensive rebound that kept the Celtics' rally hopes at Utah alive. Nader's hustle on transition defense consistently lifts his teammates.
"Those are the little things that nobody even talks about that lead to winning," Stevens said.
It is what again makes Stevens a candidate for coach of the year. He is worthy based on this season's work, which began by tearing up the training camp/preseason play once Hayward was lost on opening night. Stevens' body of work also shows his acumen with annual increases in winning percentage amid reinvented rosters — .305 to .488 to .585 to .646 to a potential .700 this season.
Boston's ability to sustain and survive is rooted in its defense, which is tops in the league in defensive rating. The Celtics have a base to fortify them when lineups shuffle and scoring becomes difficult.
"It helps a lot," Horford said. "It's something that has to be there every night. That's what we lean on — defending and rebounding. That has to be a must every time we step on the floor."
Much like John Wall's injury absence in Washington, any Celtics success without Irving is not truly telling. The Celtics average an additional seven-plus points per 100 possessions with Irving on the court this season. He was averaging 24.4 points and 5.1 assists with a career-low 2.3 turnovers a game.
Tatum has handled the look of a go-to scorer at age 20 and on the back side of the rookie wall. The 6-8 forward is showing a versatile game that gives Boston another creator to handle pick-and-roll plays, transition dribbles and isolation plays without getting outside Boston's system.
"Playoffs are around the corner so I'm excited about that," said Tatum, who has been averaging 16-plus points a game in March.
Horford said it is more than the confidence Tatum is showing in playing nearly three times as many NBA games as he did at Duke. It is how simple he is keeping it with an attention to execution that becomes paramount when playoff games are a grind.
"He knows, if he doesn't have the shot, he's getting into his offensive moves right away," Horford said. "Whether it's in the midrange or attacking the basket, I feel like he's figuring it out for himself so that's encouraging to see.
"He's definitely one of the better ones I've been able to see to make those adjustments. It's not like he's on a team that's not going anywhere. We're going to the playoffs and he's a big part of it. The big reason of our success is him and Jaylen being able to come along so quickly."
---
Get the latest on L.A.'s teams in the daily Sports Report newsletter.
You may occasionally receive promotional content from the Los Angeles Times.