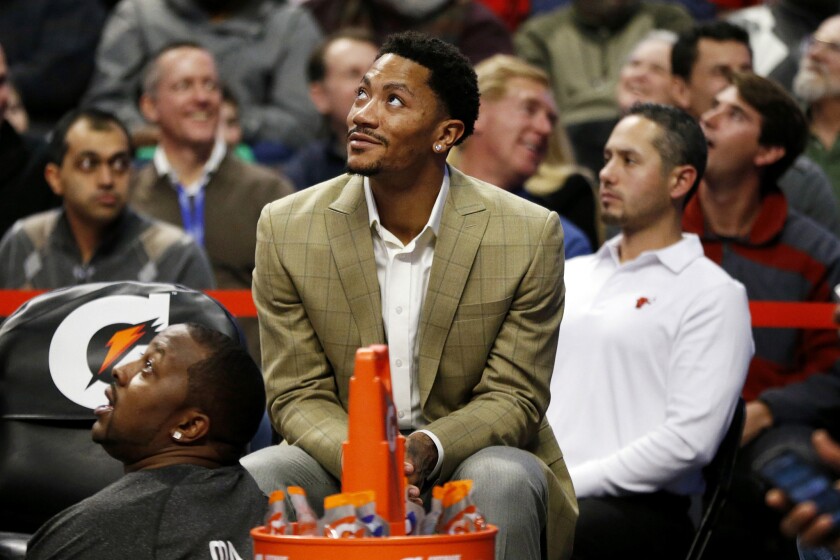 Somehow, the NBA schedule makers placed Derrick Rose in the Moda Center on Friday night, 364 days after he tore his right meniscus here, changing the direction of the Bulls' season but not the trajectory of Rose's downward trend.
That Rose watched the late tipoff in street clothes, missing his fourth straight game with a strained left hamstring and eighth of 13 overall, only contributed to the changing narrative on Rose.
When healthy, Rose remains one of the game's dynamic talents, a rare mixture of speed and strength. But ever since the almost-too-good-to-be-true narrative changed when Rose tore his left ACL in April 2012, those two words - "when healthy" - have proved Rose's nemesis.
Rose, who declined comment on the scheduling coincidence, has played 15 NBA games since.
Hall of Fame guard Isiah Thomas knows Rose. He knows Chicago. He knows about playing through pain. And the NBA-TV studio analyst offers a substantive take on Rose's situation.
"If you study [Immanuel] Kant, he says each individual has dignity and value and shouldn't be used for the benefit of others," Thomas said by phone. "Sometimes, it's OK for the athlete to be protected from himself or not be treated as a means to an end."
Thomas says this despite scoring an NBA Finals record 25 points in the third quarter after severely spraining his left ankle in Game 6 of the 1988 Pistons-Lakers series. The image of Thomas hobbling around has become iconic, and rightfully so.
Yet Thomas, who stresses that Rose is dealing with overcoming two serious knee injuries and not a sprained ankle, offered an interesting response when asked if he owned any regrets over his decision.
"I have no regrets about playing with pain," Thomas said. "But if I had gotten further injured while doing so, I would."
Thomas, part of a long lineage of tough Chicago guards from Cazzie Russell to Maurice Cheeks to Tim Hardaway and onward, theorized that Rose's caution doesn't stem from the sprained ankles that sidelined him for four games or the hamstring issue he currently is battling.
"Those injuries can affect his balance and then the knees," Thomas said. "You can't be from Chicago and where Derrick is from without being tough-minded."
This would jibe not only with Rose's injury philosophy this season but with that of the Bulls. They have been conservative with their franchise player since the start of training camp, sitting him in back-to-backs during the preseason and keeping him on minutes restrictions throughout.
"If a guy is injured, he should sit. If a guy is hurting, he should play. It's really that simple," coach Tom Thibodeau said. "Right now, Derrick is not ready to go. He's injured. The guy has had two major injuries. If he needs time, we're going to give him time."
—K.C. Johnson, Chicago Tribune
::
The New York Knicks say Andrea Bargnani has a strained right calf that will prevent him from making his season debut Saturday against Philadelphia.
Bargnani was hurt Friday during practice and an MRI revealed the injury.
The former No. 1 overall pick strained his right hamstring early in the preseason and had finally appeared near the point of returning. He has battled injuries since coming to New York from Toronto in a trade and hasn't played in the regular season since January, when he tore a ligament in his left elbow.
::
Houston center Dwight Howard will miss his second straight game on Saturday night against Dallas with a strained right knee.
Howard also missed Wednesday's game against the Lakers and there is no timetable for his return.
The Rockets have lost two in a row after opening the season 9-1. Howard is averaging 18.8 points, 11.3 rebounds and 2.3 blocks per game in his second season with Houston. Rockets rookie Tarik Black will likely start in his place.
Quotes from around the NBA
Sure thing
After Detroit's Kentavious Caldwell-Pope missed a positional game-winning three-pointer in the Pistons' loss to Phoenix, Suns forward Markieff Morris had this trash-talking comment, "Caldwell-Pope got it and you know he doesn't have any heart, so we knew he was going to miss."
Gloves off
During a timeout last week, injured Oklahoma City star Kevin Durant argued with Houston center Dwight Howard. Hall of Famer Gary Payton weighed in on Howard: "I think he's disliked by a lot of players. What Dwight does is, you know you see all the smiles and all the antics, that is getting on players' nerves. To get this guy, Kevin Durant, to do what he did, you know it's starting to become a problem with players, because Kevin Durant doesn't really talk to anybody."
Chopping block?
With his team struggling to start the season, Denver Coach Brian Shaw talked about his future with the team. "If it works? Great," Shaw said. "And if it doesn't? Then my head is the one that's going to be on the guillotine. I understand that. I accept that."
Class dismissed
Paul Pierce isn't impressed with the class of 2014: "This draft class was supposed to be one of the great draft classes of this era, and as you see, I really don't see nobody in this class really standing out so far. Even though it's only been 10 games. But unlike the LeBron [James] class, when you had a number of franchise guys, you just kind of knew that class was going to be great, this class …we haven't really seen much of it yet."
NBA Game of the Week
SACRAMENTO AT NEW ORLEANS: Tuesday at 5 PST.
Sacramento has suffered eight straight losing seasons and New Orleans hasn't made the postseason since 2011. But both young teams are off to good starts and hope to make a push for the playoffs. Each team is built around a former Kentucky and Team USA star who has been dominating at both ends of the court: New Orleans' Anthony Davis and Sacramento's DeMarcus Cousins.
In their first meeting at Sacramento, the Pelicans won, 106-100, behind Davis' 28 points, nine rebounds and three blocked shots. Cousins had 24 points, 17 rebounds and two blocks.
—Broderick Turner
---