Column:: Bol Bol is the most interesting — and polarizing — NBA draft prospect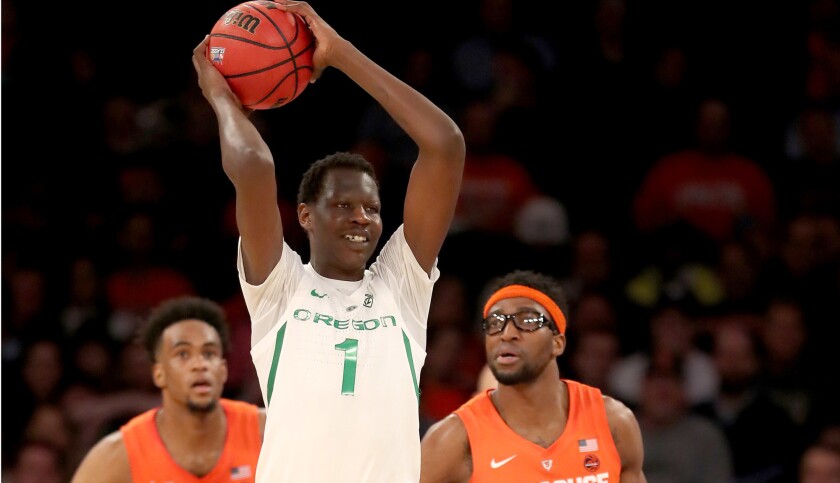 Reporting from New York —
In one corner, you could see what stardom looks like.
Zion Williamson, surrounded by cameras and microphones, relaxed back in his chair Wednesday and answered questions with a big smile on his face, comfortable and ready to take his place among the most popular NBA players the second he's picked No. 1 Thursday by New Orleans in the NBA draft.
On the court, you see jumping ability that doesn't belong with this combination of of size, force and skill that has almost no comparison. Off it, you see charisma rarely displayed by an 18-year-old in the middle of the spotlight.
"He's a different kind of athlete," Virginia star De'Andre Hunter said.
But Williamson is not what the unpredictable NBA draft is about. He knows how tomorrow is going to go.
For uncertainty,the most physically interesting and, maybe, the most polarizing player in the same swanky New York ballroom is Bol Bol.
The son of the tallest player in NBA history — 7-foot-7 Manute Bol — Bol is a 7-3 shoelace and a mystery to NBA teams after playing only nine games during his freshman season at Oregon.
He dribbles and shoots with an ease that isn't usually possible for someone his size. He can swat shots the same way his dad used to block his in their one-on-one games. But he's got a checkered medical past. Foot and ankle injuries and big men don't usually mix.
It's why there's a nervousness to Bol on the eve of the draft, a package full of arms, legs and destiny with no clue when or where the next chapter will begin.
"It's still very wide open," he said. "I'm just waiting to see."
He's not the only one. The certainties in this draft are pretty locked in — Williamson will go No. 1 to the New Orleans Pelicans, Ja Morant will head to Memphis at No. 2, and RJ Barrett almost certainly will be picked by the New York Knicks at No. 3. But there's something attractive about the mysteries — the home run swings that either connect or miss, leaving you twisted into the ground.
In talking to league executives and evaluators, Bol is routinely pointed to as the biggest risk/reward prospect in the draft. His strengths — size, shooting and ballhandling — could justify a top-10 pick or higher. His weaknesses — lean frame, injured foot and questions about passion — could have him slide to the end of the first round.
Sign up for our daily sports newsletter »
That uncertainty can be suffocating, and Bol admitted to being too locked into where his name was showing up in mock drafts (just like he was too interested in his recruiting rankings as he played for four high schools in four years, including one at Mater Dei.).
"I'm not exactly sure what my range is," he said. "At first, I was the one who was always coming to my people with 'Look where I'm at.' They just told me not to worry about it, just to take the pressure away from me.
"Either way, I can't pick where I go. It's not up to me."
The numbers in his limited exposure at Oregon are eye-popping. He made more than half his three-point attempts, scored more than 20 points six times, and had at least three blocks six times.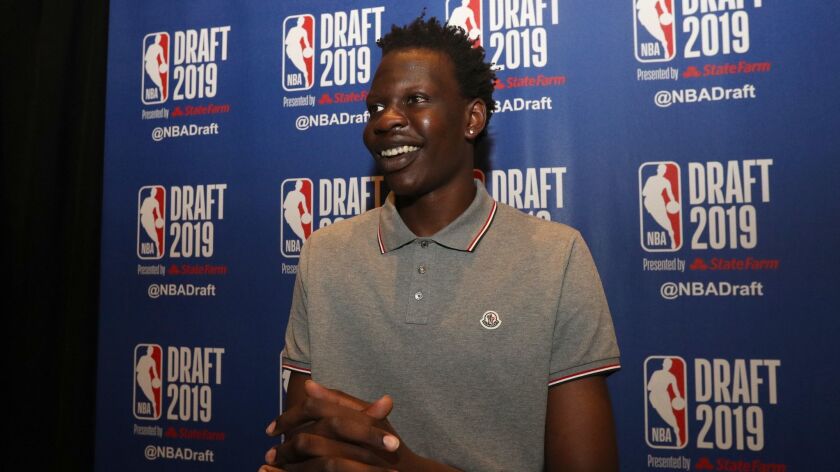 He has tried to answer questions about his injured foot — he began working out again around a month ago — and explain how he actually does love basketball.
That's not the test for Williamson, who has had to sell himself to no one. He was the prize, the same way players such as LeBron James, Blake Griffin and Anthony Davis were in their drafts.
"I don't really see it as pressure. I'm doing what I love to do and that's play basketball," Williamson said. "And I don't try to live up to anybody's expectations. They can set them there, but I don't feel like I have to live up to them. I'm just going to be me and be the best version of myself that I can be."
Thursday will be a totally different experience for Bol, who will be waiting for the call, waiting to hear his name, and ravaged with uncertainty from not knowing who is going to pick him when.
But since he was a fourth-grader and the smallest player on a team full of older kids, since he sprouted, since he became someone scouts and executives tried to figure out, all roads led to here — the NBA draft.
"It's what I've been waiting for my whole life," Bol said, some jitters in his voice. "It's tomorrow. I'm kind of nervous. But I'm really excited about it."
Twitter: @DanWoikeSports
---
Get our high school sports newsletter
Prep Rally is devoted to the SoCal high school sports experience, bringing you scores, stories and a behind-the-scenes look at what makes prep sports so popular.
You may occasionally receive promotional content from the Los Angeles Times.