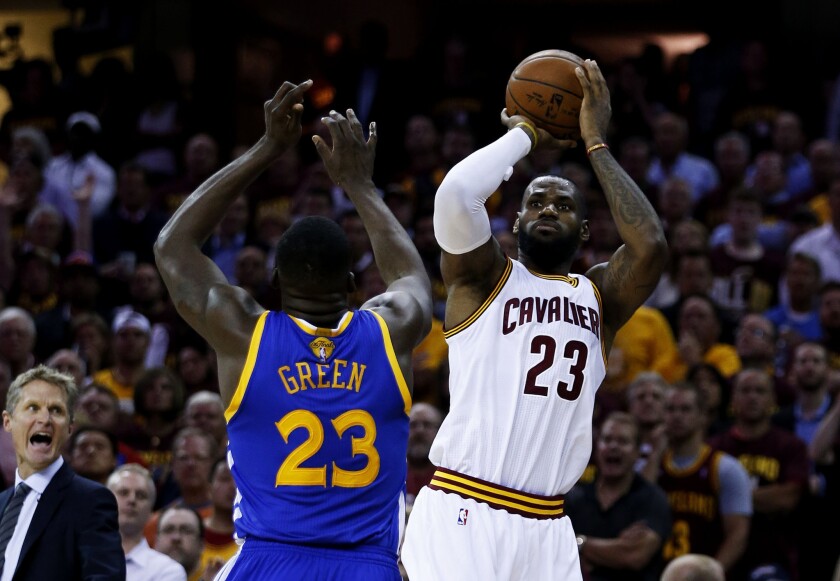 A team-by-team look at the Eastern Conference:
BEN BOLCH'S PICKS (in predicted order of finish)
NBA EASTERN CONFERENCE
(new players listed in bold)
PLAYOFF-BOUND:
1. Cleveland
2014-15 finish: 53-29
Projected starters: LeBron James, Kyrie Irving, Kevin Love, Timofey Mozgov, J.R. Smith.
Top reserves: Matthew Dellavedova, Tristan Thompson, Anderson Varejao, Mo Williams, Iman Shumpert.
The self-proclaimed best player in the world won't have to do it alone this time, assuming the rash of injuries that hit the Cavaliers in the playoffs finally subsides. Love and Irving are both expected back to help James try to fulfill his dream of bringing a title to his home state. Thompson will come along as well now that he has agreed to a new contract.
2. Toronto
2014-15 finish: 49-33
Projected starters: Kyle Lowry, DeMar DeRozan, DeMarre Carroll, Jonas Valanciunas, Patrick Patterson.
Top reserves: Terrence Ross, Luis Scola, Cory Joseph, Bismack Biyombo.
The Raptors filled a dual role last season as one of the biggest surprises (a 37-17 start) and disappointments (a 12-16 finish followed by a first-round playoff sweep by Washington). They hope to undergo a stylistic change after being one of the worst ball-movement teams in the NBA. It should help that Lowry appeared in playoff form in the preseason and newcomer Joseph spent four seasons in pass-heavy San Antonio.
3. Atlanta
2014-15 finish: 60-22
Projected starters: Al Horford, Jeff Teague, Paul Millsap, Kyle Korver, Kent Bazemore.
Top reserves: Tiago Splitter, Tim Hardaway Jr., Thabo Sefalosha, Dennis Schroder.
As if he needed help imparting The Spurs' Way, Coach Mike Budenholzer imported someone intimately familiar with the system in Splitter. Of course, the Hawks have become an enviable brand themselves after finishing with the best record in the East last season and Atlanta made the conference finals for the first time. Is that the ceiling for a team with talent but no stars?
4. Chicago
2014-15 finish: 50-32
Projected starters: Pau Gasol, Nikola Mirotic, Jimmy Butler, Derrick Rose, Tony Snell.
Top reserves: Taj Gibson, Joakim Noah, Doug McDermott, Kirk Hinrich, Bobby Portis.
Hmm … Iowa State prodigy replaces widely beloved Bulls coach. What could go wrong? A lot, if Fred Hoiberg's time in Chicago is anything like that of Tim Floyd, who took over for Phil Jackson and went 49-190. Good thing for Hoiberg that his starters don't include Floyd's crew of Dickey Simpkins, Mark Bryant and Randy Brown. These Bulls should be just fine if Rose's body cooperates.
5. Milwaukee
2014-15 finish: 41-41
Projected starters: Jabari Parker, Michael Carter-Williams, Greg Monroe, Khris Middleton, Rashad Vaughn.
Top reserves: Giannis Antetokounmpo, O.J. Mayo, John Henson, Greivis Vasquez.
The Bucks are essentially adding two major pieces in newcomer Monroe and Parker, who returns after a torn knee ligament ended his rookie season after only 25 games. If Middleton can sustain his impressive all-around play from after the All-Star break last season, Milwaukee should contend for home-court advantage in the first round of the playoffs.
6. Washington
2014-15 finish: 46-36
Projected starters: John Wall, Bradley Beal, Marcin Gortat, Otto Porter, Kris Humphries.
Top reserves: Gary Neal, Ramon Sessions, Nene, Kelly Oubre, Jared Dudley.
The small-ball approach that worked so well in the playoffs is back, with one exception: Paul Pierce is no longer around to play power forward and make game-winning shots. But that shouldn't derail a team that largely relies on its backcourt of Wall and Beal. Gortat should be one of the primary beneficiaries of an offensive system that provides better spacing than its predecessor.
7. Charlotte
2014-15 finish: 33-49
Projected starters: Al Jefferson, Kemba Walker, Nicolas Batum, Marvin Williams, Jeremy Lamb.
Top reserves: Jeremy Lin, Spencer Hawes, Cody Zeller, P.J. Hairston, Frank Kaminsky.
These Hornets could produce a playoff buzz thanks to an infusion of complementary players intended to take pressure off Jefferson and Walker. Batum should be an adequate replacement — and an upgrade offensively — for Michael Kidd-Gilchrist, lost for the season after shoulder surgery. Leaving Los Angeles should be a good thing for Lin and Hawes, who seek bounce-back seasons.
8. Miami
2014-15 finish: 37-45
Projected starters: Chris Bosh, Goran Dragic, Dwyane Wade, Hassan Whiteside, Luol Deng.
Top reserves: Gerald Green, Justise Winslow, Josh McRoberts, Mario Chalmers, Amare Stoudemire.
The Heat finally has the starting lineup it has wanted since February, when the team acquired Dragic but Bosh's blood clots sidelined him for the rest of the season. The big question is how often Wade will be in it after missing 20 games last season and needing a maintenance plan to remain fresh for a playoff push. Green should both thrill and baffle off the bench with his high-volume shooting.
EARLY OFF-SEASON:
9. Boston
2014-15 finish: 40-42
Projected starters: Marcus Smart, Avery Bradley, Jae Crowder, David Lee, Tyler Zeller.
Top reserves: Isaiah Thomas, Evan Turner, Kelly Olynyk, Amir Johnson, Jonas Jerebko.
The Celtics are way ahead of the Lakers in their rebuilding efforts, so there's that. They made the playoffs last season in Coach Brad Stevens' second season but still have a long way to go to recapture the recent glory that left town alongside Doc Rivers. Having good depth isn't going to be enough for much of a playoff run until Boston finds a couple of stars.
10. Indiana
2014-15 finish: 38-44
Projected starters: Paul George, Monta Ellis, George Hill, C.J. Miles, Ian Mahinmi.
Top reserves: Rodney Stuckey, Joseph Young, Chase Budinger, Lavoy Allen, Jordan Hill.
If George doesn't seem the same after his yearlong injury layoff, it might be because he's not. He's expected to play power forward whenever the Pacers switch to a smaller, quicker lineup as part of the team's efforts to maximize its remaining talent. Ellis gives Indiana another proven scorer, but there's little quality depth, particularly in the frontcourt.
11. Brooklyn
2014-15 finish: 38-44
Projected starters: Joe Johnson, Brook Lopez, Jarrett Jack, Thaddeus Young, Wayne Ellington.
Top reserves: Shane Larkin, Bojan Bogdanovic, Andrea Bargnani, Thomas Robinson.
Nobody could blame Nets owner Mikhail Prokhorov for wanting out based on his roster. The star power is waning, not to mention aging (Johnson is 34) and injury-prone (Lopez's feet are a constant worry). Prokhorov insists he's not selling the team that failed to fulfill his guarantee to win a championship within his first five seasons. The only title possibility is biggest disappointment.
12. Detroit
2014-15 finish: 32-50
Projected starters: Andre Drummond, Reggie Jackson, Marcus Morris, Kentavious Caldwell-Pope, Stanley Johnson.
Top reserves: Brandon Jennings, Jodie Meeks, Ersan Ilyasova, Joel Anthony, Reggie Bullock.
Drummond is the last (big) man standing from the failed colossal front line experiment, now that Greg Monroe and Josh Smith have departed. Jackson will probably cede the starting point guard spot to Jennings once the latter returns from a ruptured left Achilles'. Things will have to go just right for the Pistons to contend … for .500.
13. New York
2014-15 finish: 17-65
Projected starters: Carmelo Anthony, Jose Calderon, Arron Afflalo, Robin Lopez, Kristaps Porzingis.
Top reserves: Derrick Williams, Kevin Seraphin, Kyle O'Quinn, Jerian Grant, Sasha Vujacic.
The Phil Jackson-Derek Fisher pairing worked about as well as red wine and peanut butter in their first year together as the Knicks set a franchise record for losses. Jackson then prompted boos by drafting Porzingis, the widely unknown 7-footer from Latvia. Now he's hoping castoffs Williams and Vujacic can help revive an overhauled roster. It might be time for some more red wine.
14. Orlando
2014-15 finish: 25-57
Projected starters: Tobias Harris, Nikola Vucevic, Victor Oladipo, Elfrid Payton, Channing Frye.
Top reserves: Mario Hezonja, Evan Fournier, C.J. Watson, Aaron Gordon, Dewayne Dedmon.
Magic players say they are no longer going to use their youth as an excuse. Unfortunately, that doesn't mean it won't be a hindrance. A starting lineup with an average age of 24 needs to lose a few more baby teeth and develop an All-Star before it can be taken seriously as a playoff contender. New Coach Scott Skiles, a noted taskmaster, may have to utilize the timeout corner.
15. Philadelphia
2014-15 finish: 18-64
Projected starters: Nerlens Noel, Jahlil Okafor, Robert Covington, Isaiah Canaan, JaKarr Sampson.
Top reserves: Nik Stauskas, Hollis Thompson, Kendall Marshall, Tony Wroten Jr., Christian Wood.
Even notoriously nasty 76ers fans have to feel a bit sorry for their franchise. Center Joel Embiid is expected to miss a second consecutive season after another foot surgery and Marshall and Wroten won't return until well into the season because of their recovery from torn knee ligaments. The only hope is that Noel and Okafor can develop amid the losses.
---