NBA Fastbreak: The Clippers are built for playing, and winning, close games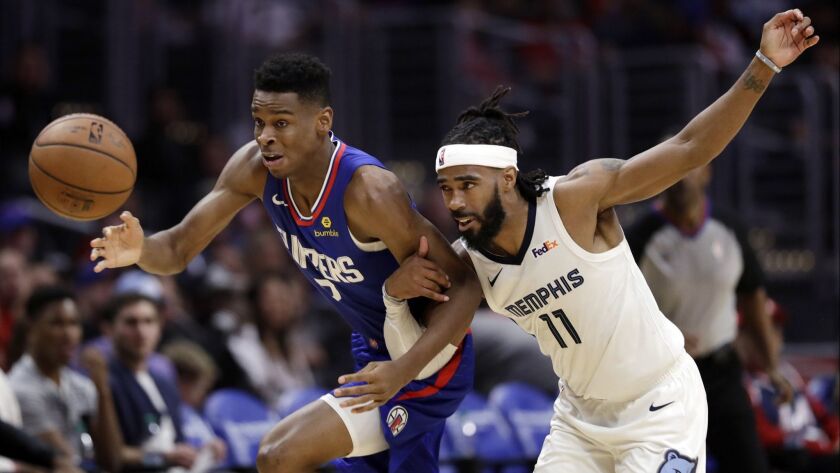 After the Clippers came back to beat Memphis in overtime Friday afternoon, coach Doc Rivers, his voice more hoarse than usual, could bask in the knowledge that he and his staff saw this coming.
When he looked at the roster before the season, there was one thing clearer than all others.
"We knew we were going to play in a [expletive] load of close games," Rivers said.
This is who his team is — the cardiac Clippers, a team without the star power needed to blow out teams, but with the toughness and togetherness to be hard to stop.
Three of their last four games at Staples Center have gone to overtime — against three of the NBA's top teams, Milwaukee, Golden State and Memphis. A five-point win against San Antonio is the other.
Each of their last seven games has been decided by eight points or fewer, with the Clippers winning six of them.
Winning close games like these, ones in which you blow leads like they did against Milwaukee and Golden State, or in which they trail and have to come back, like they did in Brooklyn and Atlanta and against the Grizzlies, might be a little fluky and something that could even out as the season goes on.
Or, it could be a sign that the Clippers are benefiting from Rivers knowing exactly what kind of team he's got.
In training camp, the Clippers didn't open by installing the foundations of their half-court offense. They went right to work on late-game situations, with Rivers certain that it might be the thing that dictates the Clippers' success.
"That's unique," forward Tobias Harris said. "We're going to be in a lot of games. And with that being said, we know we have to be able to grind these games out."
So far, so good.
Lots of J's (and blocks, steals and dunks) for Jackson
Memphis rookie Jaren Jackson Jr. made his Los Angeles debut Friday and didn't disappoint, scoring 20 points to go with seven rebounds and three blocked shots.
It's the kind of stat-stuffing the No. 4 pick in this year's draft has been doing for the surprising Grizzlies, with Jackson, barely 19 years old, already becoming a key piece in Memphis' lineup.
While it might be surprising to some people, Fox Sports analyst Don MacLean had a good feeling about it. MacLean trained Jackson before the draft, and for the first time MacLean could remember, Jackson came back to keep working out after he had been selected.
"I was confident in myself and I worked hard this summer to tighten up a lot of parts of my game and continue to grow as a player," Jackson said. "It just goes to what I've been practicing. I know the work I've put into it."
He's a prototypical big man in the modern NBA — size (6-11), length and skill — but what could set Jackson apart, according to the people who have worked with him, is a desire to be great on defense.
"You just have the will to do it," he said. "It's me knowing that's what wins games and can take a team to the next level. I take pride in that. It's something easy that you can just do with effort."
Tip-ins
Markelle Fultz, the No. 1 pick in the 2017 draft, has been shut down again in Philadelphia, this time at his agent's order, in an effort to get him fully healthy. That Philadelphia general manager Elton Brand and coach Brett Brown were caught off guard by news that Fultz's right shoulder was bothering him is bizarre. While the book isn't closed on Fultz, this chapter has taken another twist. … Reportedly, Washington is open for business, a decision that should surprise no one who has watched the Wizards stumble. John Wall, Bradley Beal and Otto Porter Jr. all could be dealt, Beal coming with the highest price tag. … LeBron James' averages for the last five games: 34.2 points, 9.2 rebounds, 6.6 assists, 58.1% from three-point range.
Twitter: @DanWoikeSports
---
Get the latest on L.A.'s teams in the daily Sports Report newsletter.
You may occasionally receive promotional content from the Los Angeles Times.