NBA Fastbreak: James Harden continues to put on a show, ties career-high 61 points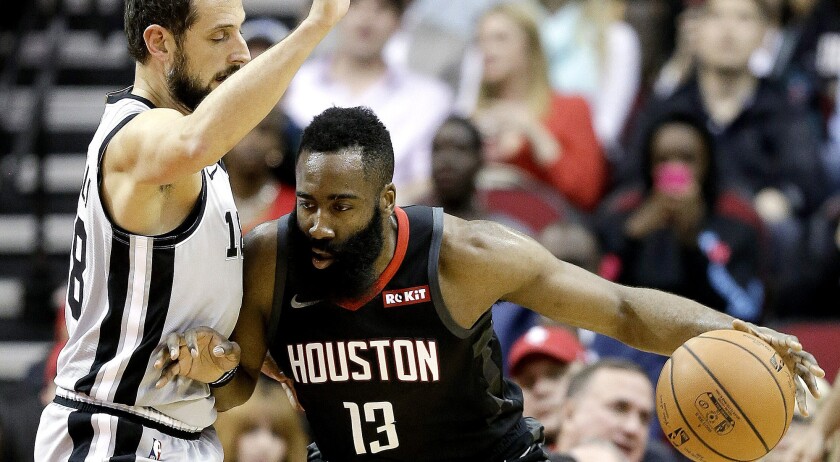 How impressive was James Harden's 61-point game Friday night? Just consider:
— Harden, who set his career high and a Houston Rockets record with 61 on Jan. 23 at New York, joins Wilt Chamberlain, Kobe Bryant and Michael Jordan as the only players in NBA history with multiple 60-point games in a season. Bryant did it in the 2005-06 and 2006-07 seasons.
— Harden scored 57 on Wednesday at Memphis, so the 118 points in back-to-back games tied Jordan and Bryant for the most in a two-game span over the last 50 seasons, according to Elias Sports Bureau. Bryant's 81-point game in 2006 was preceded by a 37-point effort. (Chamberlain has the all-time mark, following his record 100-point game in 1961-62 with a 61-point effort.)
— It was Harden's 51st game of the season with 30 or more points and his eighth with at least 50. The rest of the league has 10 such performances combined. Harden's total is the most since Bryant had 10 in 2006-07.
— Harden's 61 were the most one player has scored against a Gregg Popovich-coached San Antonio team.
"I don't know how you get any better," coach Mike D'Antoni said. "Whoever was in the gym tonight probably [saw] something they have never seen before. There's no way. That was one of the best performances — the magnitude of the game, we needed it."
Harden this season also had a streak of 32 consecutive games with at least 30 points, second only to Chamberlain's 65 in 1961-62
Sign up for our daily sports newsletter »
"You've got to appreciate it," teammate Chris Paul said. "What he's doing, that ain't easy. I don't care who you are."
Asked if the performance made Harden the clear pick for most valuable player, Paul said, "I mean, what else have you got to do?"
The Rockets, who needed the win to stay in third place in the Western Conference, trailed the Spurs 100-94 with four minutes left. Harden scored all of Houston's points in a 13-2 run, knocking down three three-pointers and a pair of contested jumpers for a 111-105 victory.
"I just knew how important this game was," Harden said.
There is a rivalry there
Joel Embiid and the Philadelphia 76ers finally defeated the Boston Celtics this season after three earlier losses, possibly marking the beginning of a true rivalry.
After the Celtics won a Christmas Day matchup in Boston, 121-114 in overtime, Embiid downplayed the teams' rivalry.
"We lost again. Like I said at the beginning of the season, I don't know what a rivalry is," Embiid said. "I think I do, but this is clear as day, this is no rivalry."
The final game of their season series Wednesday provided plenty of fireworks, including Celtics guard Marcus Smart shoving Embiid in the back after colliding with the 7-foot center, who was setting a pick. Smart was assessed a flagrant foul 2 and ejected. He was fined $50,000 on Friday. Embiid would finish with 37 points and a career-high 22 rebounds in the 118-115 win.
"Stuff like that gets me going, gets the crowd going," Embiid said after the win. "Obviously, I was frustrated because it was a cheap shot. I didn't see it coming."
The Embiid-Smart rivalry dates to their college days, when Embiid played one season at Kansas in 2013-14 while Smart was at Oklahoma State. Smart celebrated a rare Cowboys win at Kansas during the previous season with a backflip, irritating Jayhawks fans.
Embiid delivered some payback with 13 points, 11 rebounds, eight blocked shots and one highlight-play dunk over Smart. Embiid was already proficient as a troll on social media and posted a photo of the dunk on Instagram with the caption: "Not very SMART to jump on that one."
Summer League twist
The Chinese and Croatian national teams will head to Las Vegas this summer, where they will compete with the 30 NBA teams in preliminary play and the tournament, which runs from July 5-15.
This is not a first for China, which sent a team to compete in Las Vegas in 2007. China is likely to use the Las Vegas trip as preparation for FIBA World Cup play this summer, which the Chinese host Aug. 31-Sept. 15. The Summer League experience will be a first for Croatia, which did not qualify for the World Cup.
This summer's format has been altered, although all teams are guaranteed five games. After four preliminary games, the top eight teams will be seeded for a tournament. The remainder of the teams will get one more consolation game.
Tip-ins
Using his patented fadeaway jumper, Dalllas Mavericks forward Dirk Nowitzki made a basket against the New Orleans Pelicans on Monday that moved him ahead of Wilt Chamberlain into sixth place on the NBA's all-time scoring list. Chamberlain is now seventh with 31,419 points. Nowitzki, who is expected to retire after this season but hasn't made an official announcement, has 31,430 points. … Jimmer Fredette is returning to the NBA after signing for the rest of the season with the Phoenix Suns, who hold an option for next season. The former college player of the year from BYU played parts of five seasons with Sacramento, Chicago, New Orleans and New York and averaged 6.0 points in 13.4 minutes per game. He played the last two seasons with the Shanghai Sharks and averaged more than 37 points a game.
Twitter: @BA_Turner
---
Get the latest on L.A.'s teams in the daily Sports Report newsletter.
You may occasionally receive promotional content from the Los Angeles Times.