Column: Hate James Harden's tactics if you want, but you can't argue with MVP-caliber season he's having for Houston Rockets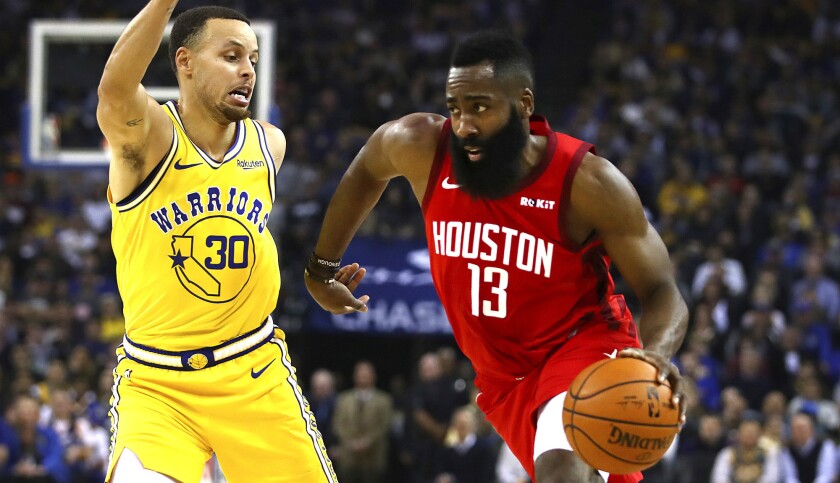 Reporting from Oakland —
Before James Harden made an impossibly difficult shot Thursday night to stun the Golden State Warriors at Oracle Arena, before he reminded everyone why he's the NBA's most valuable player, before he rebuked anyone griping about his free-throw hunting, he had to get ready to play.
The pregame routine — one that begins with him wearing his full sweats, hood pulled tightly over his head — is almost completed before tipoff. He's done dancing with center Clint Capela. He's stripped off the sweats. He's ready to ball.
There's just one last thing to do.
As Harden jogs onto the middle of the court, he turns right and heads for the basket opposite the Rockets' bench. Without slowing down, he jumps directly into the padded base of the basket.
It won't be the last time he goes looking for contact.
Harden's on pace to shoot 902 free throws this season — and if he gets there, it'll be just the third time in the last 25 seasons someone has attempted more than 900. The other two, Shaquille O'Neal and Dwight Howard, were notoriously bad free-throw shooters who were routinely fouled intentionally. Harden, an 85% career free-throw shooter, is anything but.
It's a massive part of Harden's offensive arsenal, one that has the NBA under siege. Houston is the hottest team, winning 11 of its last 12 with Harden averaging 40.1 points during the stretch — a chunk of which has come with Chris Paul sidelined because of a hamstring injury.
Harden's making shots with the highest degrees of difficulty, like a figure skater who does only quadruple axels.
After scoring 44 against the Warriors, Harden dismissed anyone wasting time talking about his trips to the foul line. Against Golden State — and this uniquely applies to him — he attempted only nine free throws.
"I've got the total package. I get to the basket aggressively. I shoot my shot. Don't foul me on my jump shot and we won't have anything to talk about. It's as simple as that," Harden said. "They talk too much about the fouls and not enough about the greatness of what I'm doing out there on the court. That's what we need to focus on."
But that's not where the focus is with Harden, not when the foul-hunting has become a primary weapon of his offensive game. Opposing players and coaches respect his craftiness — sometimes begrudgingly — and style of play.
Clippers coach Doc Rivers told the Times that he thinks Harden is the greatest one-on-one player in NBA history. Philadelphia guard JJ Redick said Harden's step-back three-point shot — he's made nearly four times as many of them as anyone else in the league — is basketball's most difficult shot to defend. Golden State coach Steve Kerr said Harden has changed basketball forever.
"You don't," Houston coach Mike D'Antoni said of guarding Harden when he's attempting difficult shots. "You can't. You might as well give up.
"You can't guard him unless you foul him and they don't call it. That'd be the only way."
There's an element of defeatism that creeps into the minds of opponents tasked with guarding Harden, especially when it comes to his ability to manipulate his way into fouls — something he does two different ways.
The most prominent and respected way is by combining incredible dribbling ability with amazing hand strength, letting him tease defenders into thinking they can get a steal.
"He shows you the ball. As a defender, it looks really good. And then he snatches it away and you're reaching for a wrist instead of the ball most of the time," Warriors guard Klay Thompson said. "It looks like it's right there for you and then he moves it really quickly and you have all wrist before you know it."
It's the basketball version of taping a $100 bill to a string and then pulling it away as soon as someone grabs at it.
"His forearms, his hands — that's a big part of it, his ability to absorb contact in a bunch of different ways," Redick said. "Because he's strong, it allows him to do that tease. Most guys would be hesitant to stick the ball out like that because they'd get it ripped a few times. But he's not because he's so strong."
It's not basketball in the purest sense — the original idea is to score in the flow of action, not at the foul line — but it's hard not to respect his ability in drawing these fouls.
Thompson wasn't sure if everyone respects Harden's knack to draw fouls but acknowledged "it gets results."
"And his scoring numbers are incredible. It's almost like you have to because of the results. His production is incredible."
There are other types of fouls he draws, where he makes it look like he's being fouled more than he is, that aren't for everyone.
Kerr said part of the challenge in guarding Harden is that he'll get foul calls that can take a defender out of his game.
"You have to have, somehow, the emotional stability to deal with a couple of really bad calls because there are some fouls that happen in the game when you're playing against him that just seem sort of insane — the kind of fouls that would maybe start a fight in a pickup game," Kerr said. "Like you're guarding him, he grabs your arm and it's a foul on you. You look at the refs like, 'You've got to be kidding me. …'
"It's all part of his genius, that he creates this illusion that he's being fouled when he's actually fouling you."
When you pair that with Harden's ball-dominant style, it leads to a bunch of players standing around, which can be frustrating. Rivers said it's just another edge to Harden's game.
"He's just clever. I don't think he gets enough credit for his IQ. To do what he does and to draw those fouls, you have to be brilliantly smart," Rivers said. "He doesn't get enough credit for that. A lot of it doesn't have to do with athleticism or strength. That's him being smarter than whoever is guarding him every night and that's rare."
Harden's style isn't for everyone. There's his flopping. Rockets possessions seem to start and end with his methodical dribbling. Add to that Harden's seemingly endless trips to the free-throw line — he shot 27 in a game against Memphis this week.
He doesn't care. Harden didn't need to hunt for fouls to decimate the Warriors at Oracle Arena, to score 44 points on whomever Golden State sent his way, to split Draymond Green and Thompson for a game-winning three-point shot in overtime. None of it slowed him down, not while he's playing the best basketball of his life.
"They're a team that's very versatile. Defensively, they throw multiple guys at you," Harden said. "And for me, nothing changes."
Twitter: @DanWoikeSports
---
Get our high school sports newsletter
Prep Rally is devoted to the SoCal high school sports experience, bringing you scores, stories and a behind-the-scenes look at what makes prep sports so popular.
You may occasionally receive promotional content from the Los Angeles Times.