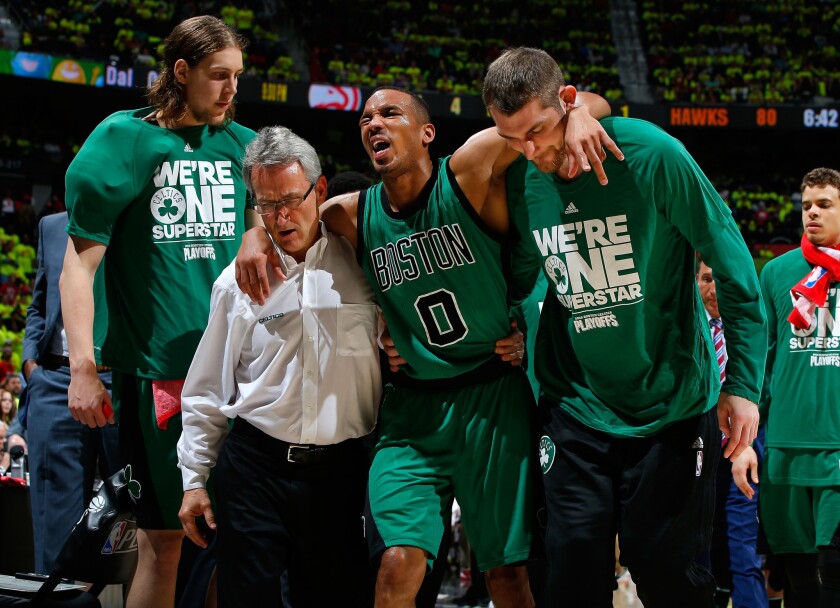 The Boston Celtics probably will be without starting guard Avery Bradley, their best perimeter defender, for the rest of the opening-round playoff series against the Atlanta Hawks.
Bradley sustained a severely strained right hamstring suffered in the fourth quarter of a Game 1 loss Saturday, and Coach Brad Stevens said Sunday that Bradley was out for Game 2 and probably won't return in the best-of-seven series. It's "a pretty significant strained hamstring," Stevens said.
Bradley was injured near the midway point of the fourth quarter, crumpling to the court right after the Celtics had come all the way back from a 19-point deficit. Atlanta won the game, 102-101.
Curry questionable
The Golden State Warriors are preparing to play without NBA MVP Stephen Curry for Game 2 of their playoff series against Houston as he nurses an ankle injury. Curry said he wanted to play as long doing so wouldn't make the injury worse, but Coach Steve Kerr called his status questionable for Monday's game in Oakland.
Curry didn't practice Sunday, a day after hurting his right ankle late in the first half of a 104-78 win over the Rockets in the playoff opener.
Nets hire coach
The Brooklyn Nets hired Atlanta assistant Kenny Atkinson as their new coach, though he won't be taking over until the Hawks' season ends.
Atkinson spent the last four seasons in Atlanta, with the Hawks making the playoffs each year. Before that, he was an assistant with the New York Knicks for four seasons.
The Long Island native will be the sixth coach in five seasons for the Nets, who fired second-year coach Lionel Hollins in January with the team off to a 10-27 start. Under interim coach Tony Brown, Brooklyn went on to finish 21-61 — its worst showing since the 2009-10 season and the second-worst mark in the Eastern Conference.
---