NBA notes: Warriors suspend Draymond Green one game for conduct following loss to Clippers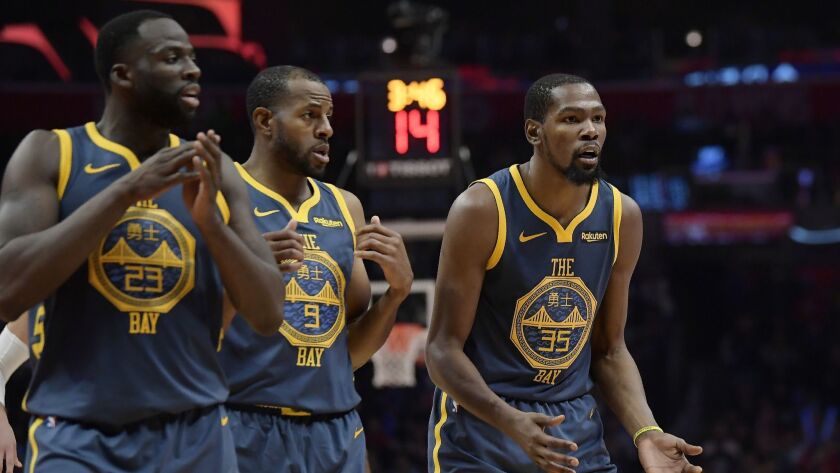 Warriors All-Star forward Draymond Green has been suspended one game by Golden State for conduct detrimental to the team.
The Warriors made the announcement Tuesday, about four hours before they were set to host Atlanta, and said Green would serve the suspension against the Hawks. General manager Bob Myers was scheduled to address Green's punishment before the game.
In the closing seconds of regulation during Monday's 121-116 overtime loss on the road to the Clippers, Green secured a rebound and with Kevin Durant calling for the ball instead dribbled the length of the court into traffic and lost control as the Warriors failed to get a shot off. Durant was shown on camera visibly upset. The two got into it afterward, according to beat reporters on the scene.
Myers and coach Steve Kerr have long supported Green's fiery nature that leads to technical fouls. Myers even sat with Green next door to Oracle Arena at the Oakland Coliseum when Green was suspended for a crucial Game 5 loss to LeBron James and the Cavaliers in the 2016 NBA Finals. The Warriors wound up losing in seven.
Caris LeVert's foot injury not as bad as it appeared
Caris LeVert's injury wasn't as bad as it looked. The Brooklyn Nets said Tuesday their leading scorer sustained only a dislocation of his right foot and no fractures, and he could return this season.
That's far better than what was feared when LeVert's leg appeared to bend in a gruesome manner after he leaped to block a shot in the final seconds of the first half of Monday night's game in Minnesota.
"While the optics of this injury may have appeared to be more severe, surgery will not be required," team orthopedist Martin O'Malley said in a statement.
O'Malley examined LeVert on Tuesday at the Hospital for Special Surgery and the third-year swingman was diagnosed with a subtalar dislocation of the right foot.
O'Malley said there was only moderate ligament damage and that following a period of rehabilitation, LeVert was expected to return to full strength and resume all basketball activities without any limitations this season.
LeVert's injury initially appeared similar to the severe leg injuries suffered in recent years by Paul George and Gordon Hayward, and players prayed and some were in tears as a stretcher was brought onto the court to take LeVert to a hospital.
But he was able to return to New York with the Nets later Monday as players from around the NBA were sending well wishes on social media.
LeVert, who battled foot injuries in college at Michigan before emerging as a first-round pick, had been the Nets' best player during their promising start. He is averaging 18.4 points and is the only player in the league this season to convert multiple go-ahead baskets with less than 10 seconds remaining in regulation or overtime.
In other NBA news:
— Cleveland forwards Kyle Korver and Cedi Osman will miss Tuesday night's game against the Charlotte Hornets. The Cavaliers will be without five rotational players in a season that has quickly gone from bad to worse. The 37-year-old Korver has been slowed by foot soreness while Osman will miss his second consecutive game with back spasms. The Cavaliers already are missing All-Star forward Kevin Love (foot surgery), starting point guard George Hill (hamstring) and forward Sam Dekker (ankle). At 1-11, Cleveland has the NBA's worst record and already has endured a coaching change and other off-the-court drama.
— The Detroit Pistons said injured guard Luke Kennard will continue his rehab for two more weeks while working his way back toward basketball activity. The Pistons updated Kennard's status Tuesday. He injured his right shoulder in an Oct. 25 game against Cleveland. Bernard Condevaux, the team's medical director, said Kennard was recently re-examined by team doctors, and the medical staff is pleased with how the shoulder has responded to treatment. Detroit plays at Toronto on Wednesday night.
---
Get the latest on L.A.'s teams in the daily Sports Report newsletter.
You may occasionally receive promotional content from the Los Angeles Times.