NBA notes: Adam Silver understands why Enes Kanter skipped trip to London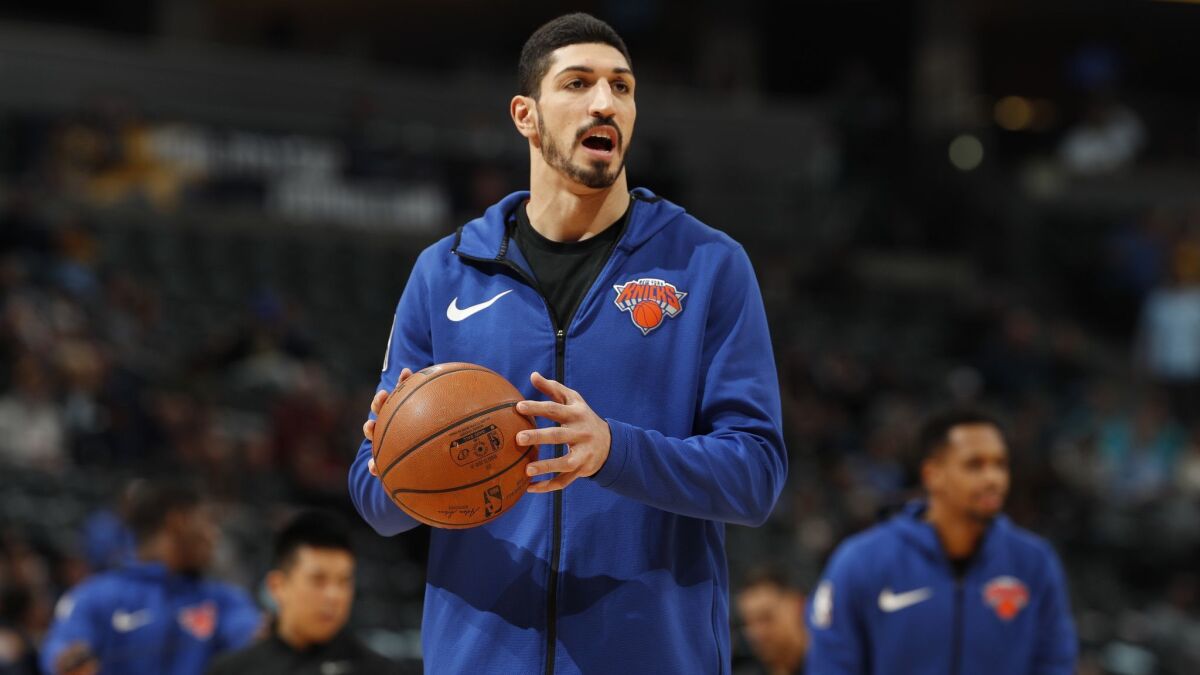 NBA Commissioner Adam Silver said Thursday that the safety and security of players will always be paramount for the league after New York Knicks center Enes Kanter did not travel to London for his team's game against the Washington Wizards.
Kanter said he feared he could be attacked or killed over his opposition to Turkey President Recep Tayyip Erdogan if he were to travel to London. Istanbul-based newspaper Daily Sabah reported that an arrest warrant was issued for Kanter by Turkish prosecutors on Wednesday.
Silver said NBA officials never suggested that Kanter skip the game but understand why he chose not to travel.
"There are significant issues that he is dealing with, and I recognize that for the NBA, by virtue of the fact that we're a global business, we have to pay a lot of attention to those issues as well," Silver said. "I will say there's nothing more important to me, as the commissioner of the league, the safety and security of our players, and so we take very seriously the threats that he has received, (even if) it's just people on social media.
"Again, I support Enes, a player in this league, and I support the platform that our players have to speak out on issues that are important to them."
The Daily Sabah reported that Turkish prosecutors are seeking an Interpol "red notice," which is an international request for arrest and extradition, for Kanter, who was accused of membership in a terror organization. He was said to have provided financial support to exiled Muslim cleric Fethullah Gulen, who has been blamed by the Turkish government as being responsible for a failed coup in Turkey in 2016.
The Associated Press has been unable to independently verify those reports.
Kanter said Wednesday on Twitter that the Turkish government could not present "any single piece of evidence of my wrongdoing" and that he doesn't "even have a parking ticket in the U.S."
Kanter, who has frequently criticized Erdogan, has had his Turkish passport revoked. He noted in an op-ed he wrote for The Washington Post earlier this week that he does not yet have U.S. citizenship or a U.S. passport — either of which would offer him greater legal protection.
Sign up for our daily sports newsletter »
He learned of the cancellation of his Turkish passport on May 20, 2017, when he was detained in Bucharest, Romania, upon returning from a trip to Indonesia to run a basketball camp for his charitable foundation. He was later granted safe passage to London before returning to the United States.
Turkey has insisted on numerous occasions that its detention of academics and activists for allegedly supporting anti-government protests, which have intensified following the failed coup, are an important part of its fight against extremist groups.
"Erdogan is doing whatever he can, such as using institutions like the Interpol to execute his brutal international policy of persecution against his critics, including abductions and kidnappings of innocent Turkish people living abroad," Celine Assaf Boustani, an international lawyer at the Human Rights Foundation, told the Associated Press. "Interpol should reject Turkey's request to issue a red notice arrest warrant for Kanter and uphold its constitution, which strictly forbids Interpol to undertake any politically motivated intervention or activity."
Kanter, who had played in every Knicks game this season until missing the last two with an illness, is averaging 14.4 points and a team-high 11 rebounds.
Waiters fined
The Miami Heat have fined Dion Waiters an undisclosed amount for his expletive-laden comments about playing time earlier this week.
Waiters made the comments to reporters from two South Florida newspapers after Miami's lopsided loss in Milwaukee on Tuesday night. The Heat were off Wednesday and announced the fine Thursday.
"We fined him and we addressed it as a team," Heat coach Erik Spoelstra said.
Waiters has played in five games this season, all as a reserve. He missed just over a full year while recovering from surgery to repair a long-problematic ankle, and has repeatedly said that being patient throughout the process is a challenge for him.
"Look, this is going to be very difficult for Dion," Spoelstra said. "I have empathy for everything he's gone through in the last year to get back to where he is right now. But this is not about him. This is only about the team and it's about winning."
Miami is 21-21 this season, going into its game Friday at Detroit.
Waiters appeared in 76 games in his first two seasons with the Heat, starting 73 of those. He's averaged 16.1 points for Miami as a starter, 7.0 points for the Heat as a reserve.
Etc.
Thunder reserve center Nerlens Noel has passed through concussion protocol and will be available for Thursday night's game against the Los Angeles Lakers. Noel was injured on Jan. 8, when he collided with Minnesota's Andrew Wiggins and his head hit the floor.
---
Get our high school sports newsletter
Prep Rally is devoted to the SoCal high school sports experience, bringing you scores, stories and a behind-the-scenes look at what makes prep sports so popular.
You may occasionally receive promotional content from the Los Angeles Times.