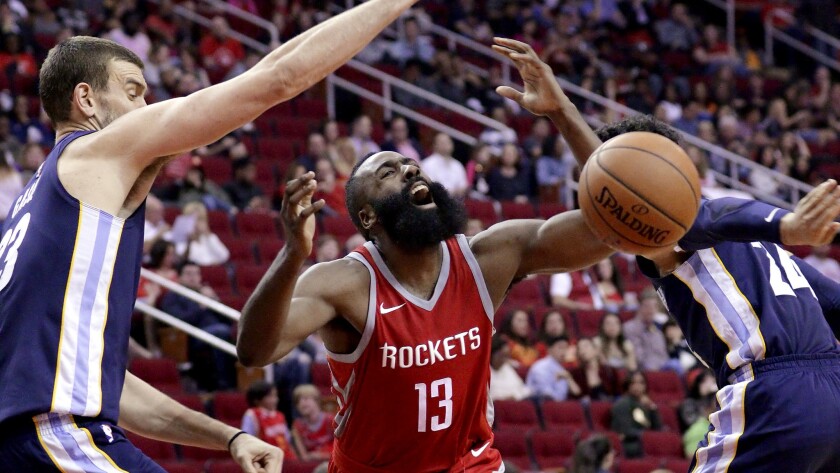 After suffering two losses to Memphis in the first two weeks of the season, the Houston Rockets finally solved their shooting woes against the Grizzlies.
James Harden scored 38 points to lead the Rockets to a 111-96 victory over the visiting Grizzlies on Saturday night.
In their previous meetings, Memphis held the Rockets to 90 and 89 points, the only two times the Rockets have been held under 100 points this season, and Houston's lowest two scoring efforts ever under coach Mike D'Antoni.
at Golden State 135, Philadelphia 114: Kevin Durant returned from missing one game with a leg injury to finish with 29 points, leading the Warriors to their sixth straight win.
Stephen Curry added 22 points and nine assists to surpass the 4,000-assist mark for his career.
Cleveland 111, at Dallas 104: Kevin Love had 29 points and 15 rebounds and Kyle Korver scored all 13 of his points in the fourth quarter to help the Cavaliers hold off the Mavericks.
at San Antonio 133, Chicago 94: LaMarcus Aldridge had 21 points and 10 rebounds and the short-handed Spurs set a season high in points despite missing a third of their roster. The Bulls lost rookie forward Lauri Markkanen to a sprained left ankle late in the first half.
at Washington 113, Atlanta 94: Bradley Beal scored 19 points and the Wizards forced the Hawks into a season-worst 24 turnovers. Washington's Markieff Morris scored 18 points in his best offensive game since returning from sports hernia surgery.
at New York 118, Sacramento 91: Kristaps Porzingis returned after a one-game injury absence to score 34 points for the Knicks.
at Denver 125, Orlando 107: Jamal Murray scored a career-high 32 points, Will Barton had 26 points and nine rebounds — both season bests — and the Nuggets completed a 5-1 homestand.
at Phoenix 118, Minnesota 110: Devin Booker and T.J. Warren scored 35 points apiece and the Suns snapped a five-game losing streak.
at Utah 114, Brooklyn 106: Donovan Mitchell scored 26 points, including four in the final minute, as the Jazz ended a four-game losing streak. D'Angelo Russell scored 26 points for the Nets but limped to the locker room with 2:35 to play.
---