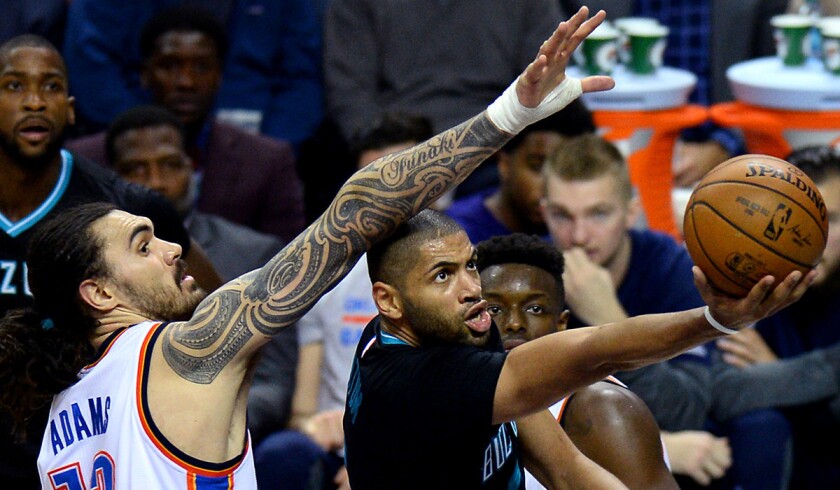 Nicolas Batum twice drew whistles on three-pointers en route to a season-high 28 points in the Charlotte Hornets' 123-112 victory over the visiting Oklahoma City Thunder on Wednesday.
Batum was a regular at the foul line, converting 13 of 15 free throws. As a team, the Hornets made 40 of 49 foul shots to snap a two-game losing streak.
Russell Westbrook had 33 points and 15 rebounds, but fell two assists shy of his 17th triple-double of the season for Oklahoma City. He was assessed a technical foul in the first half after he hit a referee in the head with a ball.
at Golden State 125, Portland 117: Stephen Curry had 35 points with five three-pointers and Kevin Durant scored 30 points and blocked three shots for the Warriors. Zaza Pachulia scored 13 points to hit double figures in consecutive games for the first time this season, just his fourth time reaching double digits for Golden State.
Atlanta 111, at Orlando 92: Dennis Schroder scored 18 points and Dwight Howard had 13 points and 12 rebounds as the Hawks won their fourth straight. Kent Bazemore and Paul Millsap knocked down back-to-back three-pointers late in the fourth quarter to close the door on Orlando, which pulled within four points of the lead during the final period.
Milwaukee 105, at New York 104: Giannis Antetokounmpo made a turnaround jumper at the buzzer to give the Bucks the victory. Antetokounmpo finished with 27 points and 13 rebounds, and he gave the Bucks a final possession when he knocked the ball off Derrick Rose and out of bounds with 8.6 seconds left. Officials originally ruled the ball was off the Bucks but reversed the call after a video review.
Chicago 106, at Cleveland 94: Jimmy Butler scored 10 straight points during a critical stretch in the fourth quarter, leading the Bulls to a win over the Cavaliers, who had a less-than-100% LeBron James and were without stars Kyrie Irving and Kevin Love. Butler, who was coming off a 52-point game against Charlotte, scored 14 of his 20 points in the fourth quarter.
Miami 107, at Sacramento 102: Tyler Johnson scored 23 points as the Heat beat the Kings to snap a six-game losing streak. Miami has beaten Sacramento 16 times in the last 17 meetings.
at Clippers 115, Memphis 106
---