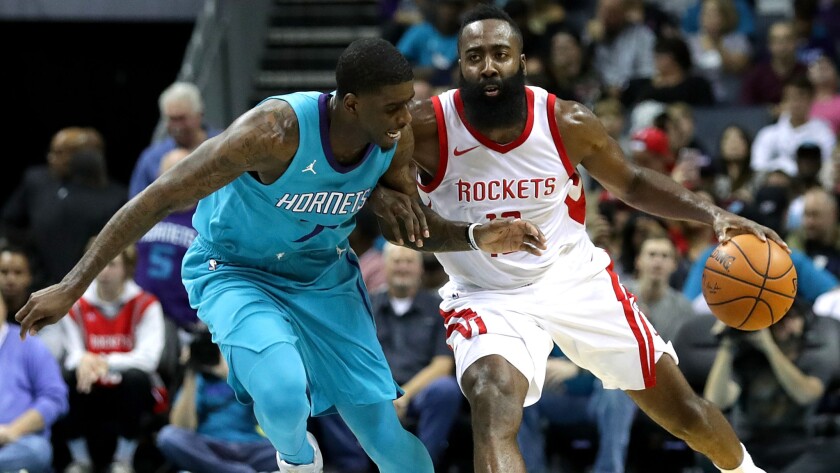 Houston Rockets coach Mike D'Antoni seemed genuinely disappointed his team only attempted 55 three-pointers against the Charlotte Hornets.
"I don't know why we didn't shoot 60," D'Antoni quipped. "We passed up about four."
James Harden had his first triple-double of the season with 27 points, 11 assists and 10 rebounds, and the visiting Rockets finished 22 of 57 from beyond the three-point arc in a 109-93 win Friday.
Houston nearly broke its own NBA regular season records of 61 three-pointers attempted and 24 three-pointers made. Eric Gordon and Ryan Anderson led the three-point barrage. Gordon was six of 16 from beyond the arc while Anderson was six of 15.
"Harden and Gordon both made a couple of shots where there was just nothing you could do — but that's just part of playing them," Hornets coach Steve Clifford said.
at Minnesota 119, Oklahoma City 116: Karl-Anthony Towns had 33 points and 19 rebounds as the Timberwolves beat the Thunder for the second time in a week. Timberwolves guard Jimmy Butler scored nine of his 25 points in the final 4:09.
at Golden State 120, Washington 117: Kevin Durant had 31 points, 11 rebounds and six assists to help rally the Warriors from 18 points down in a game marred by a fight between Golden State's Draymond Green and Washington's Bradley Beal shortly before halftime that led to both being ejected.
at Orlando 114, San Antonio 87: Evan Fournier scored an efficient 25 points as the Magic handed the Spurs their first loss. Fournier made 10 of 12 shots, including all four of his three-point tries. Orlando shot 57.1% while limiting the Spurs to 33.7%.
at New York 107, Brooklyn 86: Kristaps Porzingis had 30 points and nine rebounds as the Knicks won their first game of the season. They did it with a surprisingly strong defensive effort that shut down the NBA's highest-scoring team, holding the Nets about 35 points below their average.
Denver 105, at Atlanta 100: Nikola Jokic recorded a double-double with 18 points and 15 rebounds for the Nuggets. It was Denver's first win in Atlanta in six years.
The Los Angeles Dodgers in the 2017 World Series
On Now
Video: Kenley Jansen, Cody Bellinger, Rich Hill talk about losing Game 7
1:59
On Now
Video: Analysis: Dodgers lose Game 7 and the World Series
11:43
On Now
Video: Yu Darvish talks about using his slider for Game 7
1:34
On Now
Video: Kenley Jansen and others talk about winning Game 6
1:58
On Now
Video: Analyzing the Dodgers Game 6 win
7:26
On Now
Video: Clayton Kershaw on starting Game 5 of the World Series
1:57
On Now
Video: Dave Roberts Talks Rich Hill and Kenley Jansen pitching in Game 6
1:57
On Now
Video: Dave Roberts talks preparing for Game 7
1:26
On Now
Video: Here it is, Game 7, and Bill Plaschke knows who wins
2:22
On Now
Video: Rich Hill talks about Game 6 of the World Series
1:48
---