NBA: Kyrie Irving scores 43 points, Celtics beat Raptors in overtime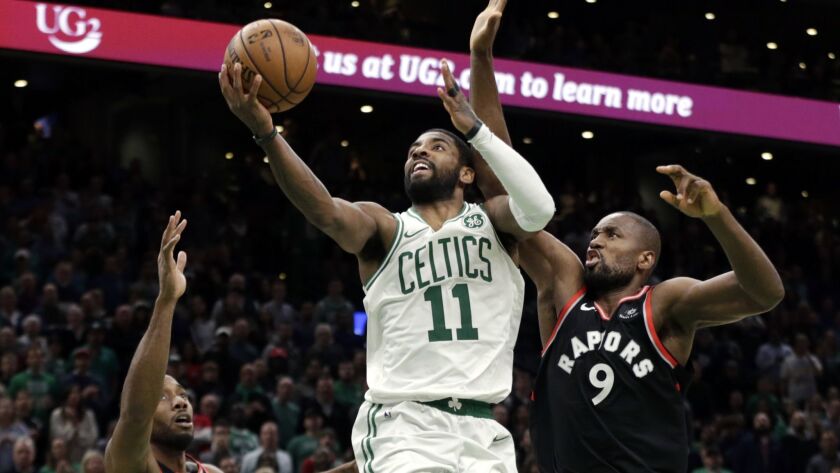 Kyrie Irving had a season-high 43 points, scoring 17 in the last 8:06 of the fourth quarter to force overtime and then making or recording an assist on every basket in the extra period Friday night to lead the Boston Celtics to a 123-116 victory over the Toronto Raptors.
Irving had 11 assists, and Jayson Tatum scored 21 with seven rebounds for the Celtics. Boston evened the season series at one game apiece against the only team to finish above it in the Eastern Conference last season. The home team has won nine straight matchups.
Kawhi Leonard scored 31 with a season-high 15 rebounds for Toronto, which has lost three straight since opening the season with 12 victories in its first 13 games. Serge Ibaka scored 21 and Pascal Siakam had 16 points and nine rebounds for the Raptors, who never led in overtime.
at Pacers 99, Heat 91: Tyreke Evans hit five 3-pointers and scored a season-high 23 points off the bench, leading the Indiana Pacers to a 99-91 victory over the Miami Heat on Friday night.
Bojan Bogdanovic had 16 points and six rebounds and Domantas Sabonis added 15 points and 12 rebounds off the bench for the Pacers in the first of three games in four nights at home.
Josh Richardson scored 28 points, including 7 of 10 from beyond the arc, and Hassan Whiteside had 12 points and 17 rebounds for the Heat, losers in four of their last five games.
at 76ers 113, Jazz 107: Jimmy Butler scored 28 points in his home debut, Joel Embiid had 23 and the Philadelphia 76ers beat the Utah Jazz 113-107 on Friday night.
Butler, the four-time All-Star acquired Monday from Minnesota in a five-player trade, got a loud ovation during introductions and quickly made an impression as the Sixers built a 16-point lead in the first quarter.
The Jazz rallied and the teams went back-and-forth in the fourth quarter. Jae Crowder's put-back after Ricky Rubio's stole the ball and missed a lay-up gave Utah a 107-105 lead with 1:37 left. JJ Redick tied it on a pair of free throws. Ben Simmons' driving lay-up gave the 76ers a 109-107 lead.
Nets 115, at Wizards 104: Spencer Dinwiddie scored a season-best 25 points, D'Angelo Russell had 23 and the Brooklyn Nets beat the Washington Wizards 115-104 on Friday night for their first win since Caris LeVert's gruesome foot injury.
The Nets had lost five straight in Washington and ended a three-game slide overall. Jarrett Allen had 16 points and 12 rebounds in his return after missing two games due to illness.
LeVert is Brooklyn's leading scorer this season but suffered what was originally feared to be a season-ending injury Monday. Doctors found no fractures, though, and he is expected to avoid surgery and return later this season from a dislocated foot.
at Timberwolves 114, Trail Blazers 96: Andrew Wiggins scored 23 points, Derrick Rose had 17 and the Minnesota Timberwolves kept cruising without Jimmy Butler by beating the Portland Trail Blazers 114-96 on Friday night.
Robert Covington and Karl-Anthony Towns each had 14 points for the Wolves, who are 7-1 at home and 3-0 since trading the disgruntled Butler to Philadelphia on Monday.
The home crowd buzzed on a Prince-themed night with former Minnesota All-Star Kevin Garnett sitting courtside in one of the team's special purple-and-black alternate jerseys. The Wolves kept them cheering with uncharacteristically solid defense, sending Portland to its second straight loss with a season-low in points.
at Pelicans 129, Knicks 124: Anthony Davis scored a season-high 43 points and grabbed 17 rebounds and the New Orleans Pelicans overcame an 11-point, fourth-quarter deficit to beat the New York Knicks 129-124 on Friday night.
Julius Randle had 19 points and 11 rebounds, including a crucial put-back of Davis' missed free throw to make it 124-121 with 1:23 left.
After Tim Hardaway Jr. missed a three for the tie, Holiday hit from deep to widen New Orleans' lead to six with 35 seconds left.
at Grizzlies 112, Kings 104: Rookie Jaren Jackson Jr. scored a season-high 27 points, Marc Gasol added 19 points and 15 rebounds, becoming Memphis' all-time leading rebounder, and the Grizzlies defeated the Sacramento Kings 112-104 on Friday night.
Mike Conley added 19 points and six assists, while Garrett Temple finished with 14 points as Memphis won its second straight. Gasol has 5,613 career rebounds, passing the franchise record of 5,612 by former Grizzlies standout Zach Randolph.
De'Aaron Fox led the Kings with 23 points and 10 assists, while backcourt mate Buddy Hield scored 16 points. Bogdan Bogdanovic and Iman Shumpert added 12 points for Sacramento.
at Bucks 123, Bulls 114: Eric Bledsoe scored 25 points, Khris Middleton and Giannis Antetokounmpo each added 23 points and the Milwaukee Bucks erased a 22-point deficit and beat the Chicago Bulls 123-104 on Saturday night.
Down 63-45 at the half, the Bucks outscored the Bulls 46-17 in the third quarter.
Antetokounmpo's dunk capped a 31-11 surge and gave the Bucks their first lead since the opening minute at 76-74 with 3:22 left in the quarter. Bledsoe had 14 points, Middleton 11 and Antetokounmpo nine to help Milwaukee take a 91-80 lead into the fourth.
---
Get the latest on L.A.'s teams in the daily Sports Report newsletter.
You may occasionally receive promotional content from the Los Angeles Times.