NBA: Paul George's four-point play helps Thunder edge the 76ers in thrilling finish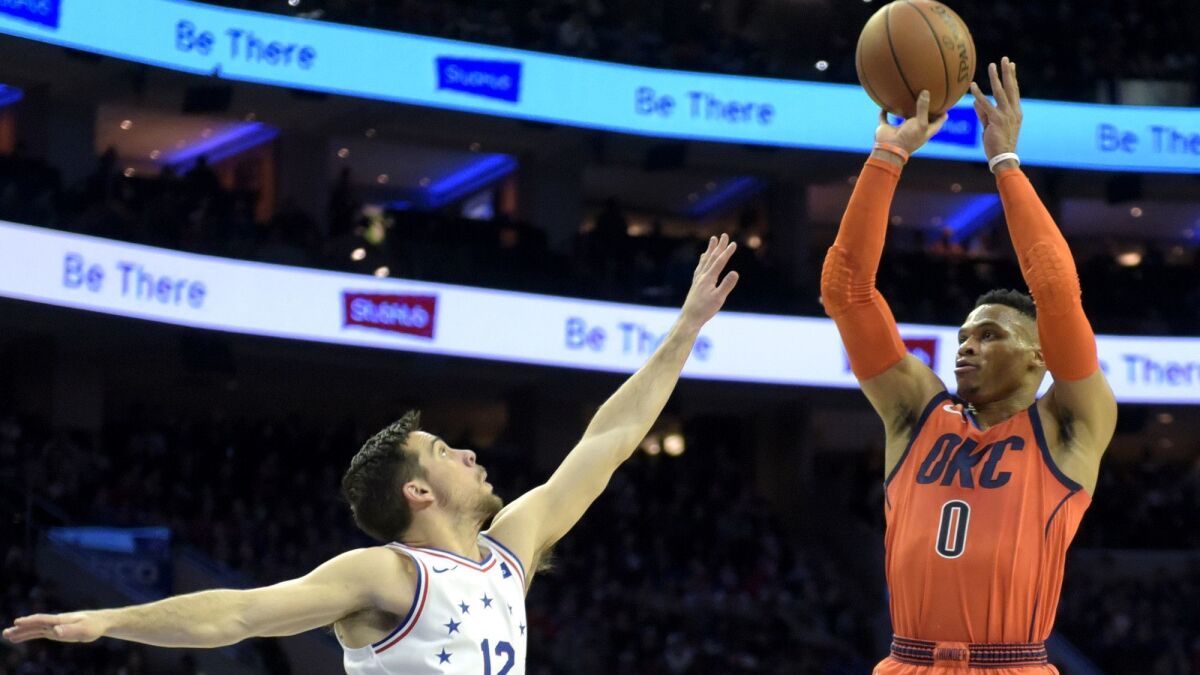 Paul George converted a four-point play with 5.1 seconds left, sending Russell Westbrook and the Oklahoma City Thunder to a wild 117-115 victory over Joel Embiid and the Philadelphia 76ers on Saturday at the Wells Fargo Center.
George's clutch shot capped a wild finish that included another memorable exchange with Westbrook and Embiid.
Westbrook hit the floor out of bounds under the basket after a foul by Embiid late in the game, and Westbrook fouled out with 14.9 seconds left after he made contact with Embiid as he shot a three-pointer.
Embiid made all three foul shots, tying it at 113, and Jimmy Butler's driving layup put Philadelphia in front with 6.9 seconds to go.
George drained a three-pointer while being fouled by Butler and made the foul shot. Philadelphia had one last chance, but Butler missed a three-point attempt in the final seconds. The 76ers have lost 19 in a row to the Thunder.
George finished with 31 points, six rebounds, five assists and three steals. Westbrook had 21 points, 10 rebounds and six assists for Oklahoma City, and reserve Dennis Schroder also scored 21.
Embiid, who was a game-time decision because of back tightness, had 31 points, eight rebounds and six assists. JJ Redick scored 22 points for Philadelphia, and Ben Simmons finished with 20 points, 15 rebounds and nine assists.
Kings 103, at Pistons 101: Buddy Hield made an off-balance, fadeaway 3-pointer just before time expired and scored 35 points in the Sacramento Kings' victory over the Detroit Pistons on Saturday night.
Detroit outscored the Kings in each of the first three quarters and had a 12-point cushion midway through the fourth.
Hield made a 3-pointer with 1:11 left to put Sacramento ahead for the first time since midway through the first quarter.
Blake Griffin, who scored 38 points, scored on the ensuing possession to put the Pistons ahead 101-100. Griffin had a chance to add to the lead on Detroit's next possession, but he passed to Reggie Jackson, who missed a shot to give the Kings another chance.
Hield fumbled an inbounds pass with 3.4 seconds left, scrambled to regain possession and put up a shot from the left wing that hit nothing but the bottom of the net. He sprinted around the court, leaping over a camera cord and led a joyous parade to the locker room.
at Pacers 111, Mavericks 99: Tyreke Evans scored 19 points, Domantas Sabonis had 16 points and 11 rebounds, and the Indiana Pacers beat the Dallas Mavericks on Saturday night.
Indiana has won three of four to become the sixth team in the league to reach 30 wins.
Harrison Barnes scored 20 points for Dallas, and DeAndre Jordan had 15 points and 16 rebounds. But the Mavericks were unable to overcome a lackluster performance by rookie star Luke Doncic. The 6-foot-7 forward scored eight points — his fewest in more than a month — and was ejected for the first time after drawing a second technical with three minutes left in the third quarter.
at Raptors 119, Grizzlies 90: Danny Green had a season-high 24 points and set a franchise record with seven 3-pointers in the third quarter, and the Toronto Raptors beat the Memphis Grizzlies on Saturday night.
Serge Ibaka scored 18 points, Pascal Siakam had 17 and the Raptors extended their home winning streak to nine. Toronto is 20-4 at home.
Green shot 7 for 9 from 3-point range in the third quarter and Toronto made 10 from long range in the period, outscoring Memphis 45-14 to take a 100-62 lead into the fourth.
Bucks 118, at Magic 108: Eric Bledsoe scored 30 points, Giannis Antetokounmpo had 25 points and 13 rebounds and the Milwaukee Bucks won their fourth straight game, beating the Orlando Magic on Saturday night.
Malcolm Brogdon added 18 points, and Khris Middleton had 15. The Bucks are 11-2 in their last 13 games.
Nikola Vucevic led Orlando with 27 points, Terrence Ross had 16, D.J. Augustin 14 and Jarell Martin 12. The Magic struggled with Aaron Gordon sitting out with a back injury, dropping their third straight.
at Nuggets 124, Cavaliers 102: Nikola Jokic had 19 points, 12 assists and 11 rebounds in his sixth triple-double this season, and the Denver Nuggets beat the Cleveland Cavaliers on Saturday night.
Jamal Murray scored 26 points as Denver won for the third time in four games. Trey Lyles had 16 points and Monte Morris finished with 15.
The Nuggets went 15 for 37 from 3-point range. Murray made four 3s, and Jokic, Morris and Malik Beasley each had three. Cleveland closed out a six-game trip with its third consecutive loss. It has dropped 15 of 16 overall.
Celtics 113, at Hawks 105: Kyrie Irving scored 32 points and the Boston Celtics rallied to beat the Atlanta Hawks on Saturday night for their third straight win.
After trailing for most of the game, Boston took the lead with a 9-0 fourth-quarter run, including a go-ahead 3-pointer by Jaylen Brown, who had 14 points.
A drive by Irving gave Boston the lead for good at 101-100. Al Horford made four free throws and a layup to help the Celtics increase their advantage to 109-100 with 1:11 left.
Kevin Huerter led Atlanta with 18 points, and fellow rookie Trae Young had 16.
Heat 117, at Bulls 103: Dwyane Wade had 14 points, 10 rebounds and seven assists in his final game in his hometown, helping the Miami Heat beat the skidding Chicago Bulls on Saturday.
Wade, who turned 37 on Thursday, plans to retire at the end of his 16th NBA season. He got a warm reception in his return, hearing several loud ovations throughout the night.
Josh Richardson had 26 points for Miami, and Dion Waiters finished with 21. The Heat had dropped two in a row. Chicago lost its 10th straight game. Zach LaVine scored 22 points for the Bulls, and Bobby Portis had 21. Lauri Markkanen finished with 20 points and nine rebounds.
at Hornets 135, Suns 115: Kemba Walker scored 21 points, Jeremy Lamb hit three-points and had 18 points and Charlotte beat Phoenix for its third straight victory.
Charlotte shot 54.5 percent from the field, made 16 of 34 3-point attempts and matched its season-high points total.
Devin Booker had 32 points and 11 assists for the Suns. They have lost 10 of their last 12 games and fell to 4-19 on the road.
---
Get our high school sports newsletter
Prep Rally is devoted to the SoCal high school sports experience, bringing you scores, stories and a behind-the-scenes look at what makes prep sports so popular.
You may occasionally receive promotional content from the Los Angeles Times.